If you are tired of your dog barking all the time and can't deal with the problem, bark collars can help. It detects excessive barking and uses various signals to stop your dog.
I'm not opposed to using electric shock on dogs, so I only recommend no shock bark collars with vibration, ton, or spray. In addition to reviews and buyer's guide, this article answers the most important questions: how do bark collars work and how to train the dog with these devices?
Quick Pick Table
Good value – STOPWOOFER Dog Bark Collar
Rechargeable Barking Vibration & Beep Modes
Rechargeable Barking Vibration & Beep Modes
Rechargeable Barking Vibration & Beep Modes
Rechargeable Barking Vibration & Beep Modes
Rechargeable Barking Vibration & Beep Modes
Last update on 2022-05-17 / Affiliate links / Images from Amazon Product Advertising API
It is an example of the simplest collar that stops barking. Judging by the many reviews from satisfied customers, the Stopwoofer really works. And it is very inexpensive. I like that the collar strap is made of nylon and has a comfortable clasp.
If your dog is driving the neighbors crazy with his barking while you are at work, then put this collar on it and go about your business.
Features:
vibration & Beep (7 levels of correction, which change automatically, depending on the level of barking)
weight only 2.1 oz
no remote control
charged in only 2 hours and works about 14 days with 1 battery life
waterproof
it is for dogs of all sizes and types
Auto Citronella No Shock Bark Collar for Dogs
Auto Citronella Bark Collar for Dogs, [NO Refill NO...
[ Adjustable Sensitivity & Sprays Volume ]: Our citronella...
[ Rechargeable & Waterproof ]: The barking collar built-in...
[ Suit For Most of the Dogs ]: We send 2 Reflective Nylon...
[ Perfect After-sale Service ]: It is recommended to refill...
Last update on 2022-05-17 / Affiliate links / Images from Amazon Product Advertising API
If the vibrations and the audio signal do not stop your dog, you can try the Citronella Bark Collar. It costs a little more but works the same way: it activates the citronella spray when it detects intense barking. It is a model without remote control; there is only an automatic mode.
Features:
2-level sensitivity and 2-level spray volume
charge only needs 1.5~2.5 hours for 10 days of regular use
the set includes 2 collar straps of different colors and 1 can of citronella
waterproof
fits all sizes of dogs(8-120lbs)
Citronella Dog Training Collar with Remote
Citronella Dog Training Collar with Remote 【Can't...
【Safe & Effective & Humane】 - 【Note: This collar can...
【Four Training Modes with 3 Intensity Levels】 -...
【Long Lasting & Rainproof】 - With the design of...
【Long-Distance Control & Large Capacity】 - The remote...
Last update on 2022-05-17 / Affiliate links / Images from Amazon Product Advertising API
This collar has not an automatic mode and only can be controlled by remote. In addition to spray mode, you can also turn on the beeper, vibration or LED light.
You can buy another collar for a second dog and control both with one remote if you need to.
Features:
4 modes – spray, warning beep sound, vibration, and light (3 levels of sensitivity)
remote control included (2600 feet range)
can be charged rapidly in 2 hours
waterproof
work for all breeds
Paipaitek Dog Training Collar No Shock, 3300ft Range
Sale
Paipaitek Dog Training Collar No Shock, 3300ft Range...
NO SHOCK, NO PRONGS - No shock dog training collar is...
Only Vibrates and does not Shock - Beeps and vibrations get...
Excellent Training Collar for Dogs - This dog training...
The Collar's Timely Response to Remote Commands - Dog...
Last update on 2022-05-17 / Affiliate links / Images from Amazon Product Advertising API
Unfortunately, I have not found a vibrating collar with remote and an automatic bark detection feature. However, a collar that works only automatically doesn't fit everyone. It really is better to control the collar with a remote for training a dog.
That's why I offer you an alternative option – the Paipaitek No Shock Dog Training Collar. It is a quality piece, and you will be able to use it to wean your dog from excessive barking and other unwanted behavior. I like that this collar doesn't have the prongs that many vibrating collars have and can make your dog uncomfortable.
Features:
sound and vibration mode
1-100 vibration intensity setting adjusts for dogs of different sizes
can support 3 dog training with 1 remote
The remote works well up to 3300 feet away from the collar (most collars at this price have 1000 feet range)
20 days of battery life
flashlight on the remote will give you a lot helps when you walk at night.
Dr.Trainer No Shock Dog Bark Collar with APP Setting
Last update on 2022-05-18 / Affiliate links / Images from Amazon Product Advertising API
This anti-barking collar can be set up from your phone. Simply install the app on your smartphone and adjust the vibration intensity and the sensitivity of the sensor. Plus, you'll be able to record your own voice command instead of the usual audio and see your woofing history.
Features:
suitable for all breeds dogs
IPX8 waterproof
no Shock & No Prong
3 levels of exposure
charging time – 40 minutes (can work up to 15 days)
Buyer's guide
Here are a few factors to consider when choosing a bark collar for your dog:
It is better to buy a bark collar with a remote so that you can control the device and turn it on only when barking is excessive or unwanted. After all, barking is natural for dogs. You can't stop them from barking all the time.
I pay attention not only to the collar's appearance but also to its weight. After all, a dog or even a puppy will not be comfortable with a " kettlebell" on its neck.
The collar must have a good latch; otherwise, it will unfasten and fall off.
If this is your first collar, it's best to get a model with a vibrate mode. Leave collars with citronella for last resort. They need to be refilled regularly, and they are more expensive.
Before using a bark collar, make sure that some problem does not cause your dog's behavior. There may be something bothering your pet. Common reasons why dogs and puppies bark a lot are described in the infographic below.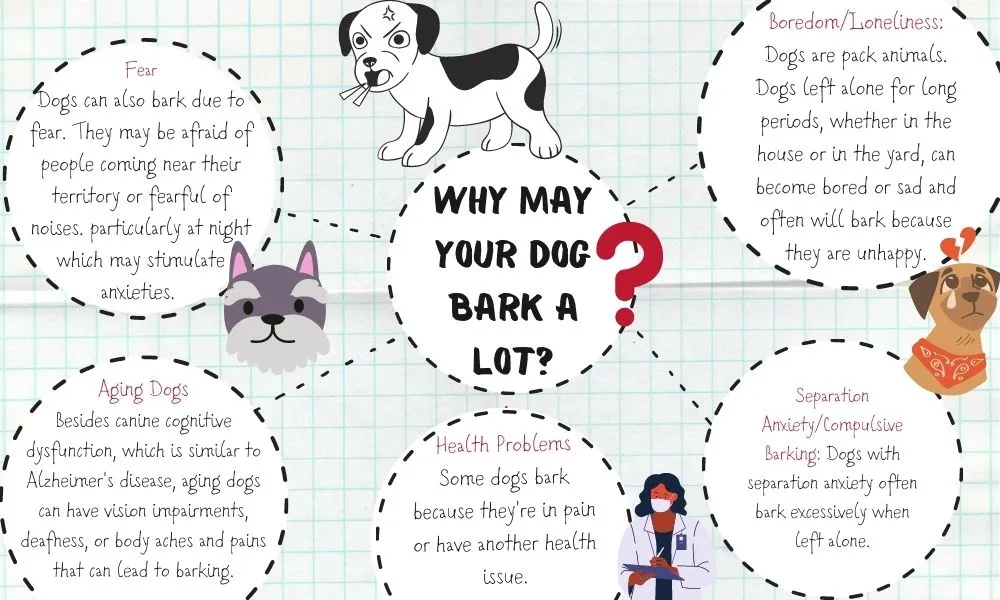 How do dog bark control collars work?
Anti-barking collars react to a dog barking. If the device detects excessive barking, it vibrates, sprays, or tones (depending on which collar you have). It distracts the dog or causes discomfort, so it stops making noise.
Also, some collars can be controlled by remote. Then you determine when to signal your pet and stop it.
With some models, you can choose the level of barking at which the device is triggered. You can also adjust the strength of the vibration or the volume of the beep. Some animals only need a little stimulation, while others may not respond. Therefore, it is important to find the best setting for your dog.
This video demonstrates how the anti-barking collar works on the dog:
Put the collar on the dog only in your presence the first time. This way you can show your dog with gestures, words, and mimics that it must be silent. Use positive reinforcement (treats, praise, affection).
Do bark collars really work?
This question probably worries everyone who is going to buy a bark collar. Here's what I know about it:
bark collars can really help, but they don't work on all dogs because each one is individual;
the device may not help if you use it incorrectly (turn on the wrong settings, don't do any training, etc.);
don't expect your dog to stop barking from the first day. It takes some time for your dog to understand what is required.
Why not try a bark collar for your dog? Many manufacturers allow you to return the product if it doesn't work for you.
Are bark collars cruel for dogs?
The no shock bark collars use such stimuls as vibration, an audible tone, and a nasty odor spray. It does not physically hurt the dog, like shock collars and cannot traumatize it, even at high levels.
While I am not against the use of no shock bark collars, I think they should not be used regularly, day and night, day after day. It would be cruel to completely forbid your pet from "talking" and expressing its emotions.
Also, dog owners need to combine this method with positive reinforcement. And then you will be successful!
For alternative methods to help stop dog barking, see this video:
Latest posts by Anastasia
(see all)