If you want to make a comfortable place for your dog in the yard, you need a special bed. Also, such a bed is needed for dogs who live outside in a kennel.
I have found for you some best outdoor dog beds for different needs. You can put them in your yard, in the dog house, or take them on a trip.
Quick Choice
Budget outdoor dog bed – Coolaroo The Original Cooling Elevated Pet Bed
Best outdoor dog bed with shade – SUPERJARE
Best chew proof outdoor dog bed – Veehoo Chew Proof Elevated Dog Bed
Bolstered, comfortable outdoor dog bed – K&H Pet
Best Outdoor bed for travel and more – Furhaven Camping Pillow Mat
Orthopedic outdoor dog bed – BarkBox Outdoor Dog/Cat Bed
Premium bed made especially for outdoor use – La-Z-Boy Sunny Outdoor Lounger Dog Bed
And now more about each of these beds.
Coolaroo The Original Cooling Elevated Pet Bed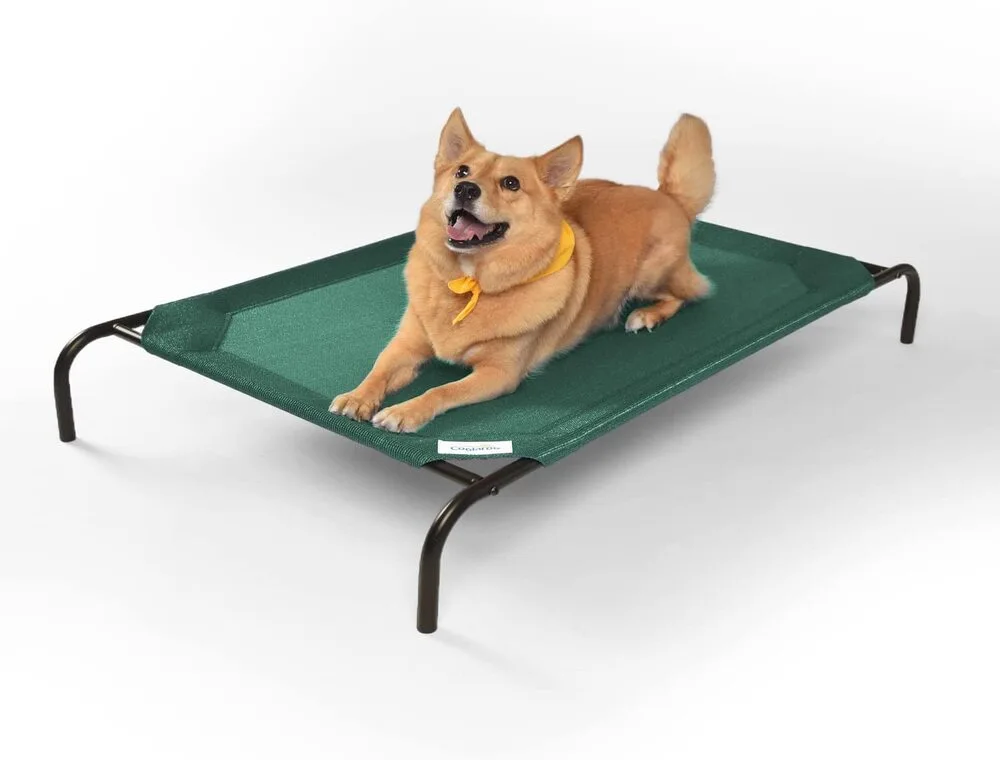 This bed from the Coolaroo brand made my list as a budget option. But it's not bad quality either. The fabric is made out of heavy-duty breathable high density polyethylene. This fabric is easy to wash off the dirt.
I think elevated beds are a great option for outdoor use:
the Off-the-ground design makes the bed less dirty, as well as the dog;
in cold weather, such a bed will keep your pet out of the wet, cold ground; and in summer, it will save it from the heat;
the flexible surface reduces strain on your pet's joints and provides comfort.
Aviable sizes: S, M, L, XL
Aviable colours: green, red, brown, grey, blue
---
SUPERJARE Outdoor Dog Bed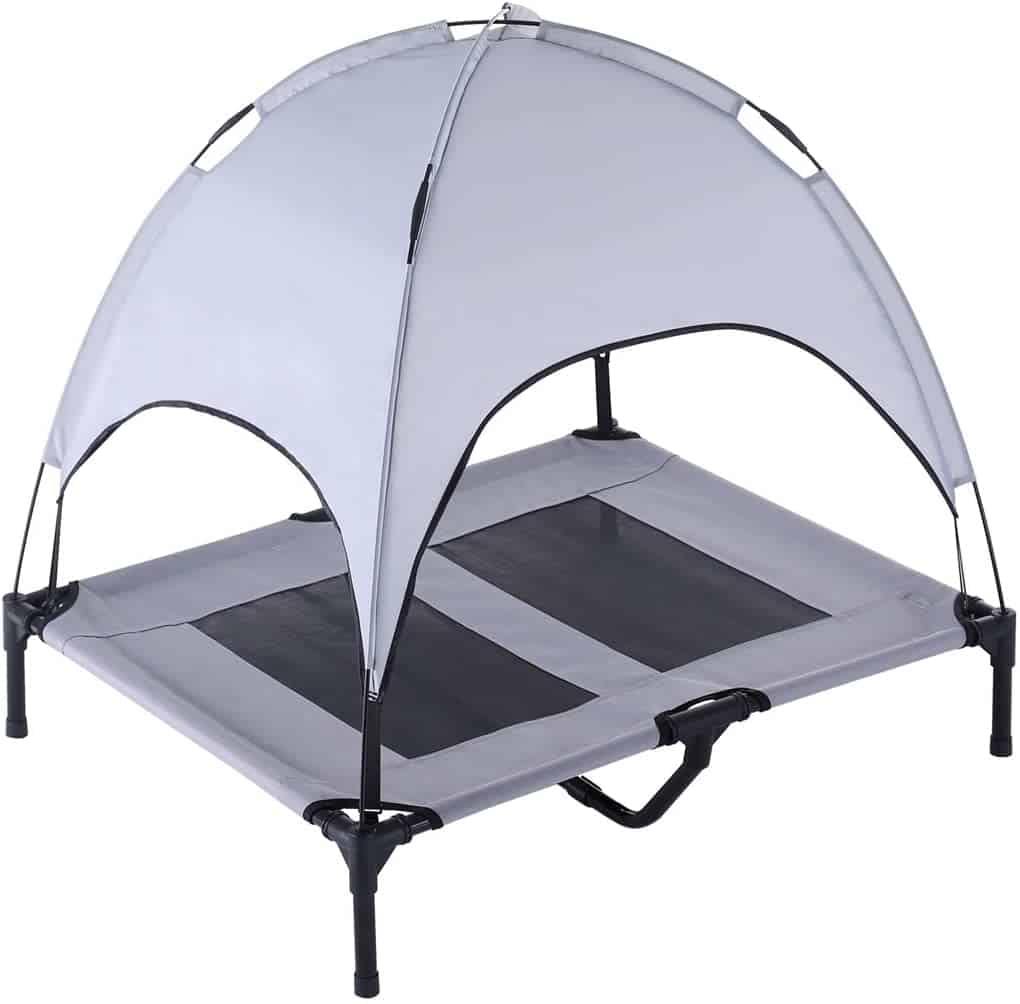 Aviable sizes: L, XL
Aviable colours: green, white, brown
On a hot summer day, your dog will definitely want to rest in the shade. In such a case, the SUPERJARE bed with a canopy will help. It is a quality model with the frame and 1680 D Oxford fabric.
I love the appearance of this dog bed; it would look beautiful in the backyard of the house. The bed is easy to unassemble without tools. It comes with a bag, so you can take it on camping, for example.
Note that the canopy fabric is not waterproof, so it cannot be used when raining.
---
Veehoo Chew Proof Elevated Dog Bed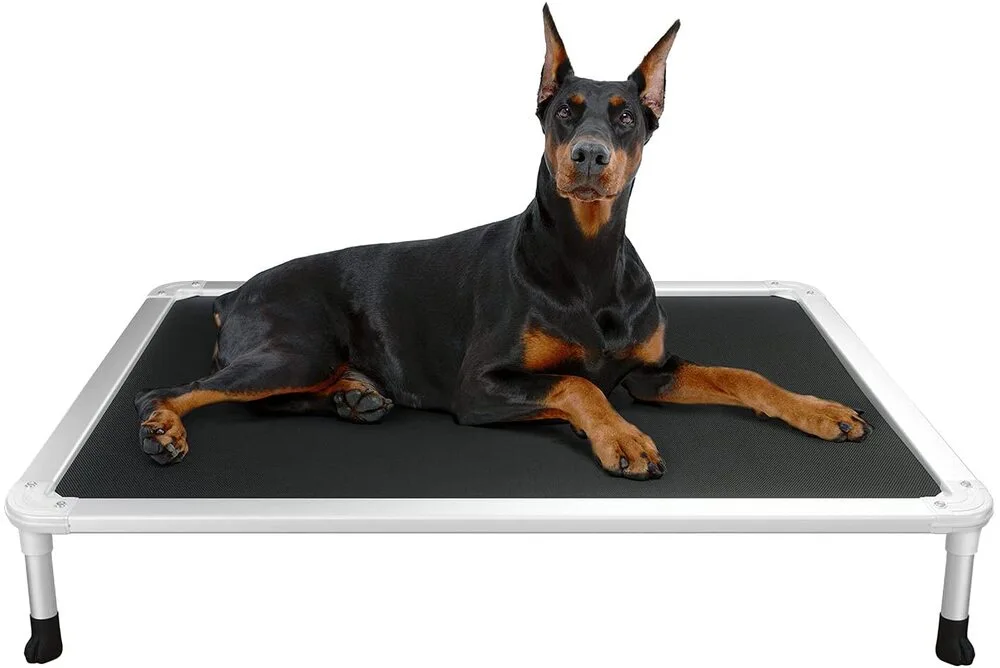 Aviable sizes: M, L, XL, XXL
Aviable colours: green, white, brown, light blue, black, coffee, silver
If you're looking for a sturdier, more durable, chew-proof bed, the Veehoo elevated bed might suit your needs. It consists of a stainless aluminum frame and sturdy fabric. All the fabric edges are wrapped into the frame, so there is less chance of your dog chewing on it.
The "chew-proof" characteristic does NOT mean that this bed will stand up to any challenge. Some dogs do have a chance to damage it. It is important to understand that there are no 100% chew proof beds.
Veehoo offers dog beds in all sizes, from Small to XXL. You can use them both at home and outdoors, and take them with you on camping trips because the bed is lightweight.
---
K&H Pet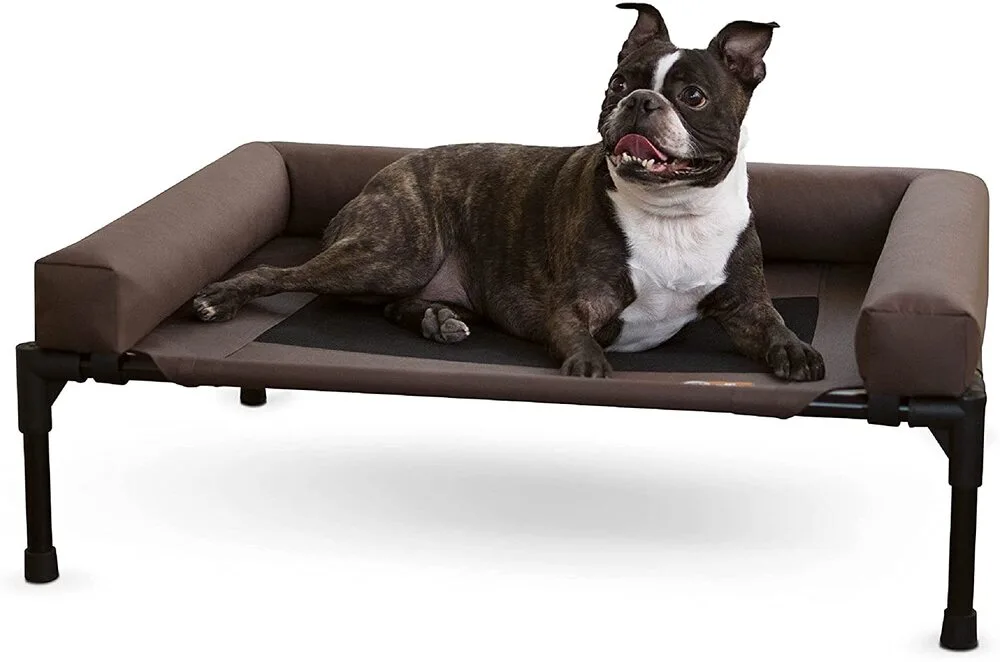 Aviable sizes: S, M, L
Aviable colours: Charcoal, Chocolate
This bed differs from the others because it has a plush bolster, which increases comfort. Dogs love to put their heads on these bolsters and rest on them.
The K&H Pet outdoor bed frame is made of metal, and the durable fabric can withstand a load of 200 pounds (although I think that number is a bit exaggerated). The K&H Pet brand can be trusted, as they have 20 years of experience in making pet products.
The cover and removable roller are both washable.
---
Furhaven Camping Pillow Mat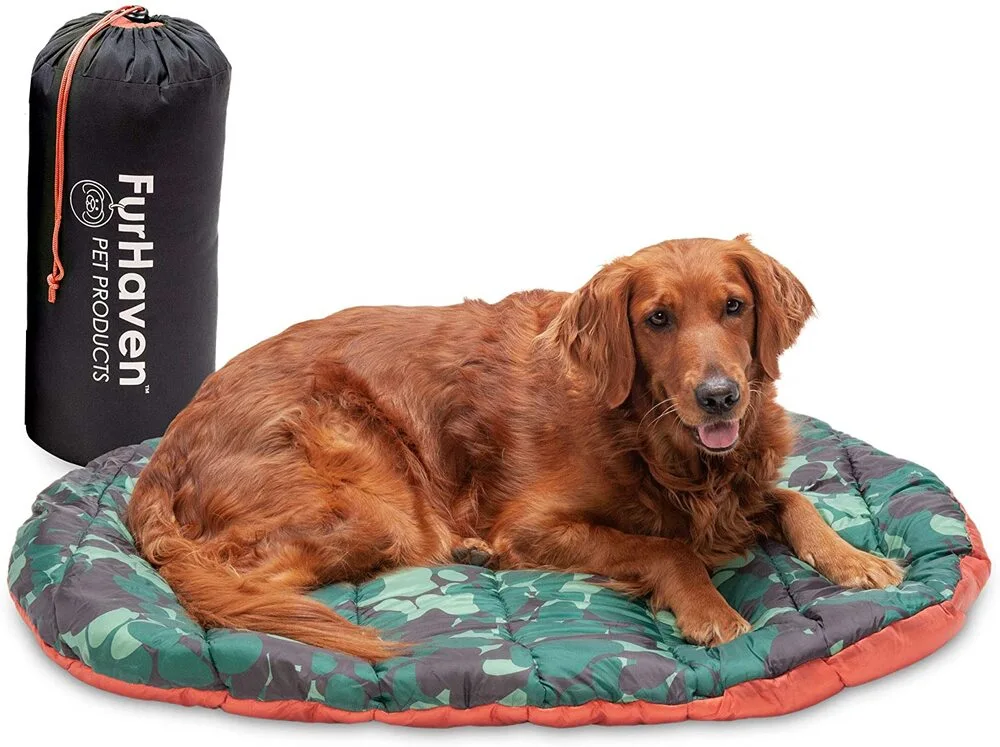 Aviable sizes: S, L
Aviable colours: Aqua&Grey, Blue
You can take this mat for travel and picnics, but you can also use it in your backyard or the dog house.
The Furhaven Camping Pillow Mat is easy to transport in a special bag. It is lightweight and practical. The mat is machine washable.
It's also available in Small and Large.
---
BarkBox Outdoor All Weather Dog/Cat Bed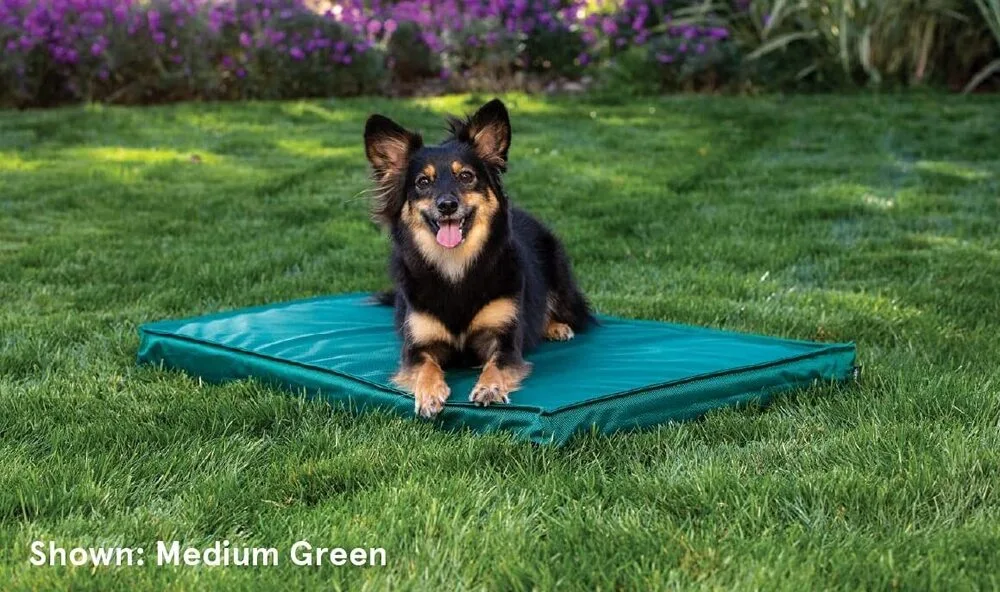 Aviable sizes: M, L, XL
Aviable colours: green, blue, red
A bed with orthopedic support is essential if you have an older dog or a dog with joint disease. The 3″ memory foam provides the proper support for your dog.
This bed has a heavy-duty, waterproof cover that you can easily wipe down with a damp sponge. Also, you can put such a bed in a cage or a dog house. But it should not be left outdoors because the foam that the cover protects can still get wet and damaged.
---
La-Z-Boy Sunny Outdoor Lounger Dog Bed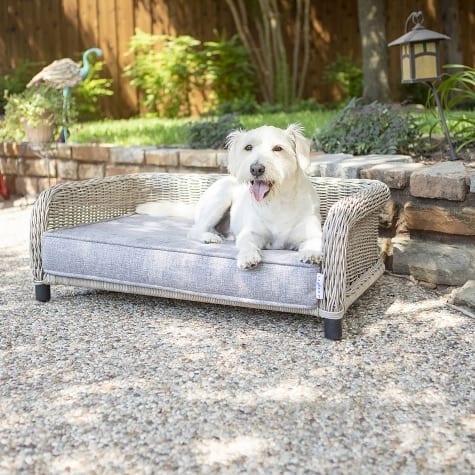 First, I liked the appearance of this woven resin whicke bed. I thought it would look great in the backyard. Then I checked out the features on this bed, and I realized that it should definitely be added to my list.
The metal frame is protected by an anti-corrosion coating, and the mattress cover is made of durable fabric. It isn't afraid of mold or water, and it doesn't fade in the sun. The thick, 3.5" mattress will keep your pet comfortable. The only downside to this bed is that it only comes in one size.
Which bed will you choose? Or maybe something is missing from this list, in your opinion? Write about it in the comments.
FAQ
Can you leave a dog bed outside?
The beds on my list can be left outside. They are not affected by moisture.
What is the most durable material for a dog bed?
Cordura, canvas or kevlar – are the strongest materials used for outdoor beds.
Do dogs prefer raised beds?
Indeed, raised beds like dogs better. Just like humans, dogs like to be higher off the ground.
---
Save this article on Pinterest so you don't lose it!
Latest posts by Anastasia
(see all)