Using a vibration collar is one of the best ways to bond with deaf dogs and hearing impaired dogs. It helps you to draw the dog's attention to yourself and "call" your dog.
In this article, I will show you how to choose the best vibration collar for deaf dogs and train your dog with such a tool.
Tips for choosing the best vibration collar
The following tips will help you choose a vibration training collar for your deaf dog:
Some models combine multiple functions such as shock and vibration. Buy exactly vibrating collars that have no shock setting. In such vibrating dog collars, you can usually adjust the variant and the strength of the vibrations. Moreover, these are cheaper.
There are vibrating collars that work automatically from a dog's barking and those that are turned on using the remote control. So choose the second option.
Measure your dog's neck to ensure the collar is the right size. It should not be too tight. Check that 1-2 fingers fit there.
Pay attention to the material from which the strap is made. Experience has shown that dogs should have straps made of high-quality plastic.
Choose a training collar with a minimum effective range of 500 feet. If this parameter is high, then it will be possible to use the device outdoors.
Training collars for deaf dogs must be waterproof. The dog can wet it at any time. Also, playing outside, you can get caught in the rain, then the collar will break. That's why it is better to buy a waterproof model.
Read reviews for each product, and watch a video review from those who have already bought such a vibrating collar. Pay attention to positive and negative reviews.
Good collars should have multiple vibration modes. You can adjust the intensity of the vibrations if you think they are not strong enough. Make sure your dog pays attention to you.
An advantage will be the presence of additional functions, such as a sound mode. For deaf dogs it is useless, but you can still use this function to find your dog.
It is not worth buying the cheapest models. Remember — a miser pays twice. Cheap electronics don't last long. Buy models at the average or highest price if you can afford them.
Best vibration collars for deaf dogs
In accordance with the given characteristics, I have selected several current models of vibration collars for deaf dogs.
GoodBoy Mini No Shock Remote Collar for Dogs with Beep...
Paipaitek No Shock Dog Training Collar, Rechargeable &...
PetSafe 300 Yard Remote Training Collar – Smaller...
GoodBoy Mini No Shock Remote Collar for Dogs with Beep...
Paipaitek No Shock Dog Training Collar, Rechargeable &...
PetSafe 300 Yard Remote Training Collar – Smaller...
Last update on 2023-02-02 / Affiliate links / Images from Amazon Product Advertising API
Best for small dogs – GoodBoy Mini No Shock Remote Collar
It's the best vibrating collar for small dogs 5-15 lb and puppies. This humane dog training collar has a beep and vibration mode with nine vibration levels. It is a big plus: you can customize the appropriate power of vibrations for your deaf dog.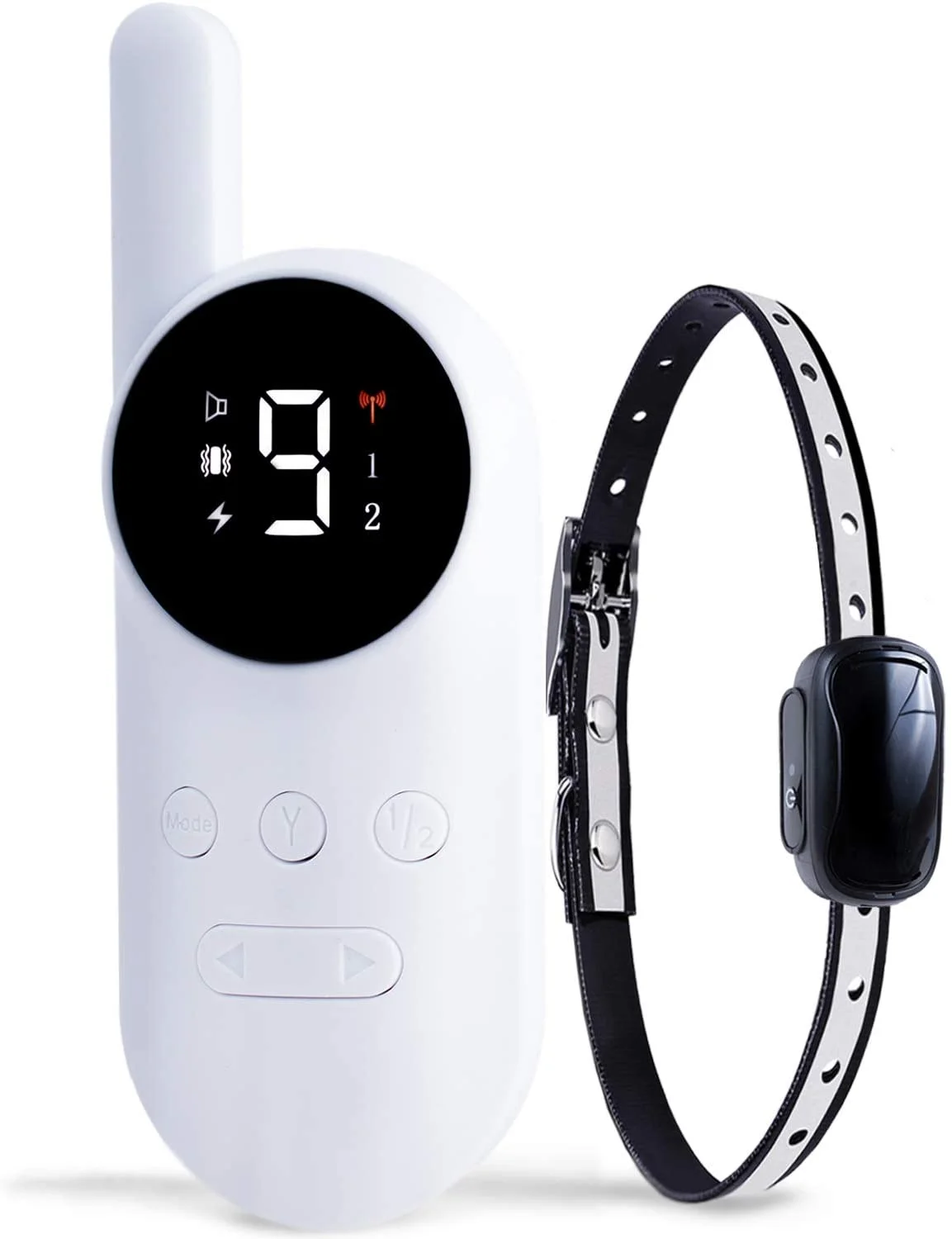 Also, the advantages of this model include low cost, long battery life, and beautiful design.
Other model characteristics:
range up to 330 yards (1000ft);
waterproof;
2 hours fully charging;
battery life up to 7 days.
I have not seen any drawbacks in this dog training collar. However, it is a pity that they have no typical model for large dogs.
---
Best of all – Paipaitek No Shock Safe Training Collar for deaf dogs
This no-shock training collar is specially made for training deaf dogs. It is a lightweight, humane dog collar with no prongs or shock. Instead, it uses vibration mode and beep sound, which is safe for dogs.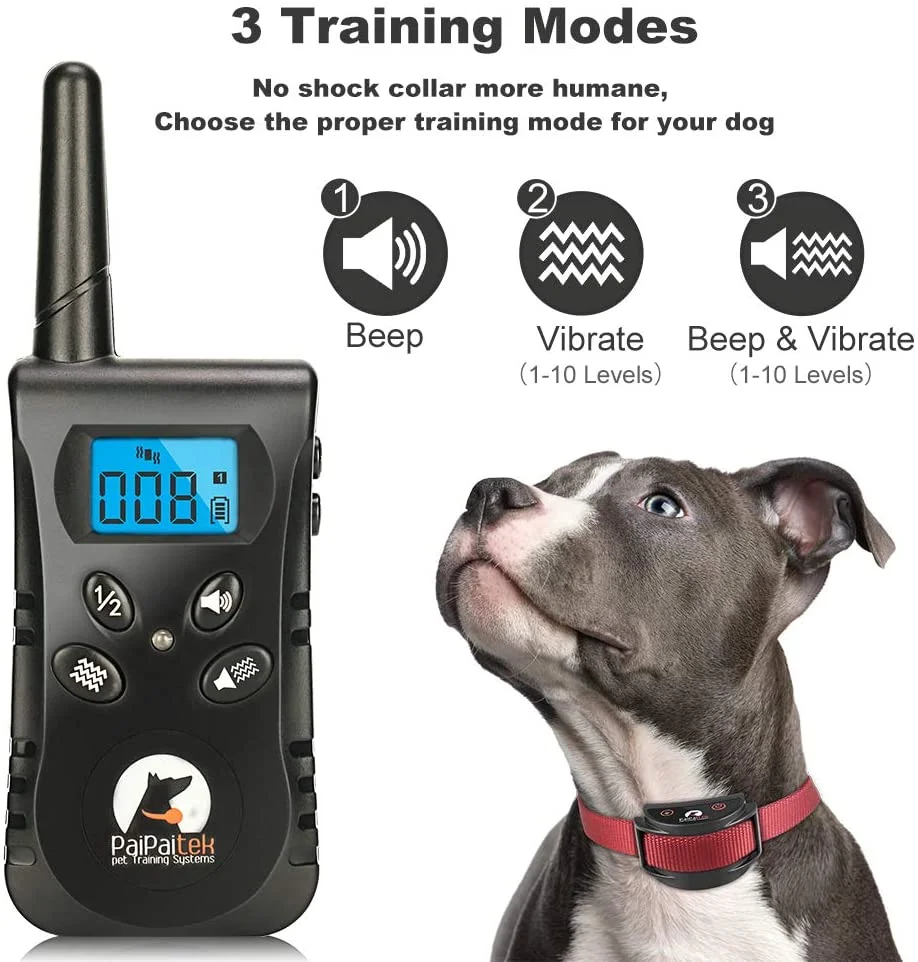 The collar is more suitable for small and medium-sized dogs weighing between 4 and 60 lbs. The straps are adjustable for dogs with neck sizes between 8 and 27 inches.
The receiver is waterproof and IPX 5-6 certified. That is why you don't have to worry when your pup swings or plays in the rain while wearing this collar.
Other characteristics:
three modes – Beep, Vibration, Beep+Vibration;
lightweight only 1.3oz;
two durable straps – blue nylon and reflective black TPU;
battery life up to 20 days, quick charge for 2 hours;
ultra-long distance control – 1640 ft;
large screen display.
---
Paws Furlosophy No Shock Dog Collar
This model is to go for if you're looking for a strong collar. But it costs twice as much as other typical collars.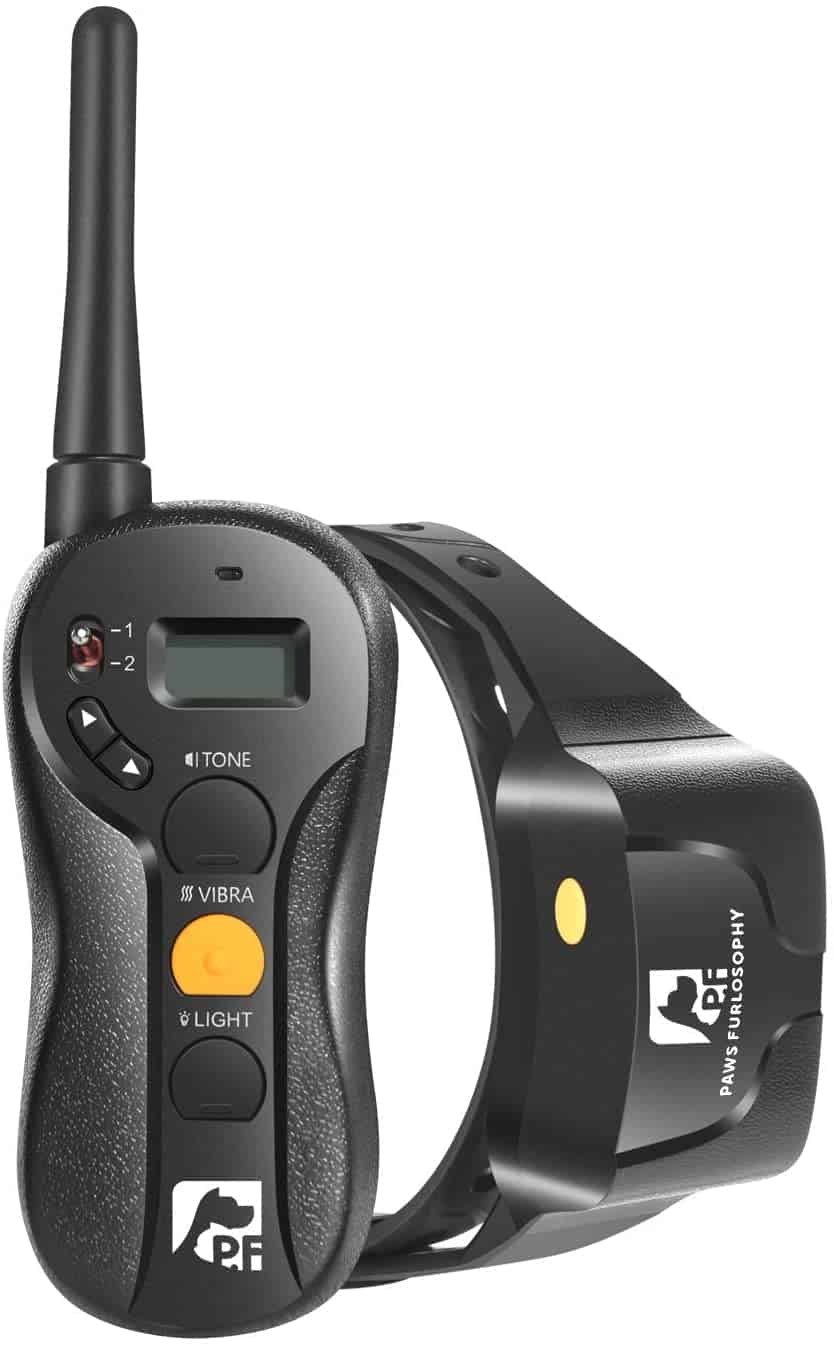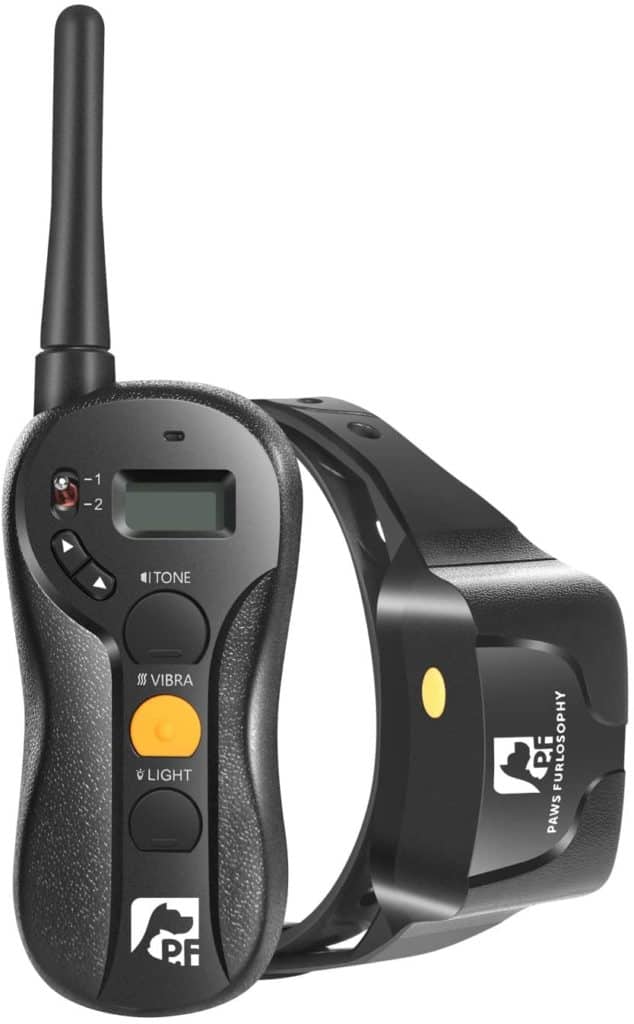 Paws no-shock dog training collar is suitable for dogs with weights ranging from 22 to 100 lbs. You can choose the best mode of training your dog from the three available modes: tone, vibration, and light.
Other characteristics:
16 sensitivity settings;
super high 1950 ft range;
made of durable material – Thermoplastic Polyurethane;
able to control 2 collar receivers simultaneously.
---
PetSafe Remote Training Collar
The next no shock collar from PetSafe – no less popular company of pet products. Here are its characteristics:
range — 300 yards;
fits dogs 8 lb and up with neck sizes 6-23 in;
audible tone, vibration and 15 levels of static (includes a safety lock feature for higher levels);
quick charge for 2 hours;
40-hour battery life;
waterproof;
the large font display is easy to read at any time of day or night.
Also, PetSafe offers another model of no shock collar, suitable for deaf dogs.
I consider a small disadvantage that the strap is made of nylon. Compared with materials in other models, it is worse. Also, this dog training collar cannot adjust the strange vibrations.
---
FAQ
If you've learned this buyer's guide, let's look at some frequently asked questions regarding vibration collars for deaf dogs.
Can I train deaf dogs without a vibrating collar?
It is possible, but a collar will make the process easier and take less time to train.
Should I use the shock settings to train a deaf dog?
It's better not to use shock for deaf dogs. Your dog will feel pain or discomfort, which will not help you get closer to each other. Shock collars are designed to correct behavior.
Can a vibrating collar be used for barking problems?
There are two primary applications for vibration collars and they're very distinct anti-barking and communicate with deaf dogs.
Any purpose is acceptable, but selecting only one purpose for the collar is essential.
Is this method suitable for puppies?
A vibrating collar is suitable for older puppies. Follow the guide. In general, you should wait until your puppy is approximately 6 months old to use an electronic dog training collar.
Always begin slowly and carefully watch your dog's reaction to the collar. Your dog should not feel discomfort even a bit. If it isn't uncomfortable, wait until later or consider alternatives.
Save this article on Pinterest so you don't lose it!
Deaf dog training with a vibrating collar
You can't expect to apply a vibrating collar to your dog and see immediate results. Like everything else, it will require time of training and introduction.
To get your pet familiar with wearing the collar (similar to how you would wear any other brand new collar for dogs).
Next, begin using the vibration feature and teach your dog that you create the experience. One way to achieve this is to feed your dog treats while you trigger the vibration. It helps in creating an emotional connection with the sound.
After getting the dog comfortable with it, you are ready to begin providing only the rewards when your dog stares at you while you activate the vibration.
Continue teaching your dog to gaze at you from a distance away. Making your dog react consistently with the collar will take time and patience.
The dog may be unable to comprehend what is causing the vibration, where it's emanating from, or whether the cause is you. However, the dog will eventually begin associating the collar's sound with food.
How it works with the deaf dogs
All vibration collars have roughly the same principle of work. It has a vibrating module with rubber-metal prongs. In addition, the set includes a remote control, which can activate the device at the right time.
Vibrations are absolutely harmless to deaf dogs and do not cause pain. Therefore, you can safely use it and not worry about your dear pet.
This signal just attracts the dog's attention. You need to teach your pet to look at or look for you when it senses vibration. Then you have eye contact with the dog and can give hand signals. Over time, the dog will understand that the vibrations mean the owner wants to say something. It is a great way to train deaf dogs.
You should also train your deaf dog to understand visual signals and body language.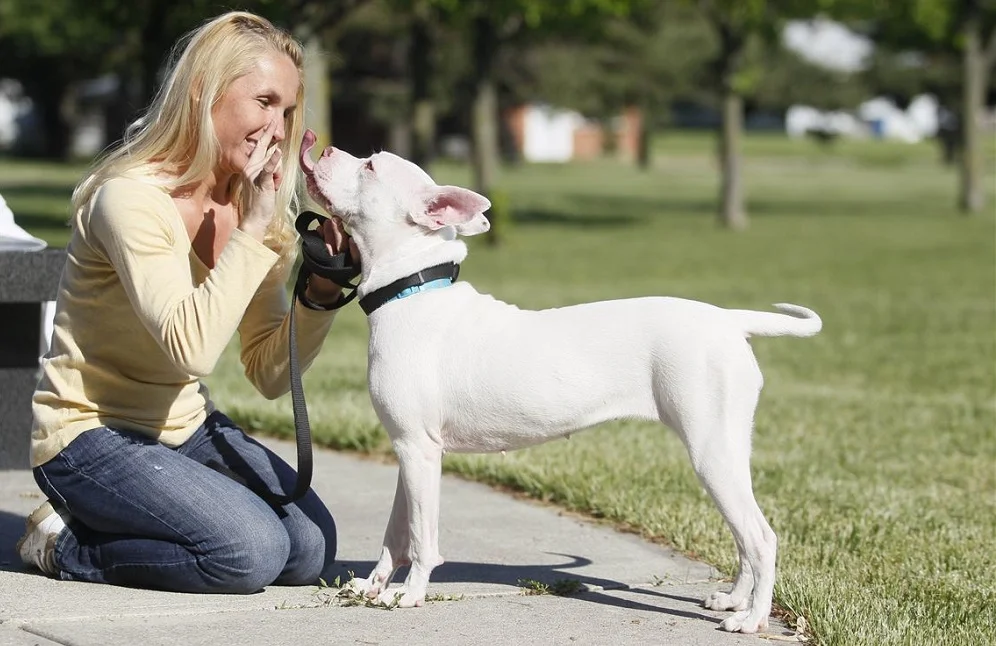 Should you buy a vibrating collar for a deaf dog?
The complete training process cannot be based on the vibration collar; however, if you can train your dog to look at your hand when there is an emitted vibration, it can make it much easier to train your dog.
The vibrations are not a form of punishment for dogs. It is merely a way of reminding them to look at your hand.
Deaf dogs usually spend more time training than other dogs So don't too quickly assume that vibrating collars for dogs with hearing impairments are not working.
I recommend watching the video about training a deaf dog with a vibrating collar:
Latest posts by Anastasia
(see all)