In this review, I wanted to share a list of the best dog crate toys I have found.
But does a dog really need toys in its crate? Yes, the right toys can help keep your dog occupied and calm. It is especially important for those who are not yet used to a crate or suffer from separation anxiety.
What toys can you put in the crate?
I followed several principles in choosing the best toys for crate training. They should be:
safe (so you can leave your dog unattended);
interesting (to keep the dog occupied for a while).
You can put a few toys in your puppy's crate. Preferably, it's should be toys just for the crate.
Several categories of toys can be identified according to these criteria:
chew toys (let the dog chew a special toy rather than a crate or a pad);
puzzles (these toys will keep your dog busy for a long time, as they encourage it to think and work hard to get the treat);
lick toys (licking also has a calming and distracting effect on dogs).
Don't put any fabric toys in the crate, since dogs might tear them and choke on a piece of fabric. Small toys such as balls are also dangerous.
And now a few good crate toys for dogs that I particularly like.
Kong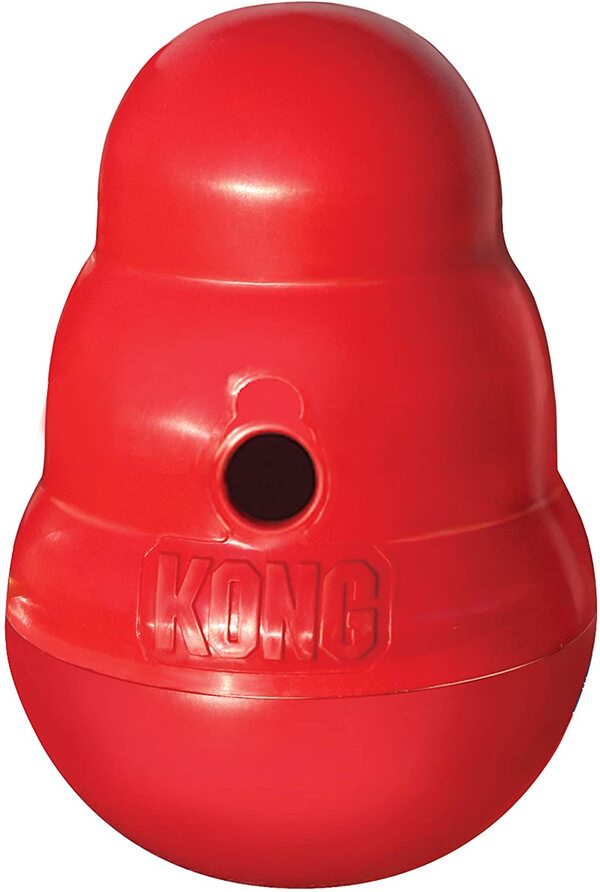 A great toy that all dogs and their owners love. It's a rubber chew toy that you can put some kind of treat inside. My Frank enjoys chewing Kong for a long time. And if you freeze the Kong with food beforehand, then your fur baby will be busy even longer.
You can choose Kong in different sizes, depending on your dog's breed. You can make homemade treats to fill the Kong, or you can buy ready-made fillings. They are sold in jars with a nozzle, through which it is convenient to stuff the toy.
$19.99
---
Planet Dog Orbee-Tuff Diamond Plate Ball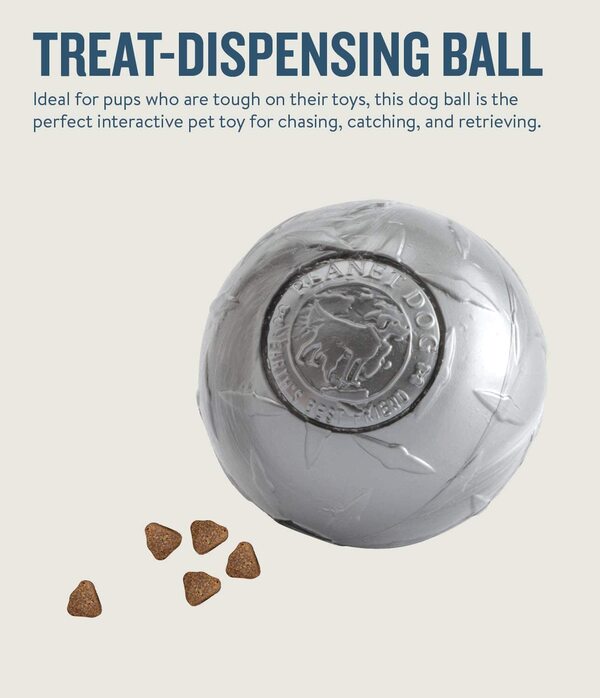 This toy combines three things:
a ball that can be tossed and rolled;
a chewable rubber toy;
an interactive toy.
Dry food is put inside, and the dog has to roll the ball to get its food. It will help your pet not to get bored while sitting in the crate. The seller offers the balls in 3 sizes. They are made in the USA.
$9.09
---
SPOT Ethical Pet Interactive Seek-A-Treat Shuffle Bone Toy Puzzle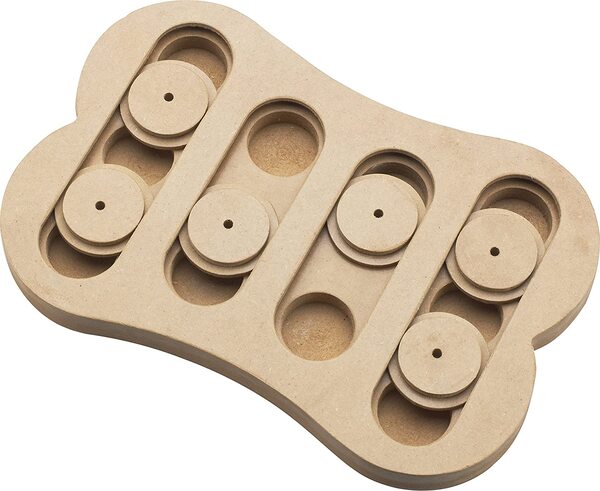 Interactive dog toys are also good for the crate. This puzzle is quite complicated. It will take some time for the dog to learn how to get its treats. Puzzles like this develop a dog's mind.
I like the fact that the toy is made of wood and does not have parts that can be bitten and swallowed.
$19.15
Tell us in the comments if you and your dog have tried puzzles before. Did your dog complete the challenge and was it fun?
---
Lickimat Tuff, Heavy-Duty Dog Slow Feeders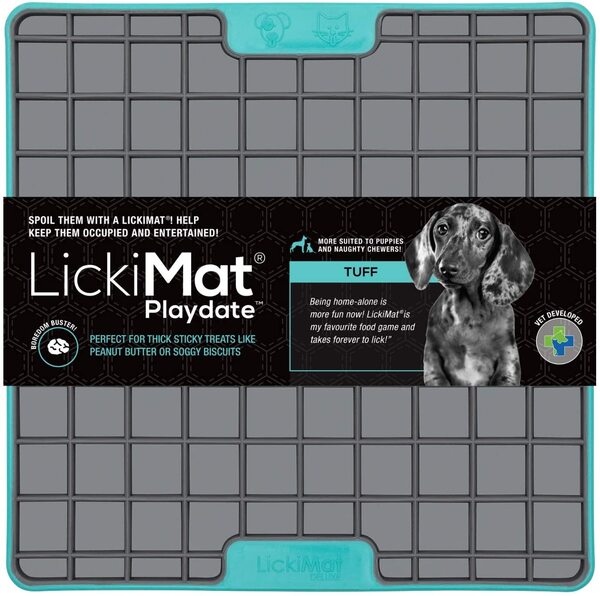 To prevent your dog from getting bored and anxious when it is alone, leave this lick pad in the crate with a treat (such as peanut butter) spread on it beforehand.
The dog will not be able to lick the paste off the mat quickly, because the mat has a special pattern created on it.
I chose this particular mat because it is made of durable rubber that is resistant to chewing. Other mats are dangerous to leave in the crate because
the dog can destroy them.
$15.99
---
You may be interested in these topics:
---
LickiMat Wobble, Dog Slow Feeder Bowls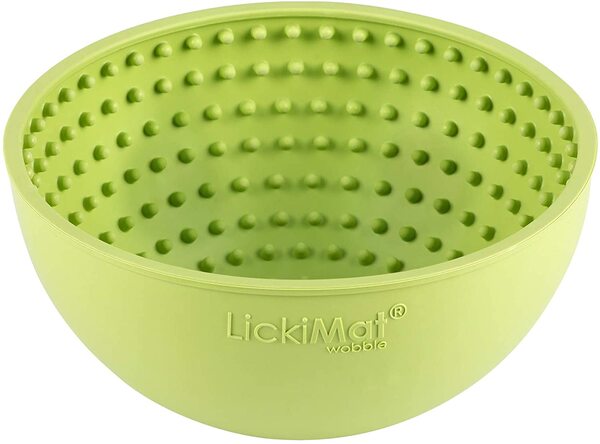 An alternative for a lick pad shaped like a bowl. This design makes it more difficult and makes it take longer for the dog to eat. The texture of this bowl helps to clean the pet's tongue.
But this product is not suitable for aggressive chewers. If you own such a dog, you need the previous lick mat.
Price not available
---
clapzovr Dog Chew Toys for Aggressive Chewers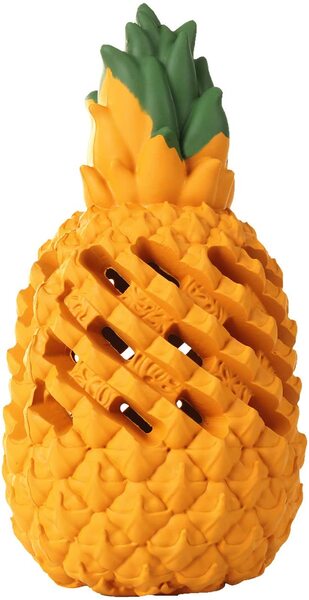 If your dog can easily handle Kong or if you want to try something new, this pineapple-shaped rubber toy would be a good choice.
It is made of high-strength food grade rubber that will withstand even aggressive chewing. It's one of the best toys for puppies in the crate. Its raised texture helps the puppy with a dental cleaning and stimulates gums.
$17.99
---
Diggs Groov Dog Training Toy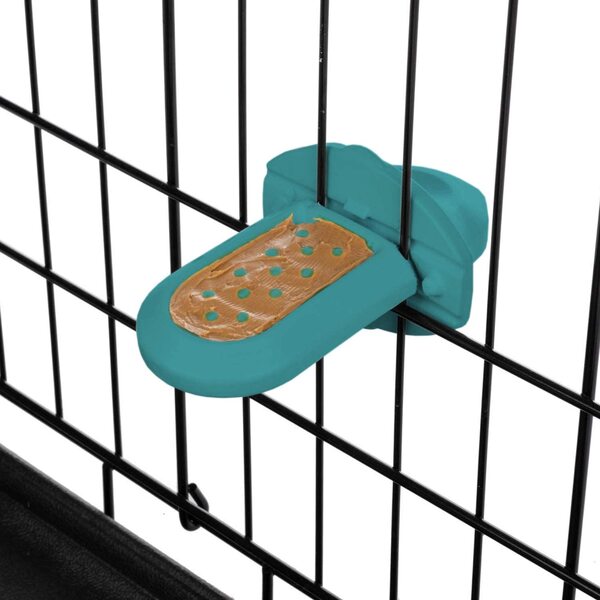 This toy attaches directly to the crate, so it is convenient for crate training. You also need to put a treat on it, such as peanut paste. But it is unlikely to last long, as the surface is small.
$34.00
---
Dog Puzzle Toys for Smart Dogs Upgraded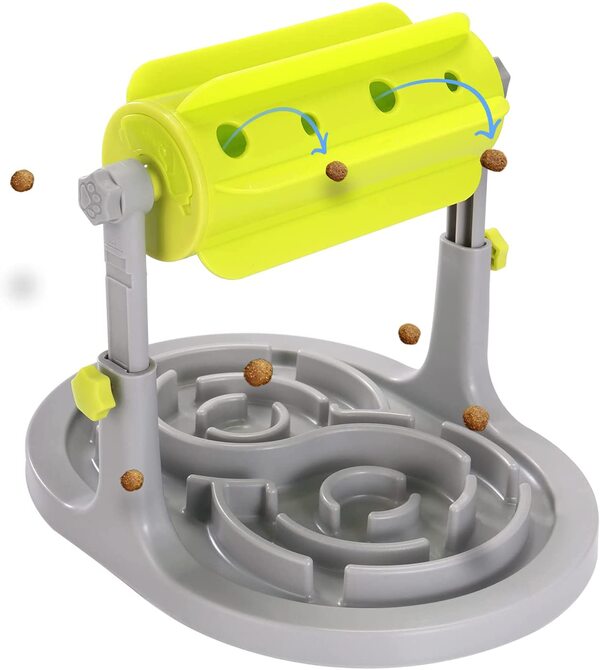 An interesting version of puzzles for advanced dogs. If other puzzles occupy your dog only for a short time, then try this.
The food is poured into the top feeder. The dog has to twist the feeder to get the food out, and then it has to get it out of the maze.
Price not available
---
Dog Puzzle Toys for Boredom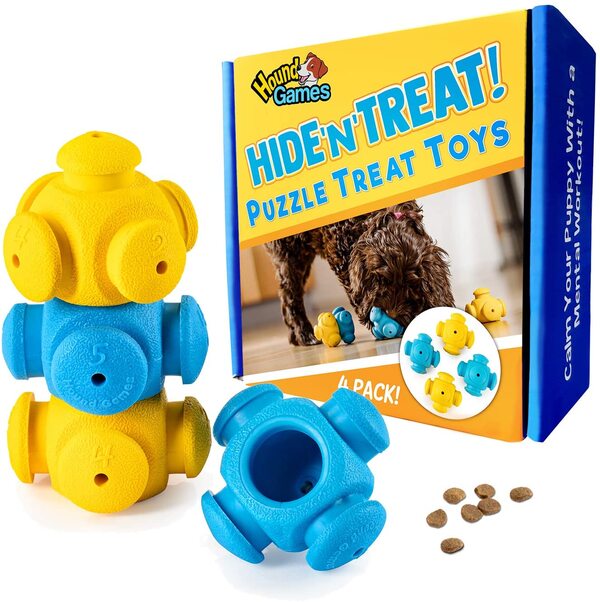 An interesting set with 4 pieces that come together. The dog will have to tinker with this construction before can get all the treats. These toys can be put together in different combinations to keep things interesting all the time.
Such crate toys are good for bored dogs. It is made of sturdy rubber that is suitable for chewers.
$27.99
---
FAQ
Which crate toys are good for anxious dogs?

Chew and lick toys are best for dogs suffering from separation anxiety. Such toys help distract the animal and reduce stress.

Is it ok to leave toys in dog crate?

This is a great idea, because your pet will be bored if it has nothing to do. But you don't need to put toys in the crate at night.

What toys are safe to leave in dog crate?

Durable chew toys are the safest. Do not leave soft toys that can be torn or toys with small parts in the crate.
I hope that you will find the best dog crate toy. But the most important thing is that your pet likes its toy! So you have to try different options.
Save this article on Pinterest so you don't lose it!
Latest posts by Anastasia
(see all)