If you want to diversify your dog's diet, try making homemade treats. They can be healthier and cheaper than store-bought items.
In this article, I will share homemade dog biscuit recipes that you can make easily and quickly. Also, in the end, I'll tell you what gadgets you can use to make dog biscuits.
Recipes of dog biscuits
All of the recipes are for cooking in the oven or microwave. You need to make the dough from the ingredients listed, then roll it out and make the biscuits using the molds. Do not forget to grease the molds or use parchment paper.
You will need 2 cups of flour, 1/2 cup peanut butter, and 2 eggs to make these simple peanut butter treats. Mix it all together and then add water until it becomes wet enough to roll out as dough.
Mix 1 cup of whole wheat flour, 1 cup of grated carrots, 1 egg, and 0.5 cup of apple sauce. Bake in molds for 30-40 minutes.
Mix 2 cups of whole wheat flour, 1 cup of peanut butter, 1 cup of skim milk, and a tablespoon of baking powder. Bake for 15-20 minutes.
To make these sweet treats, mix 1 egg, 3 fourths cup unsalted almond butter, 1 third of a banana, and a teaspoon of cinnamon. Bake for 10 minutes.
If your dog likes pumpkins and carrots, then this recipe is for you. Mix three-fourths cup canned pumpkin, one egg, one-fourth cup shredded carrots, and a cup of whole wheat flour. Then bake for 30 minutes.
You can substitute white flour for whole wheat flour or oatmeal in the recipes.
Save these recipes to Pinterest, so you don't lose them!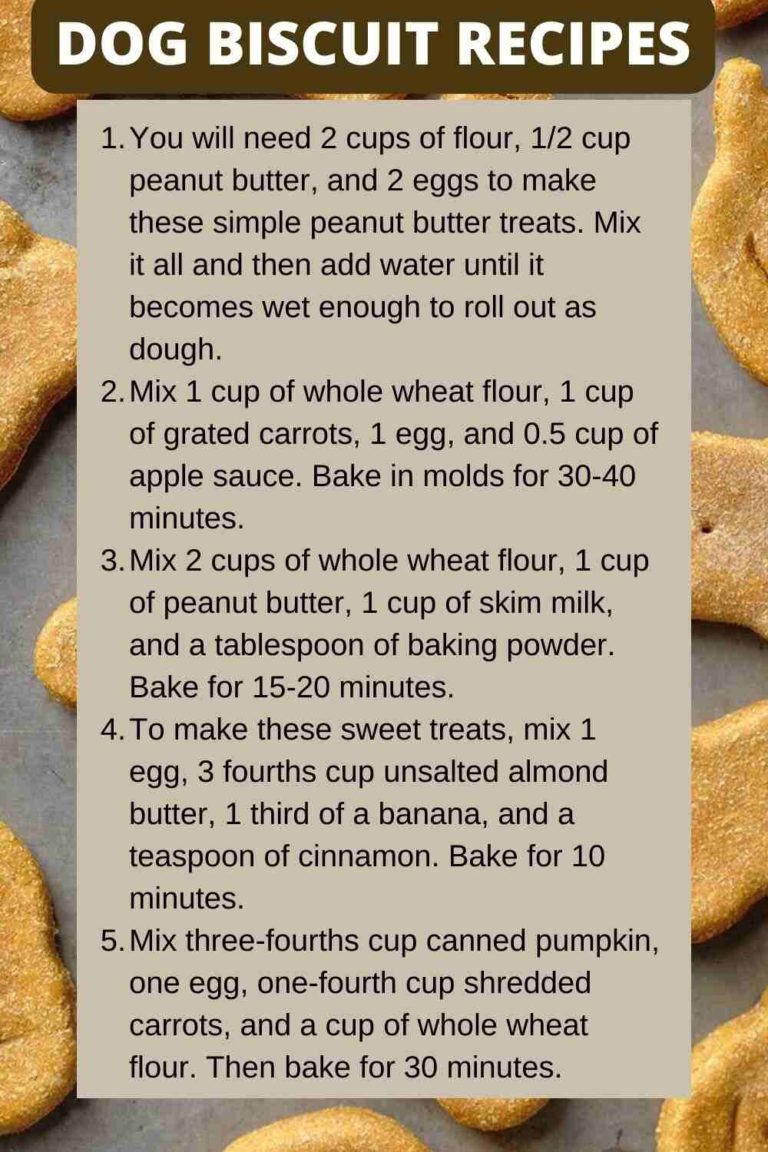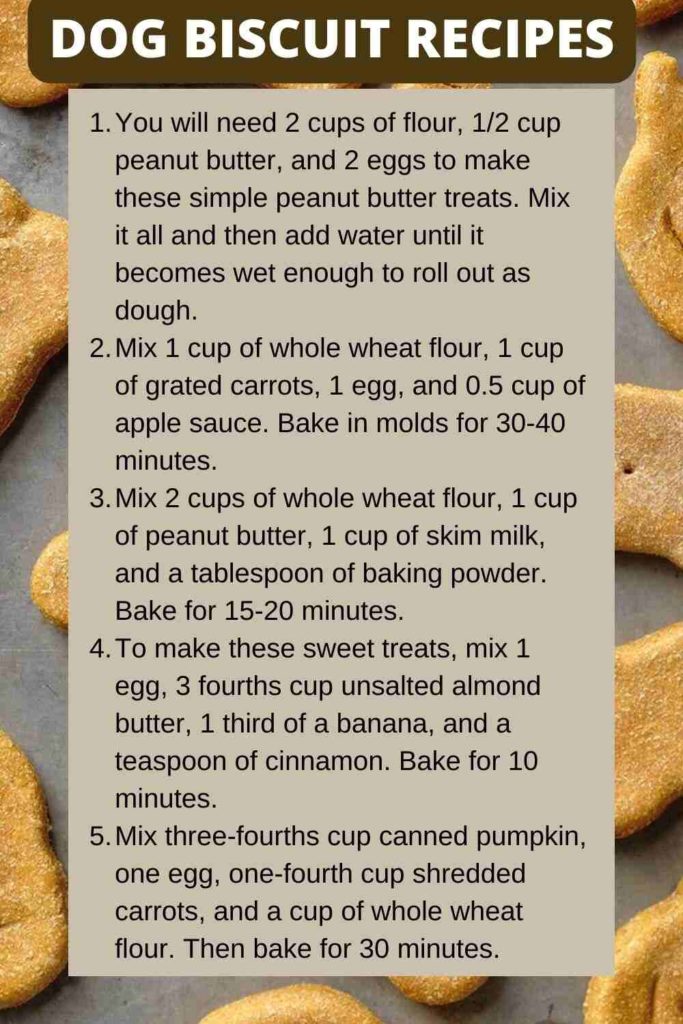 If you don't want to go to the trouble, or, like me, are not a friend of baking, I recommend buying a pre-made biscuit mix, like Cooper's Treats Baked Biscuit Starter Kit. This mix is made from dried and ground meat. You just need to add water and knead the batter.
If you're looking for good dog food, I recommend checking out Chippin food. It is made from natural products and recipes are developed under the guidance of veterinarians. Check out their menu.
Dog biscuit making utensils
To make dog biscuits at home, you'll need special molds and fixtures. Here are some ideas for you.
Silicone Dog Treat Molds – Paw and Bone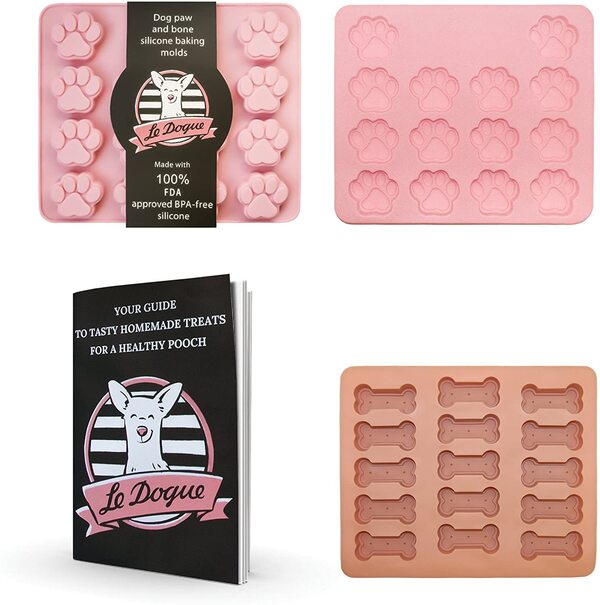 The set includes 2 molds – one can make 20 paw-shaped biscuits, and the other can make 24 paw-shaped biscuits. These molds can be used in the oven and microwave, and frozen. So you can make a wide variety of treats. An added benefit of this set is the recipe booklet.
Paw print skillet pan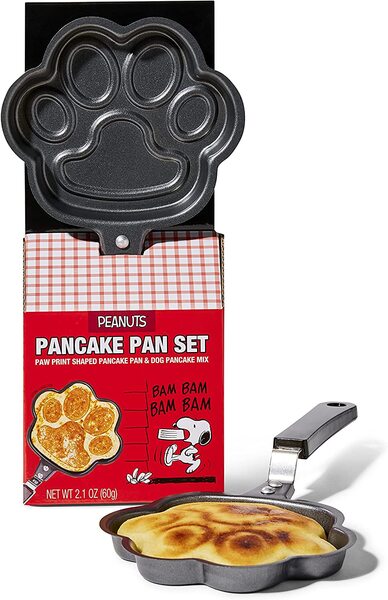 You can make these cute pancakes in the shape of a dog's paw on a skillet like this. They're pretty big, so they'll fit dogs of all sizes. The set even includes a pancake mix.
Dash Dog Treat Maker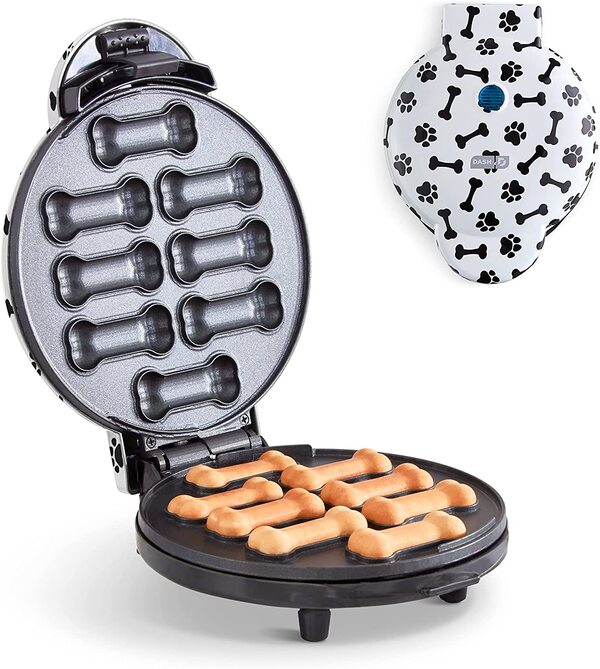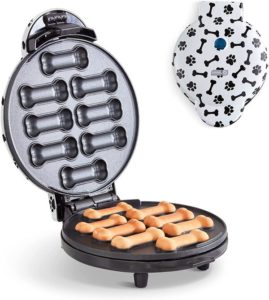 Since many people are looking for this particular treat maker, I'll mention it too. Immediately I thought it was a good idea: pour the dough, close the lid, and take out the ready-made treats in a minute. But I looked at the reviews, and I realized that this is not so simple.
First, most recipes make the dough thick rather than liquid, so you have to push it into the molds. This is uncomfortable, and you can burn yourself. Second, the seed biscuits need to be turned over, which in my opinion is not convenient. It would be hard to make beautiful biscuits.
But on the other hand, Dash treat maker has a lot of positive reviews. So a lot of people like this thing, the main thing is to get used to it.
You can find more information and recipes for the Dash dog treat maker in the video:
Conclusions
I think it's imperative to make your dog homemade treats like biscuits and cookies from time to time. It's healthy, beneficial, and adds variety to your pet's routine.
Use the dog biscuit recipes in this article and share your results! Best of luck making yummy treats for your dog!
Latest posts by Anastasia
(see all)