Most people prefer letting the dog use the bathroom outside. However, some folks dwell in the apartments, and as such, they lack enough sprawling green space for their dog to roam around. Equally, factors such as extreme weather conditions make it hard to practice outdoor potty.
The best alternative, therefore, becomes the indoor dog potty. They are also avenues that can be used to train the younger dogs on how to carry themselves when they want to pee. This article gives detailed information about the 8 best indoor dog potties. So let's go into it, shall we?
Table for quick selection
Petmaker Training Mat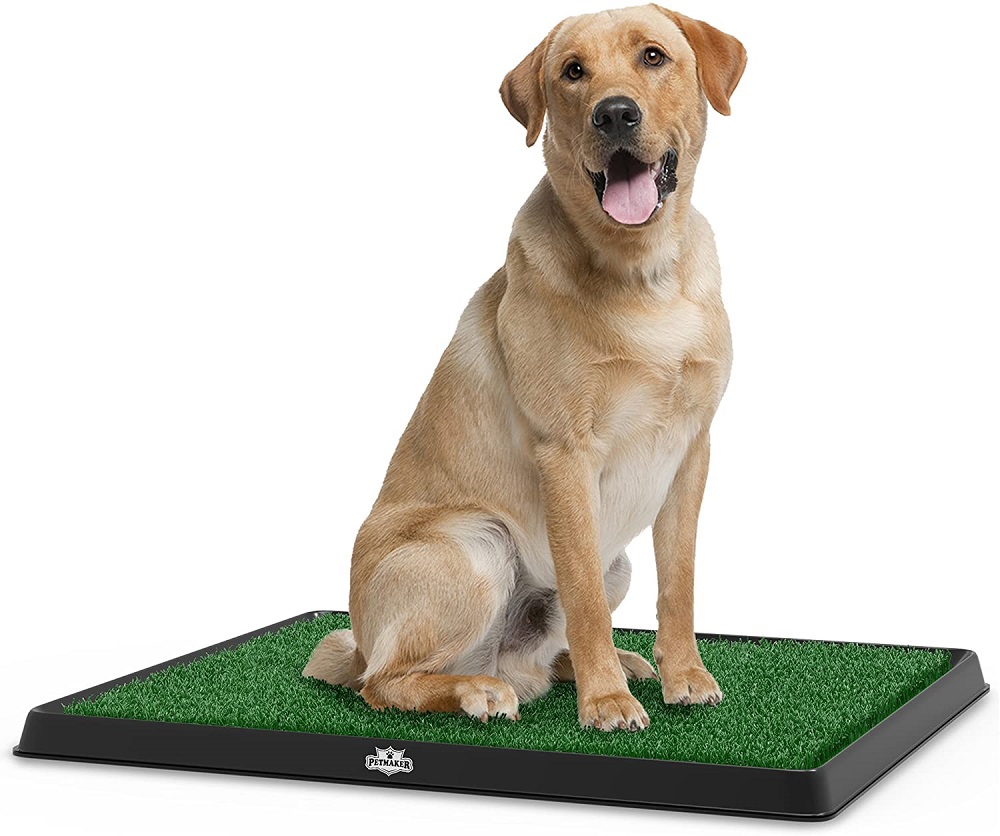 Price: $34.95
This artificial grass bathroom mat is specifically designed for young puppies. Petmaker training mat comes in small and medium size to occupy a small area, especially on the balcony. It is green, soft, and emulates the natural look and feel of the outside grass to comfort your puppy while peeing.
It has a three-layer system, grass, bubbly plastic sifter, and plastic tray. Clean-up consists only of rinsing the three layers with soapy water.
Blyss Pets Klean Paws Indoor Dog Potty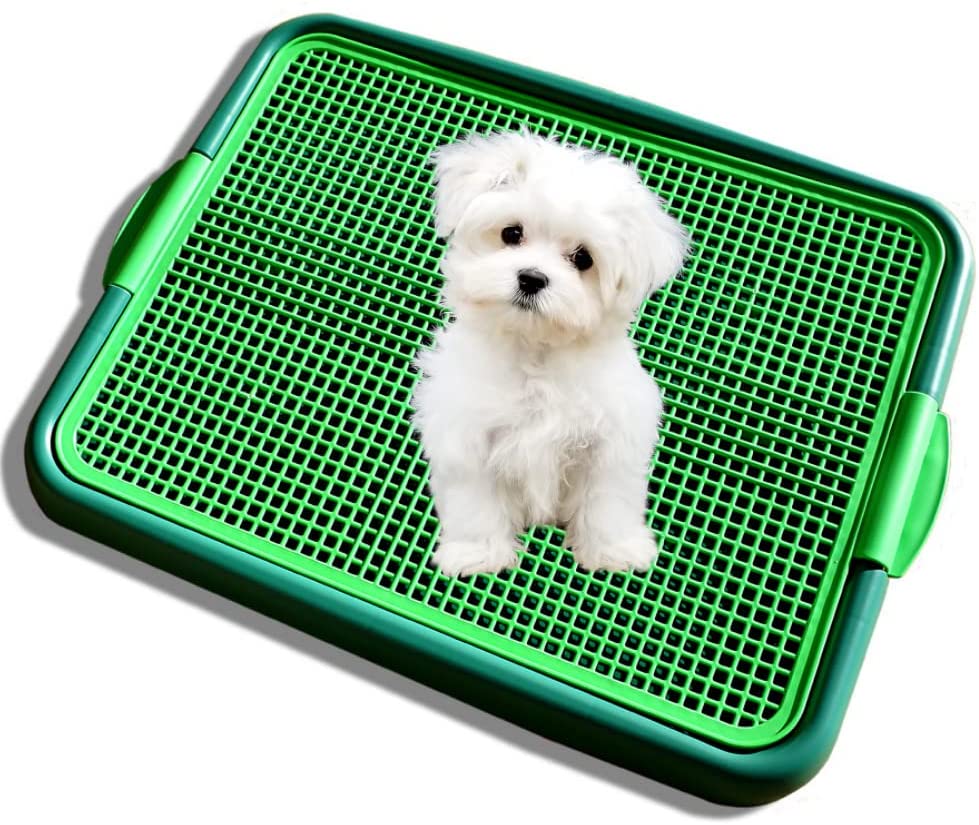 Price: Price not available
If you do not like pots with artificial grass, then you can buy this model. Klein Paws Indoor Pee Pad Holder is suitable for smaller dogs and puppies.
I like that this pot has a snap-on top grate. You can put a pad under it and the puppy can't chew on it. The grate also helps keep paws dry.
PuppyGoHere

Price: $39.95
PuppuGoThere dog potty is similar to cat litter box. The pot can be filled with any litter for the dog's potty or you may use a pad for this.
The admirable thing about PuppyGoHere is the presence of a lip on one side, which enables your small puppy to get in with her tiny legs. In addition, disabled puppies or dogs can use this product without any struggles.
PetSafe Pet Loo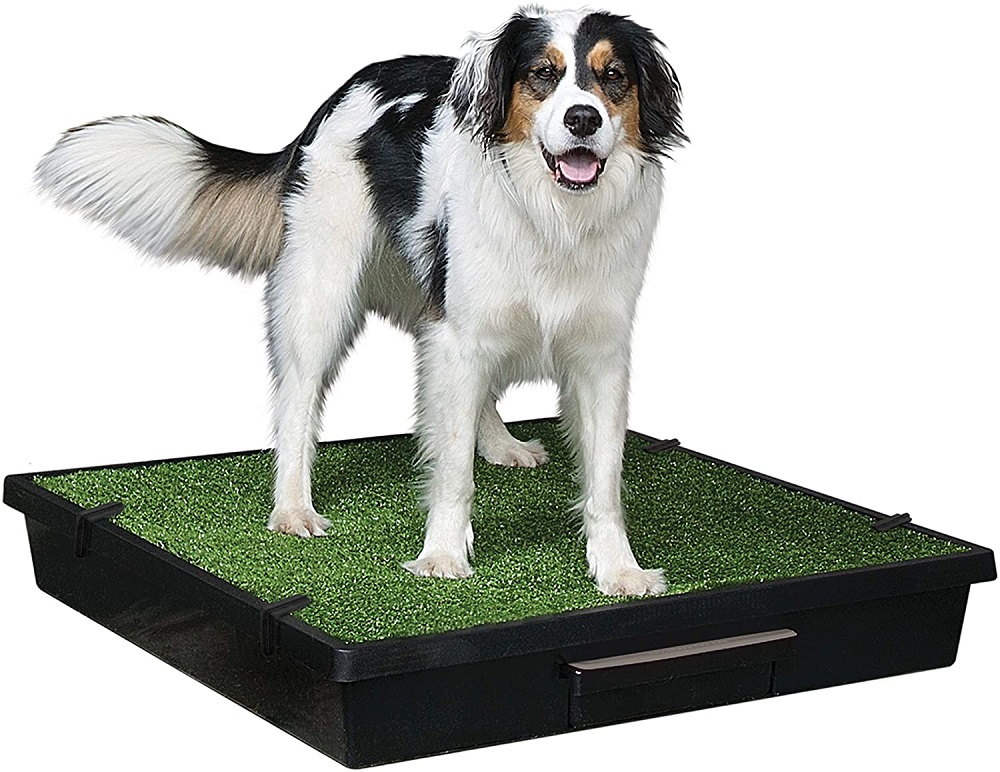 Price: $109.95
PetSafe Pet Loo comes in three sizes: for large dogs, medium dogs and small dogs. Set includes pet loo base with tray, 1 grass pad, wastle container, 1 disposable pee pod. The pee drains into a tray by using the grass liner, and you empty every day.
In addition, you can put in the urine tray the newspaper litter pellets. It is the best alternative for your dog to relieve himself when traveling with him in RV's, campers, on occasions, or in apartments or homes that lack yards.
HIPIPET Puppy Dog Potty Tray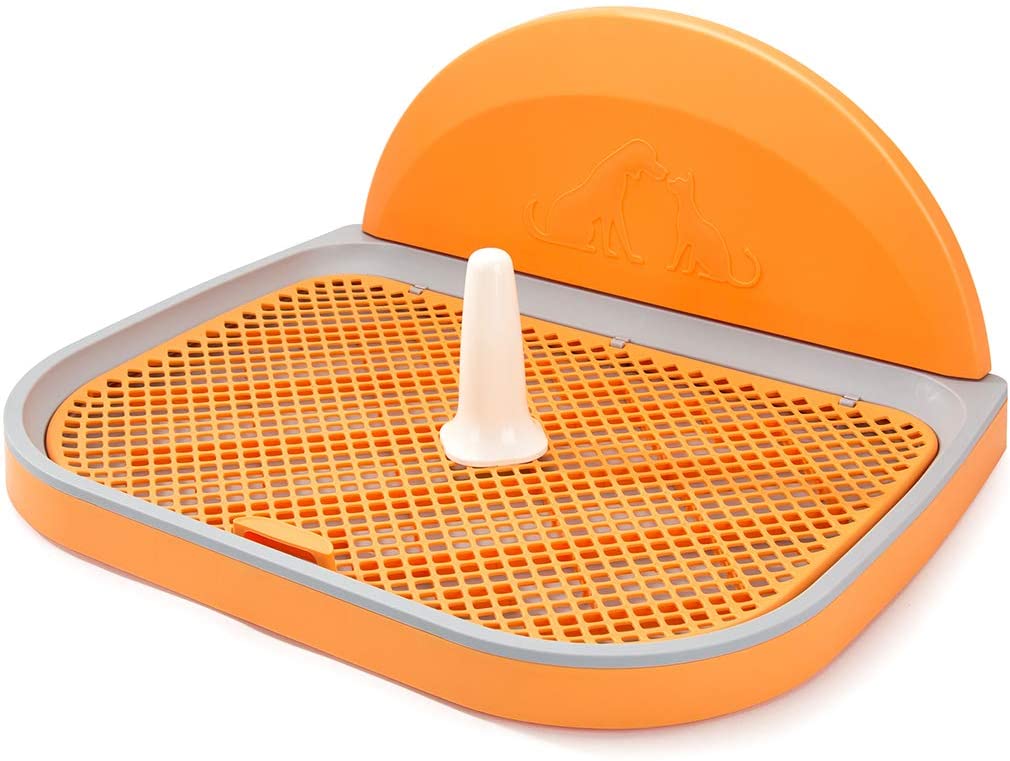 Price: Price not available
Do you get disgusted when you find a puppy has wet himself If you own a little boy, then this potty should work for you. It has a plastic post that looks like a fire hydrant.
The crate separates the urine from your pet's feet to keep it dry.
Upgrade Large Dog Grass Pad with Tray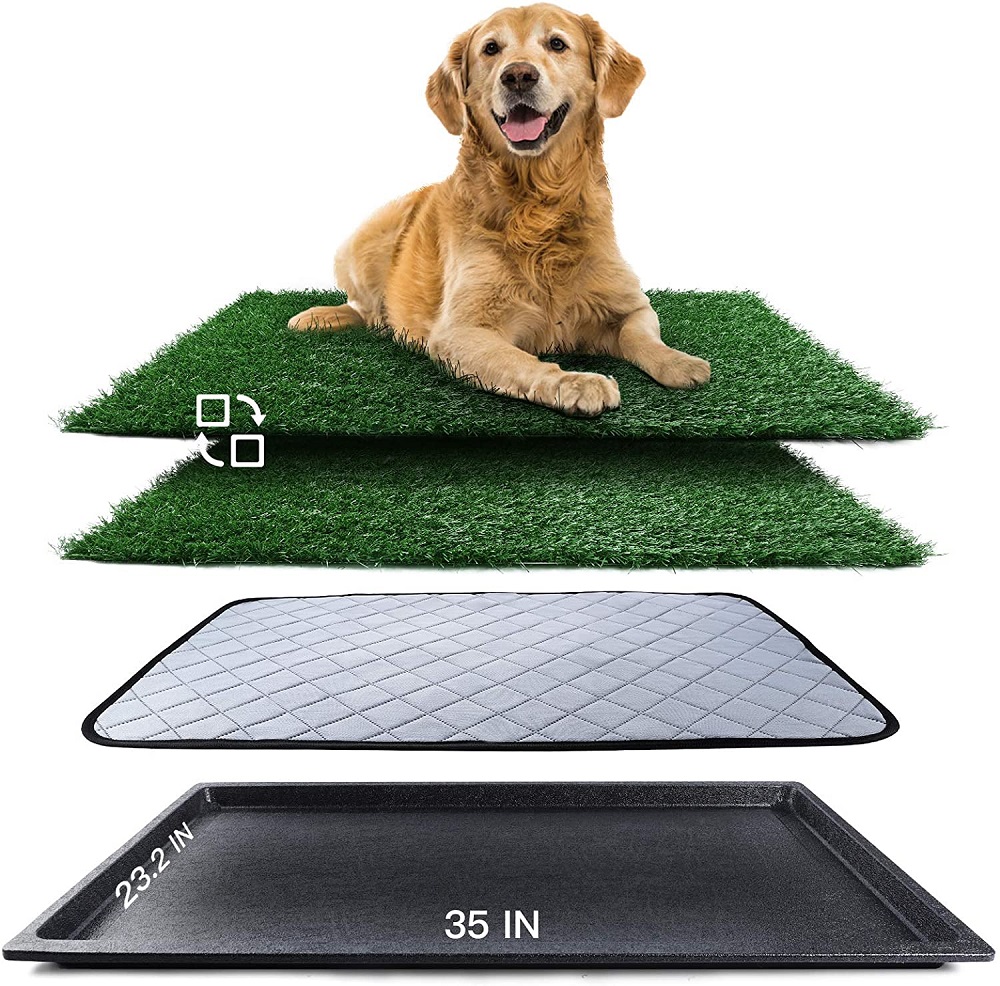 Price: $64.79
Upgrade Large Grass Pad with Tray pet potty is made of three layers:
the first layer is the top, known as 2-Packs replacement artificial grass pads;
the middle is washable;
and the large bottom tray.
It gives your puppy a natural grass feeling and minimizes accidents related to your puppies. When the dog uses the bathroom, urine quickly runs through the drainage system, leaving the mat and the dog's feet dry.
DogCharge Indoor Dog Potty Tray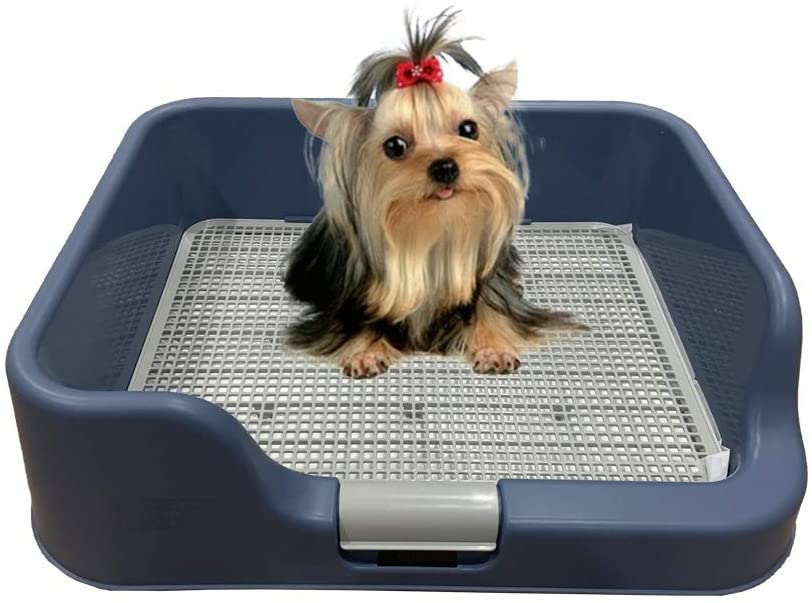 Price: $53.99
DogCharge Indoor Dog potty Tray is suitable for pups and small dogs. It is made of a protective wall on every side to avoid leakages, spillages, and accidents to your puppy. It equally keeps the floor clean and paws dry.
For this product, you don't have to worry about disposable pads since they are optional. It is made of nets with longer lags that keep your dog away from the waste on the body.
BrilliantPad Self-Cleaning, Automatic Indoor Dog Potty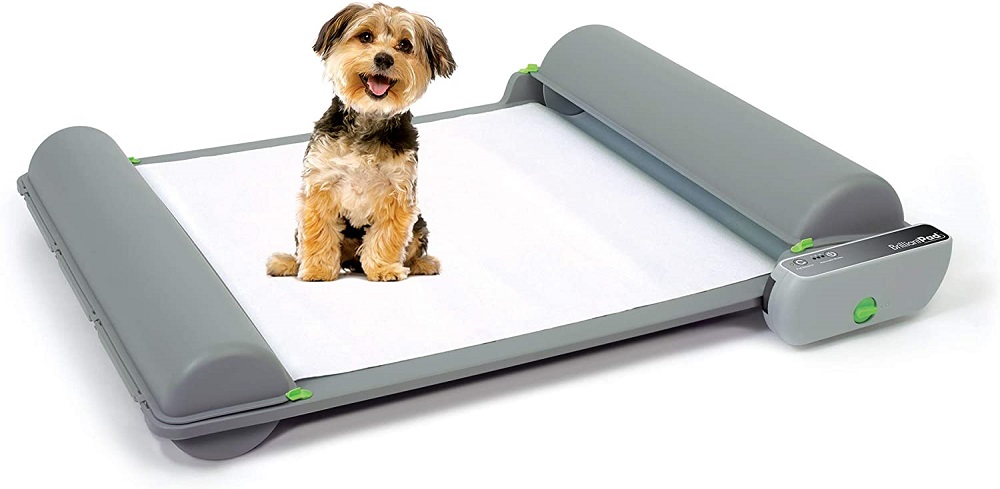 Price: $169.99
Brilliant Pad Self-Cleaning Automatic Indoor Dog Potty is an excellent alternative to typical pads. The feature about BrilliantPad is its automatic cleaning system and provides a comfortable place for your dog when relieving itself at any time.
After your puppy has peed, waste is automatically rolled up and sealed between the layers of the absorbent and waterproof products that hold in moisture and smell. One pad roll is equivalent to 21 traditional puppy pads.
BrialliantPad provides flexibility freedom, especially for individuals with busy schedules, social engagements, and those stuck in traffic jams.
How to Choose a Right Indoor Dog Potty
With several options in the market, choosing the right indoor dog potty for your puppy can be tiresome. However, before you make the final decision to purchase the right potty, consider the following factors:
Cleaning. It doesn't matter what type of indoor dog potty or dog grass potty you end up selecting. If it is too hectic to clean, then you don't have to settle for it. That means you should make sure the potty can easily be cleaned with water and soap or can easily be replaced or disposable before purchasing it.
Size. When it comes to choosing your dog's potty, it must meet your dog's preferences. It should not be too small because you might end up regretting the accidents caused to your puppy. Equally, the potty shouldn't be too large since the time spent cleaning the potty will be regrettable.
Durability. Before purchasing a potty for your dog, you must ensure it is rigid enough to survive the torture occasioned to it by your dog.
Save this article on Pinterest so you don't lose it!
Best Indoor Dog Potties
This article has reviewed various indoor dog potty and dog potty grass, and the best depends on the customer's preferences. If you want a pot with artificial grass, choose Petmaker Training Mat or PetSafe Pet Loo for large dogs.
For small dogs the best indoor potty is or HIPIPET Puppy Dog Potty or DogCharge Indoor Dog Potty Tray (for boys).
Latest posts by Anastasia
(see all)