In this review, I'll show you the best dog ramps and stairs that help your dog easily climb onto elevated places like a bed, couch, or car's back.
Old or sick dogs need this help because they may not be able to climb onto a bed or into a car. In addition, it may cause injury. Also, ramps are useful for miniature dogs who cannot jump high.
Quick Pick Table
Best dog ramps for beds or couch
Pawnotch USA Made Adjustable Dog Ramp for All Dogs and...
Best small dog ramp
Best Pet Supplies Foam Pet Steps for Small Dogs and...
Best dog ramp for suv or track
PetSafe Happy Ride Deluxe Telescoping Dog Ramp for...
Best dog ramps for beds or couch
Pawnotch USA Made Adjustable Dog Ramp for All Dogs and...
Best small dog ramp
Best Pet Supplies Foam Pet Steps for Small Dogs and...
Best dog ramp for suv or track
PetSafe Happy Ride Deluxe Telescoping Dog Ramp for...
Last update on 2023-02-01 / Affiliate links / Images from Amazon Product Advertising API
If you need a dog ramp for your home, the best option is the USA Made Adjustable Pet Ramp. It's foldable and height-adjustable. For small dogs who have difficulty climbing up the couch or bed, the Best Pet Supplies Foam Pet Steps will work.
The best dog ramp for the car is the PetSafe Happy Ride Deluxe Telescoping Pet Ramp. You can also consider a 2-in-1 ramp (suitable for home and car use).
USA Made Adjustable Pet Ramp for All Dogs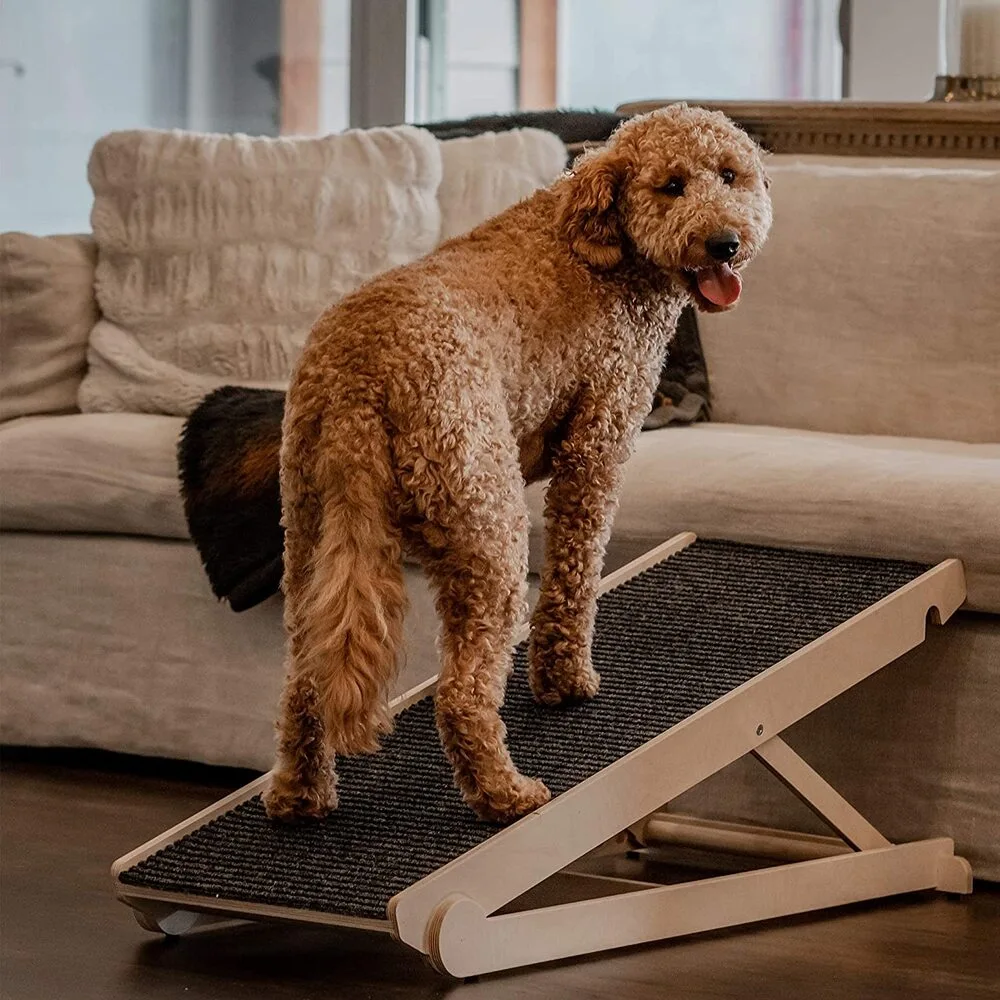 In my opinion, this is a great option for the home. This ramp combines quality, usability, and an attractive appearance.
What I like:
6 positions for height adjustment;
the frame is made of sturdy birch wood;
can hold up to 200 lbs;
folds up for easy storage (can be stuffed under a bed or in a closet);
ribbed mat for good traction;
excellent quality craft (made in the USA).
---
Best Pet Supplies Foam Pet Steps
If your little dog needs help getting on the bed or couch, but you don't want to buy a bulky, heavy ramp, then these padded steps might appeal to you.
What I like:
3 sizes (with three, four, and five steps);
a wide variety of colors;
relatively inexpensive price;
removable, washable cover;
fits in the room's interior;
made in the USA from premium materials to ensure durability.
But. These steps are not handy to store if you want to put them away for a while. They can also be slippery.
---

Pet Gear Cat & Dog Stairs & Ramp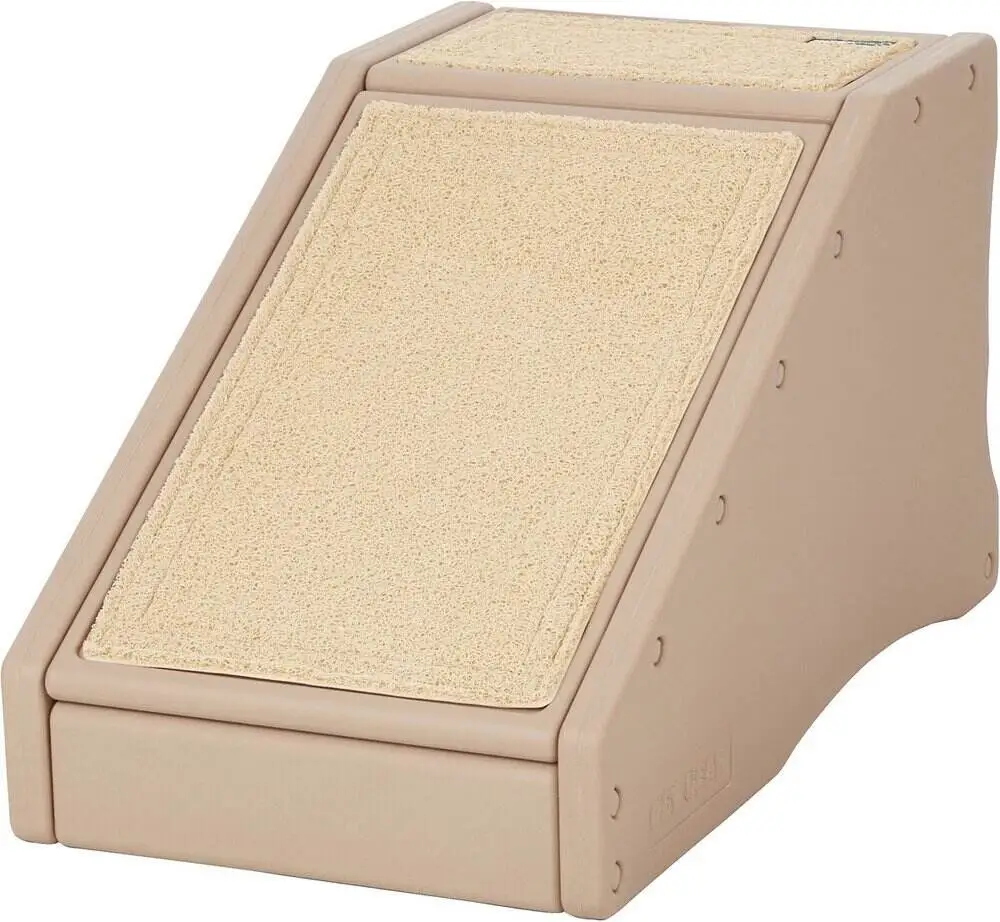 This is another sofa or bed ramp option, but much more stable. It can easily be assembled and disassembled. The ramp is lightweight, sturdy, and of excellent quality.
The removable mat is washable. You can choose the ramp in two colors: chocolate and tan. Recommended for dogs up to 150 lbs.
---
PetSafe CozyUp Dog Steps & Ramp 2 in 1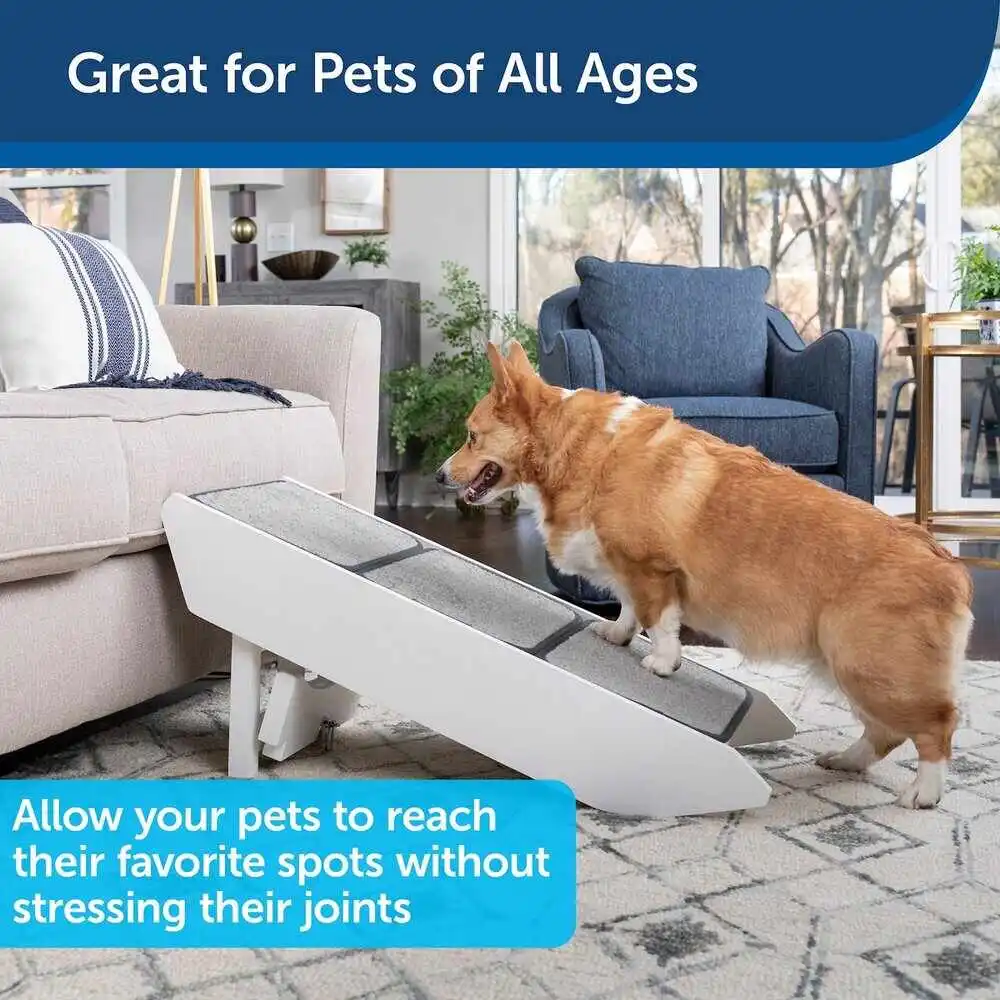 I recommend getting this stair ramp if you don't yet know what is most comfortable for your dog. Some dogs climb easily on an incline, others are more comfortable climbing steps. This 2-in-1 thing will help you find the best option for your dog.
It looks stylish, and in my opinion, would look good if your home is in a modern style.
---
PetSafe CozyUp Wooden Cat & Dog Stairs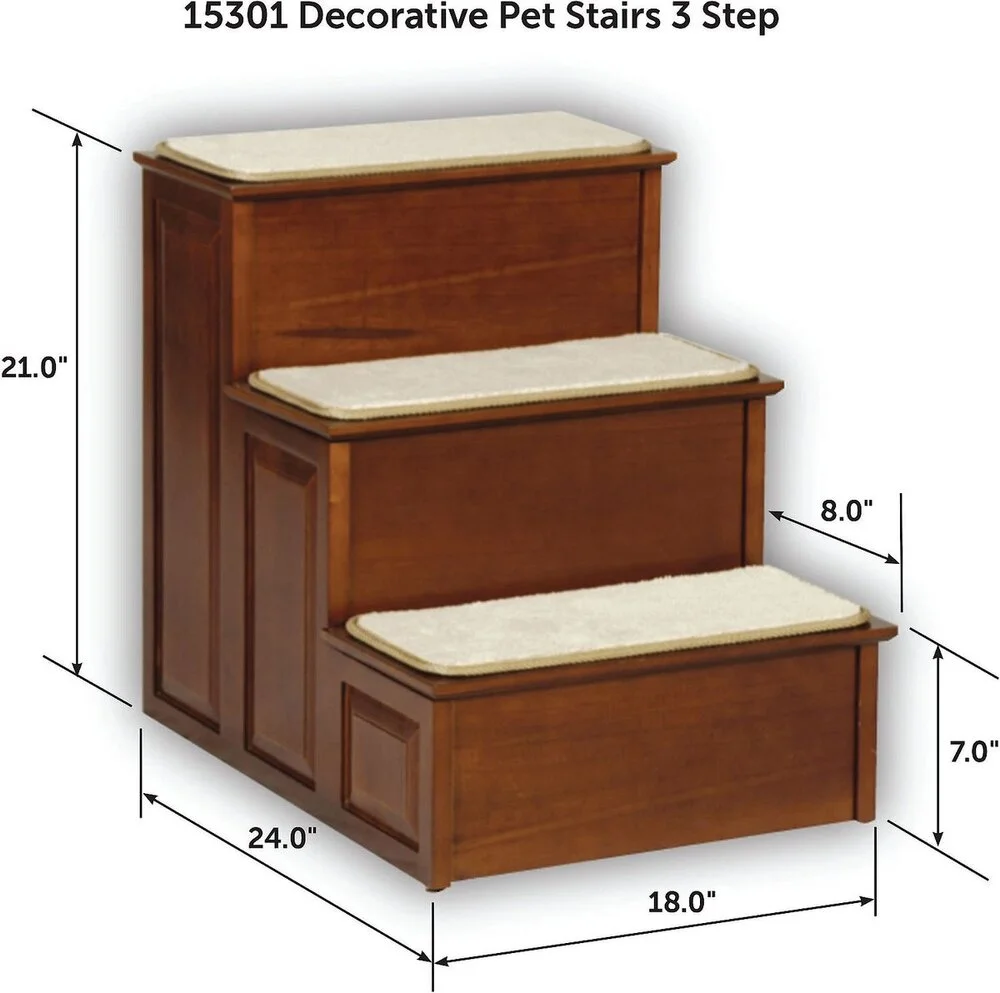 Some dog ramps don't really fit into the interior. That's not the case with this furniture-style ramp.
It is made of wood, which makes it very sturdy and stable. There are two sizes to choose from two steps and three steps. It will fit dogs up to 200 pounds.
---
PetSafe Happy Ride Deluxe Telescoping Pet Ramp
It is a telescopic, adjustable ramp from the popular pet supplies manufacturer PetSafe. It will fit cars of different heights, from minivans to SUVs.
What I like:
made of sturdy aluminum, withstands up to 400 pounds (it has been tested for durability);
easy to unfold and fold;
large angle of incline makes it easy for your dog to climb;
lightweight, only 13 lbs (means it won't be hard to lift);
small side handrails will prevent paws from slipping;
the surface is easy to clean from dirt.
So I think this is one of the best dog ramps for the car.
---
Gen7Pets Natural Step Ramp for Vehicles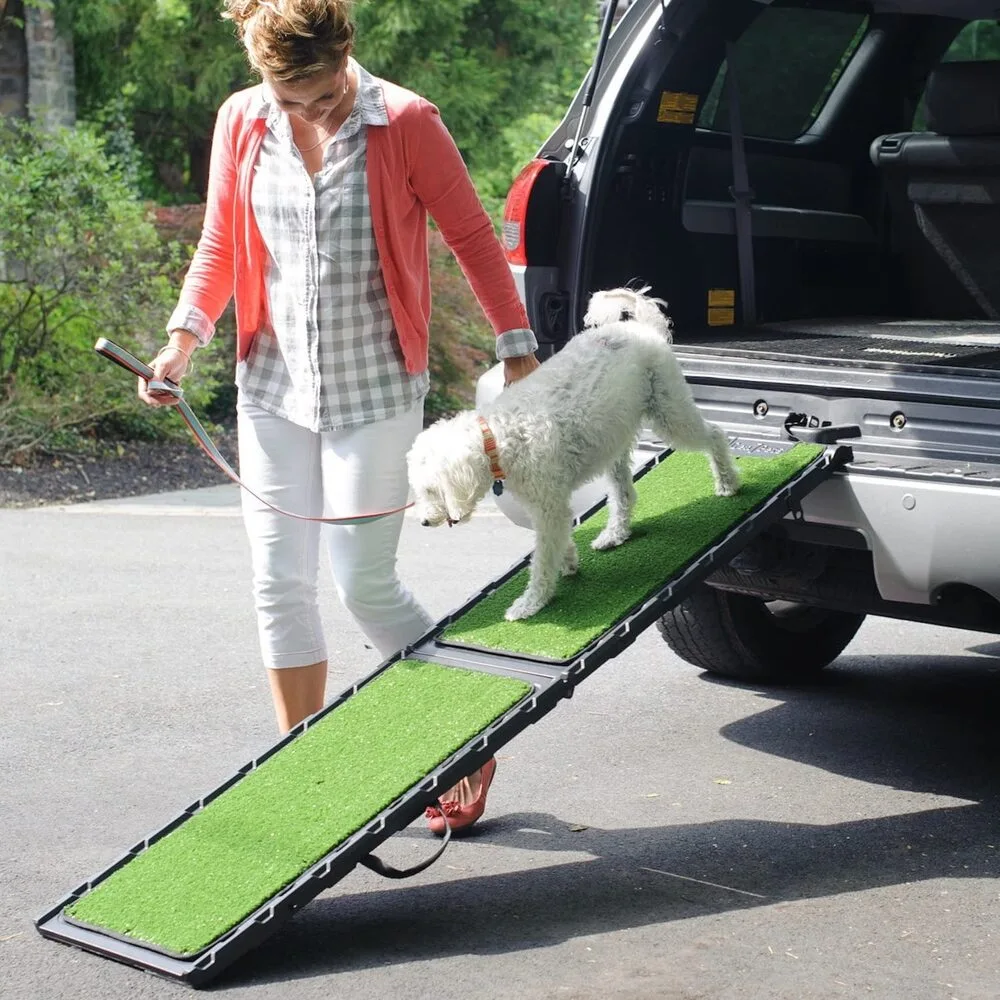 It is another option for a dog ramp for vehicles, but a little cheaper. And it folds differently. The ramp will fit a variety of vehicles, including trucks, SUVs, and Jeeps. Gen7Pets also has a mini backseat ramp.
What I like:
it looks like a case with a handle when folded down. This ramp is easy to carry and store in the trunk;
relatively lightweight (17 lbs);
sturdy case made of thick plastic.
Still, this ramp is inferior to the previous one. It is heavier, and the carpeting is more difficult to clean.
---
Dog Ramps-Stairs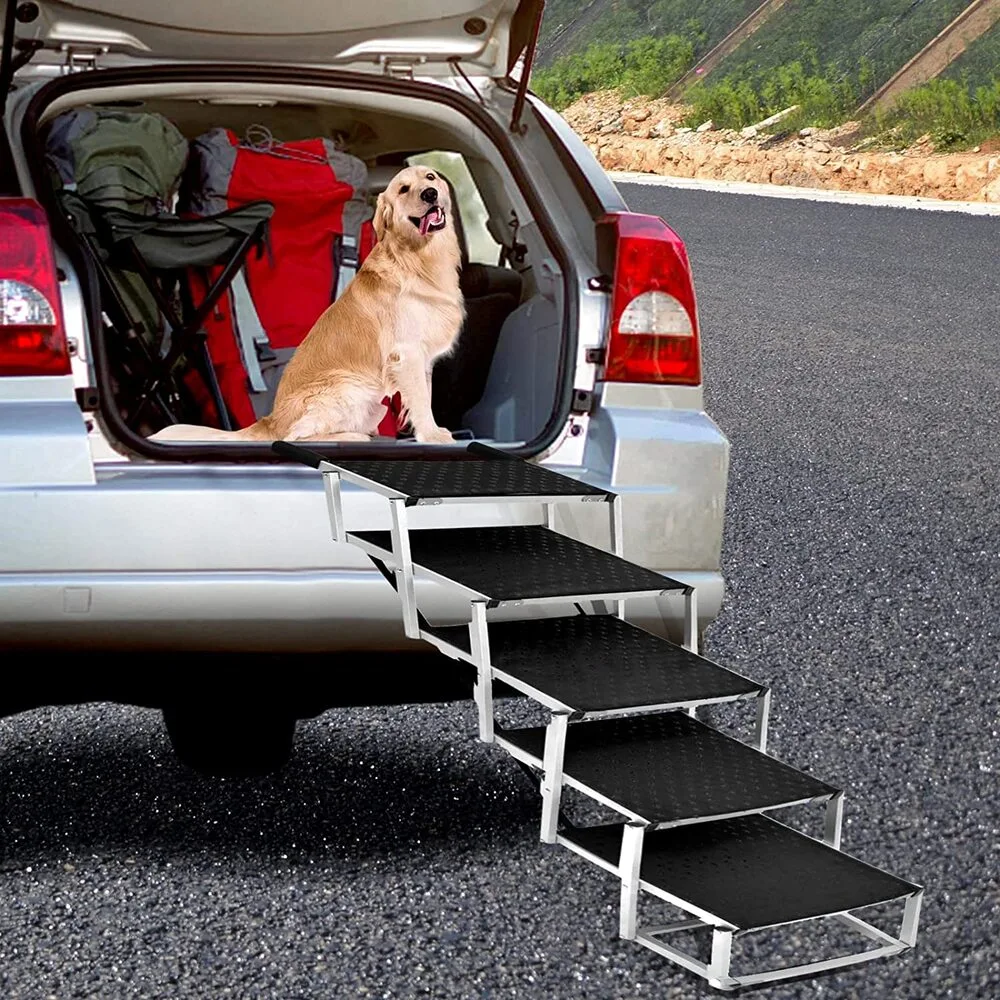 The manufacturer offers a 4-step and a 5-step ladder. It can be used near the trunk or the side entrance of the car. The ramp is also suitable for home use.
What I like:
the ladder is light and compact when folded and easy to carry;
made of aluminum;
choice of steps with anti-slip rubber coating or mat;
it is possible to adjust the angle of incline to make the descent more gentle;
It comes with a safety strap that hooks inside and keeps the steps from slipping gout.
---
Pet Gear Short Bi-Fold Dog Car Ramp, Tan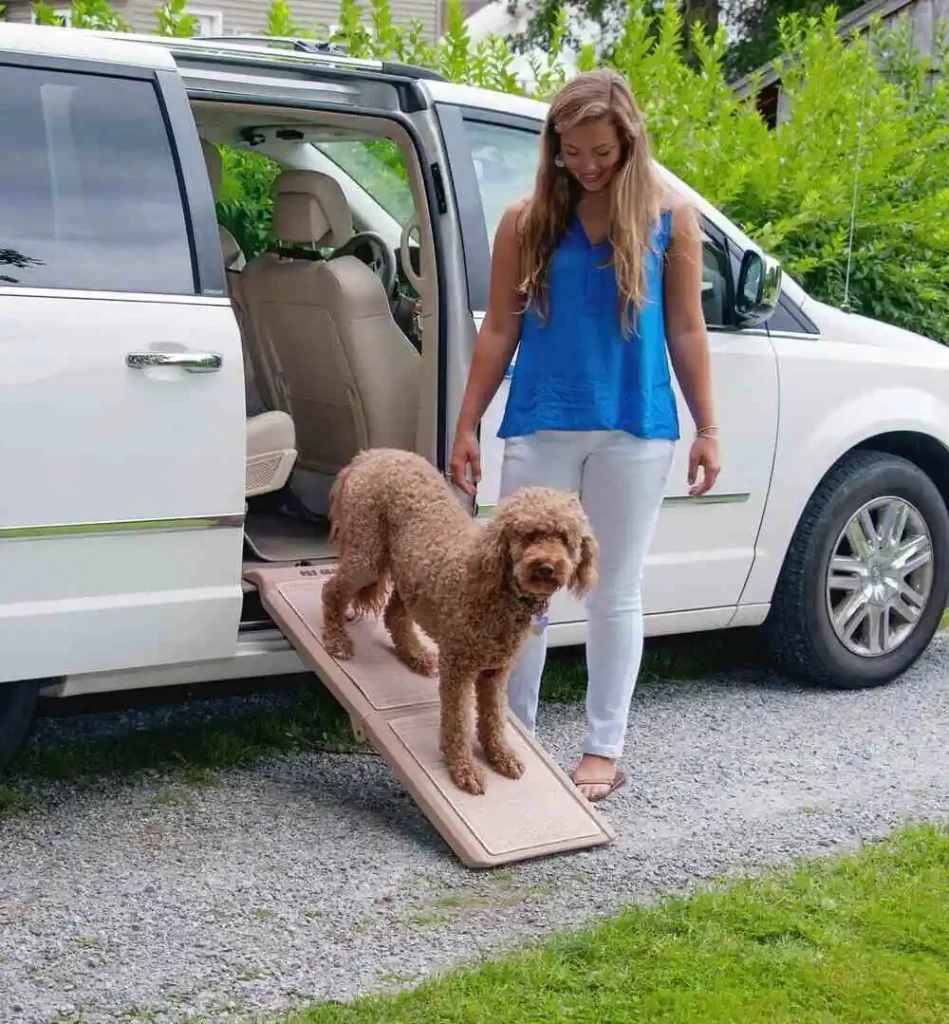 This ramp can be used both near the couch and for the car. I like its design as well as its reliable construction. The ramp can be easily folded and transported with a handle. The tread will help keep your dog from slipping when climbing up, and you can take it off and wash it if needed.
Pet Gear ramp is suitable for dogs up to 200 pounds.
---
SOLVIT PUPSTEP HITCH STEP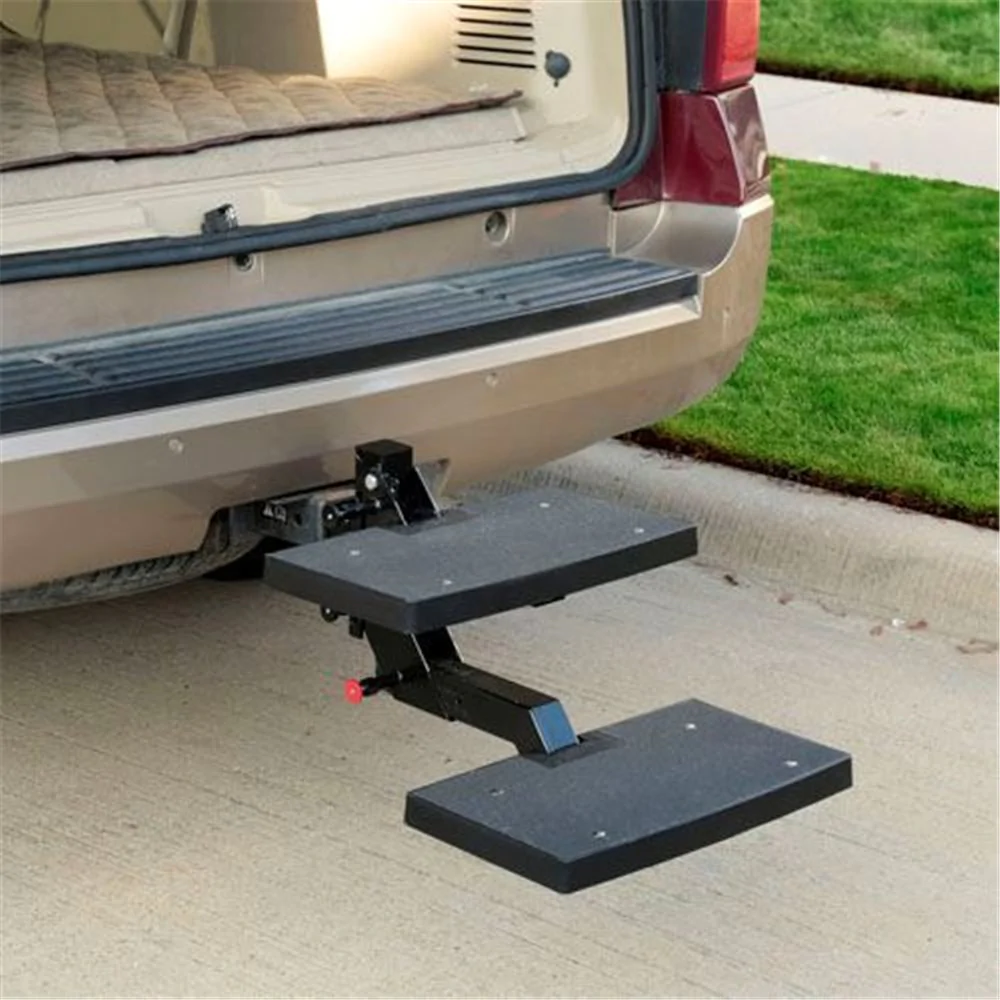 In the end of the best dog ramps list, I want to offer you an alternative to the ramp – folding steps for the car. I think it's convenient because:
it requires minimal action to unfold;
does not take up space in the trunk.
The height of the steps can be adjusted. They can hold up to 200 pounds.
---
Buyer's guide
When choosing a ramp for your home or car, pay attention to the following parameters:
how much weight the product can support;
how stable it is;
whether the ramp can be folded for convenient storage (think, will you be comfortable if it is not foldable?)
how much the ramp weighs (if it's too heavy, you won't be comfortable);
how easy you can clean it. The rubber coating is enough to wipe down, but the carpets must be washed somehow. In addition, ramps for outdoor use should be made of moisture-resistant materials.
Tip: Look for adjustable ramps, so you do not miscalculate the length. You will be able to adjust the length.
---
FAQ
Is a ramp or stairs better for dogs?
Ramps are the best choice in most cases because they are easier to climb.
Are dog ramps worth it?
A ramp is a really necessary thing for older dogs and dogs with arthritis. Ramps help make your dog's life easier and prevent accidents.
Should dogs with arthritis use stairs?
Dogs with arthritis are not recommended to walk up and down stairs because such movements put extra stress on the joints. In addition, there is a high risk of falling down stairs. Therefore, a ramp should be used for dogs with arthritis.
How wide should dog ramp be?
The width of the ramp should be several inches wider than the width of the dog's shoulders.
Sources: Petmd, https://blog.handicappedpets.com/are-stairs-bad-for-dogs-with-arthritis
---
Save this article on Pinterest so you don't lose it!
Do I really need a ramp for my dog? Some dogs have a hard time climbing onto a couch or other elevated places. One wrong jump can lead to injury. In addition, the constant difficult climbs and descents take a toll on the joints, and for older dogs, it causes discomfort and pain. Therefore, it is better to buy a ramp for these dogs.
Latest posts by Anastasia
(see all)