If you are looking for a bed that will provide a comfortable and healthy sleep for your dog, then a bed with memory foam is the best option. Such a bed does not lose its shape and provides the necessary orthopedic support for the dog. Sleeping on such a bed reduces the risk of joint diseases. It is essential for large Fido.
But how to choose the best memory foam dog bed? This article will give you a short guide and review of some popular models.
Quick Pick Table
How to choose a good memory foam bed?
If you choose a bed on your own, these tips will help you.
What type of foam is best for dogs?
In addition to the standart memory foam, you can find the so-called Open Cell and Gel Infused Memory Foam. The first technology allows for good air circulation and therefore has a cooling effect. Gel-infused foam is made of gel, which can absorb or release heat.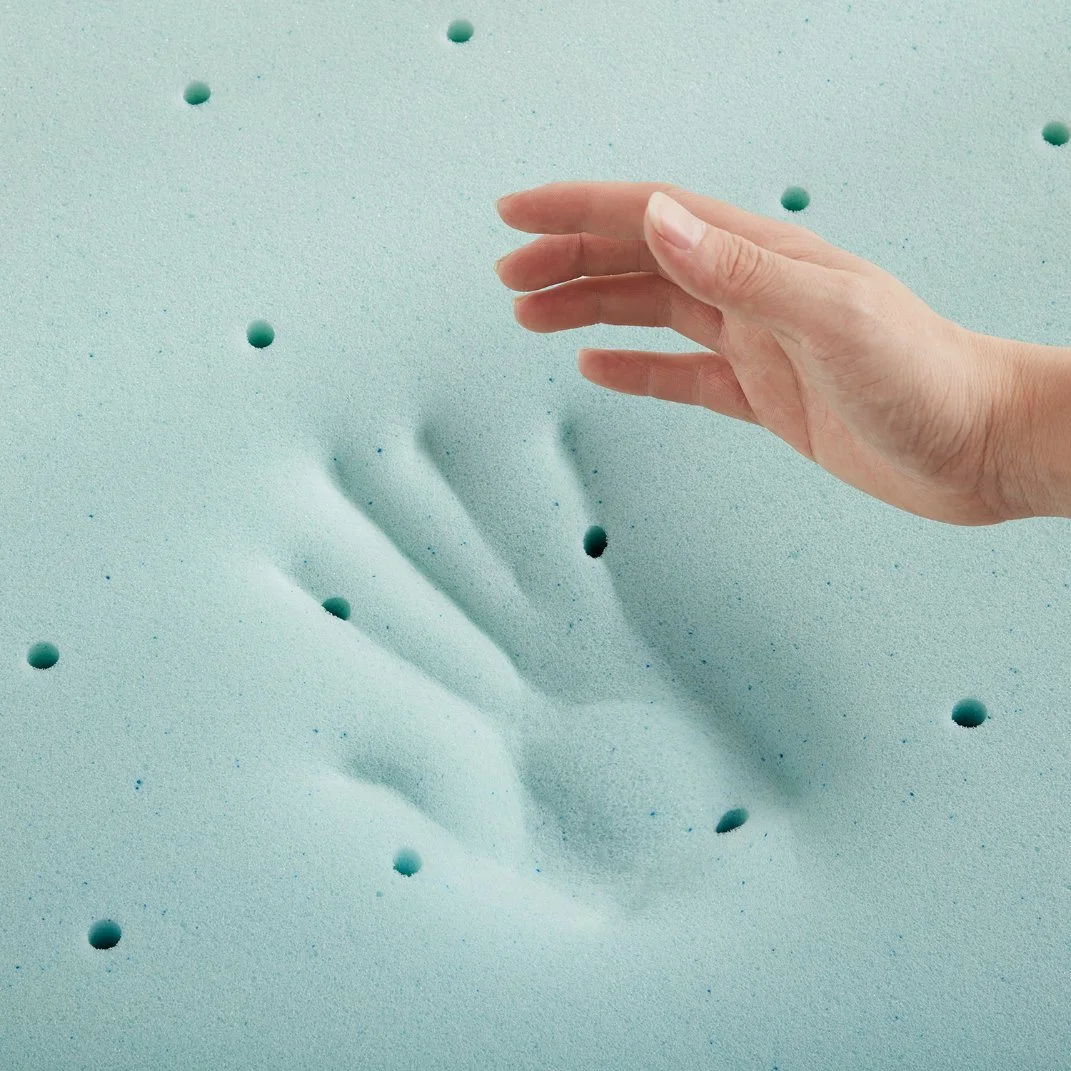 Probably the worst choice is shredded foam. It will not provide proper support and may lose its shape over time.
How thick should a memory foam dog bed be?
For young canines who have no health problems, a 2-4 inches foam is fine. But for older or sick animals, it is better to take a thicker foam, 5-7 inches.
Other nuances
Here are a few more tips for choosing a good bed:
Look for beds with a warranty. Usually, such products are not cheap. Therefore, it will be a shame if the manufacturer does not provide a warranty. Also, the presence of a warranty indicates that the manufacturer is confident in the quality of its product.
Choose the shape of the bed based on your pet's preferences. If it likes to curl up, it is better to choose a round shape. Rectangular beds are more suitable for larger dogs. And if your dog likes to rest its head on a pillow, I recommend looking at beds with bolsters.
Choose preferably moisture-resistant and durable materials. It will ensure the longevity of the dog bed.
Hopefully, these tips will help you choose the best memory foam bed for your pet.
Also these tips from Frisco can help you: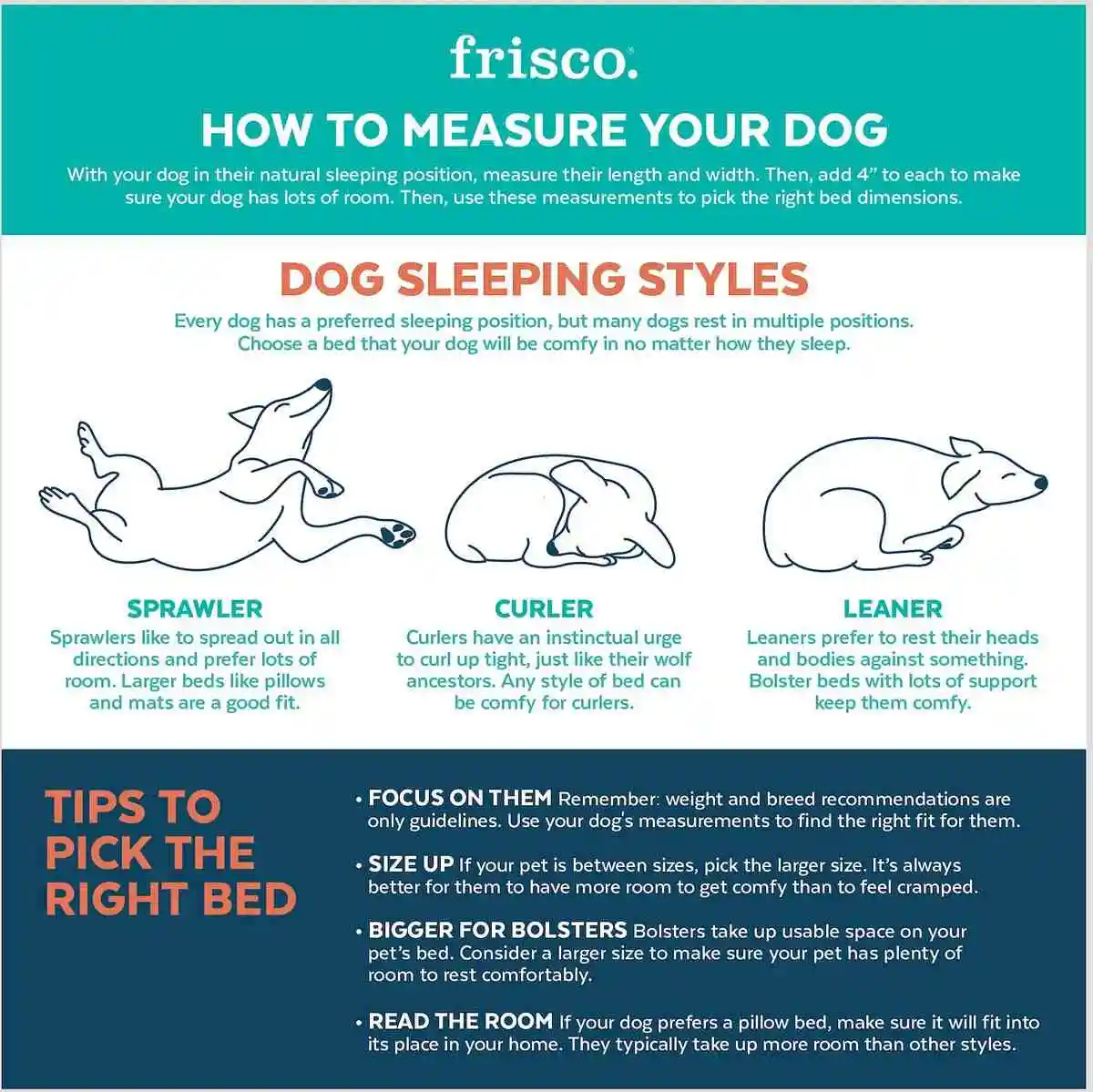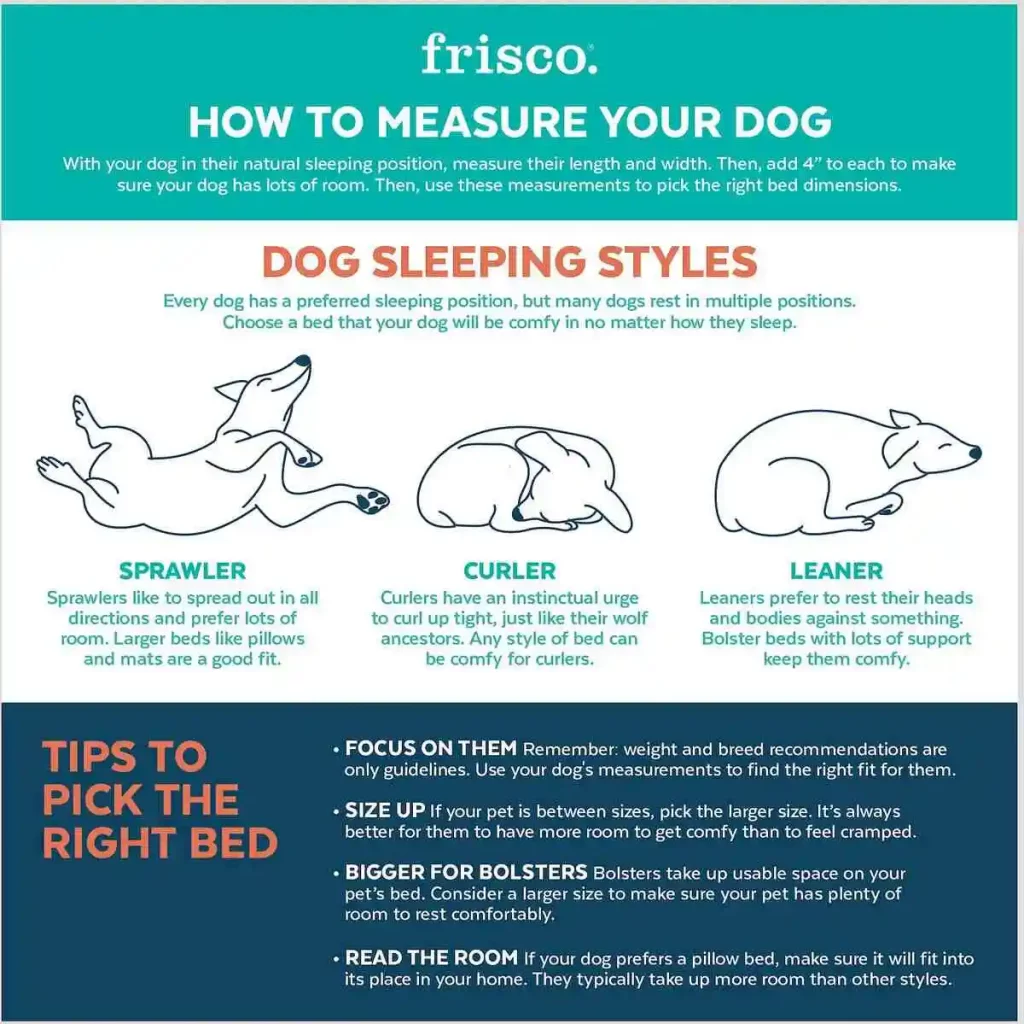 Топ-9 best memory foam dog beds
Best of all – Chew Resistant Orthopedic Dog Bed With 200 Day Guarantee
I consider BullyBeds the best choice because it combines quality orthopedic 4″ foam and a durable chew-resistant cover made of the patented BullyTuf fabric. You can even buy it for puppies and chewy dogs. But even if your dog isn't prone to chewing, I still recommend this product as it will last much longer.
I like that BullyBeds uses Velcro for the covers rather than zippers, as dogs often tear off zippers. Also, a big plus is that all materials are non-toxic and hypoallergenic.
I think it's worth every cent. BullyBeds specialize in making dog beds. The quality of their products is evidenced by the 200-day chew warranty.
---
Best Value – Brindle Waterproof Designer Memory Foam Bed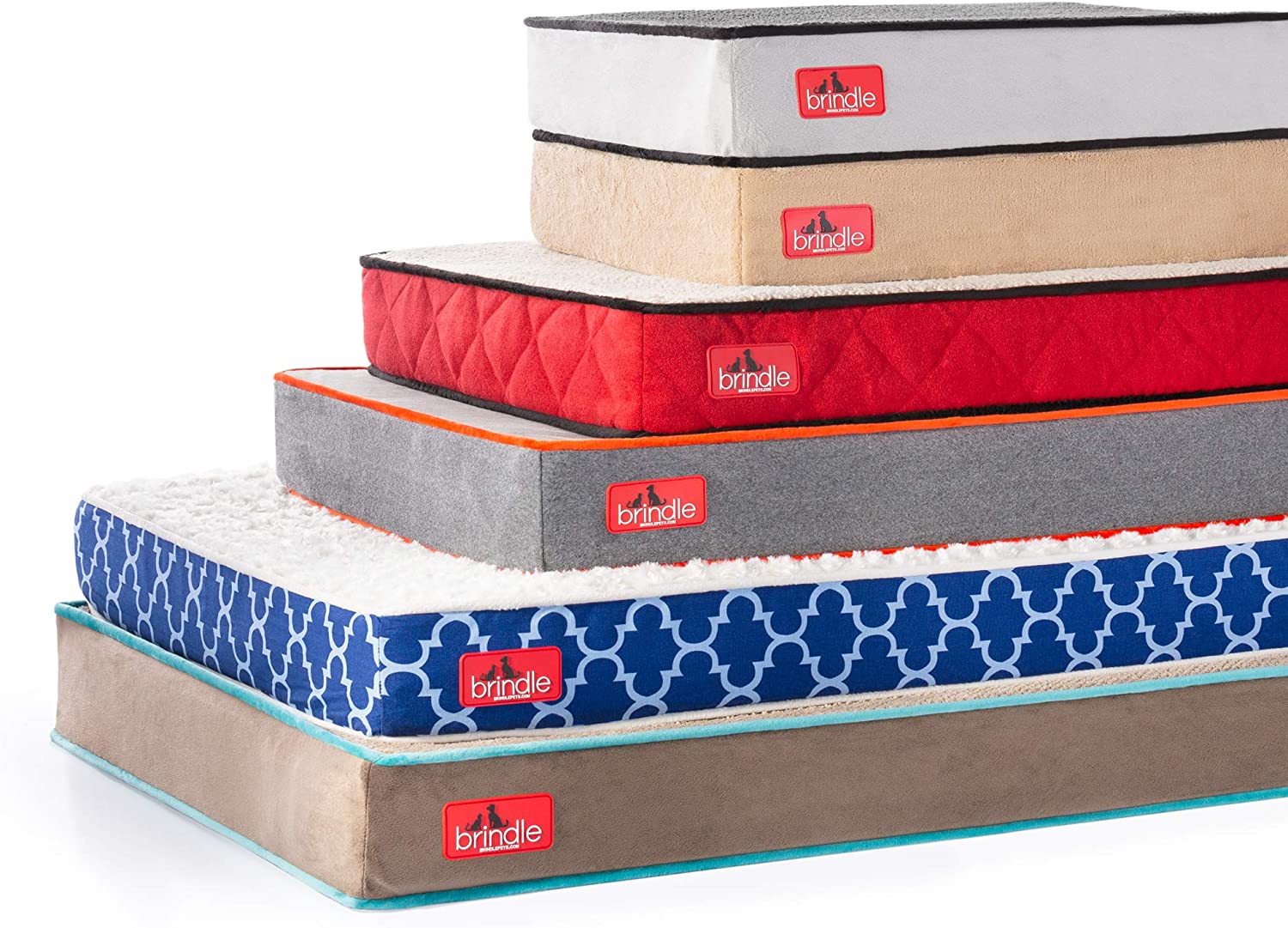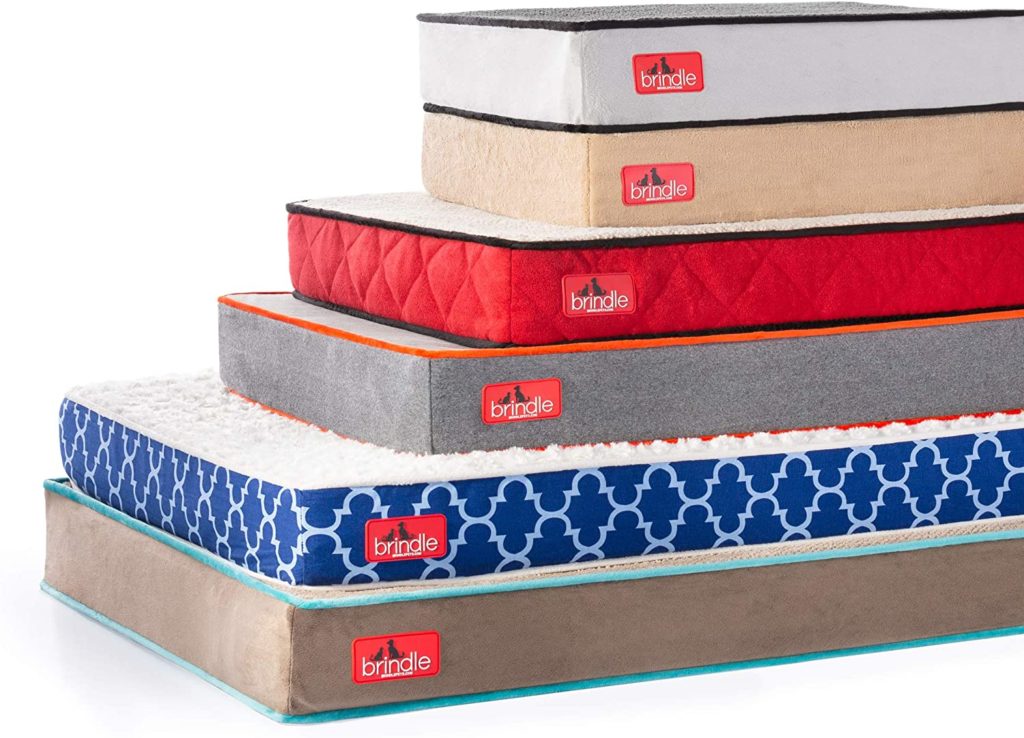 If you are looking for a simple bed with orthopedic support, this option might work for you. It's not the cheapest, but I don't recommend buying the cheapest products either, as you could be wasting your money. Good memory foam can't be cheap.
This bed is made of 2″ conforming memory foam and 2″ high-density support foam. It can be used in a dog crate. The manufacturer offers 3 sizes and 5 colors. The cover is machine washable and there is a waterproof layer to protect the mattress from water.
---
Unique, therapeutic Infrared Dog Bed
I added another bed from BullyBeds to this list because it is unique. It has proven effectiveness in treating joint and shoulder stiffness, muscle pain, arthritis and similar conditions.
The covering of this bed is made of ceramic coated fibers reflects far infrared ray (FIR). It reflects infrared heat from the animal's body and returns it back to the skin. This infrared light causes the blood vessels to dilate, increases blood flow and oxygen level in the tissues.
The result is less pain and faster tissue regeneration.
BullyBeds has FDA medical device certification, which proves its effectiveness.
---
PetFusion Ultimate Dog Bed 3yr Warranty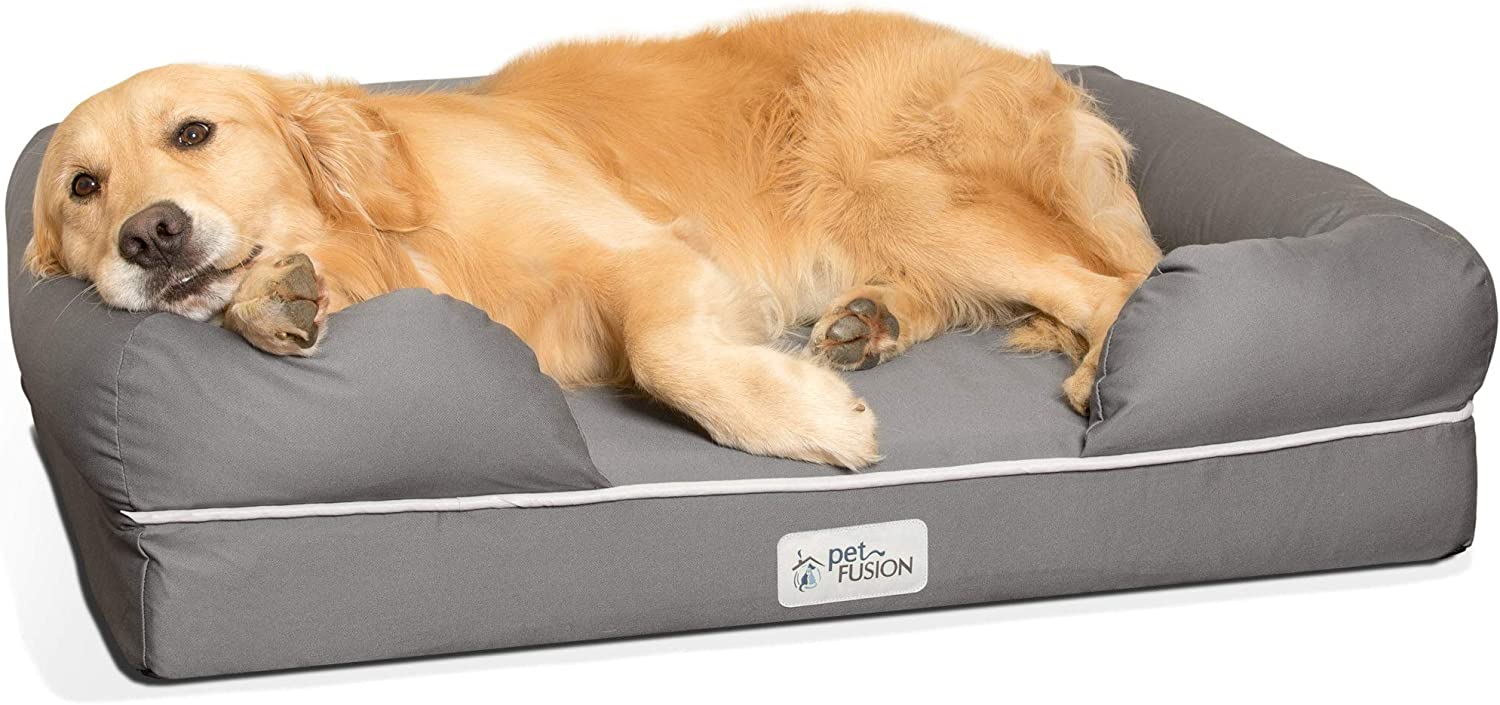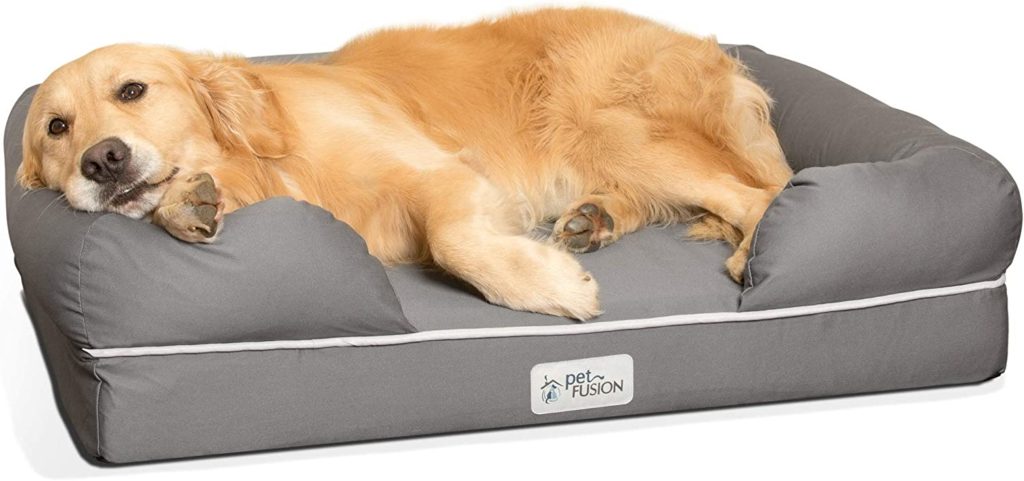 It is a high-quality bed with 4″ of foam and kibble rollers on which your dog can lay its head. PetFusion made the cover from water-resistant fabric and added a waterproof lining to protect the foam from water. All materials are certified as safe for animals.
The manufacturer even gives an impressive 36-month warranty on manufacturing defects. The bed comes in 4 sizes for dogs of all breeds.
---
KOPEKS Round Sofa Lounge Dog Bed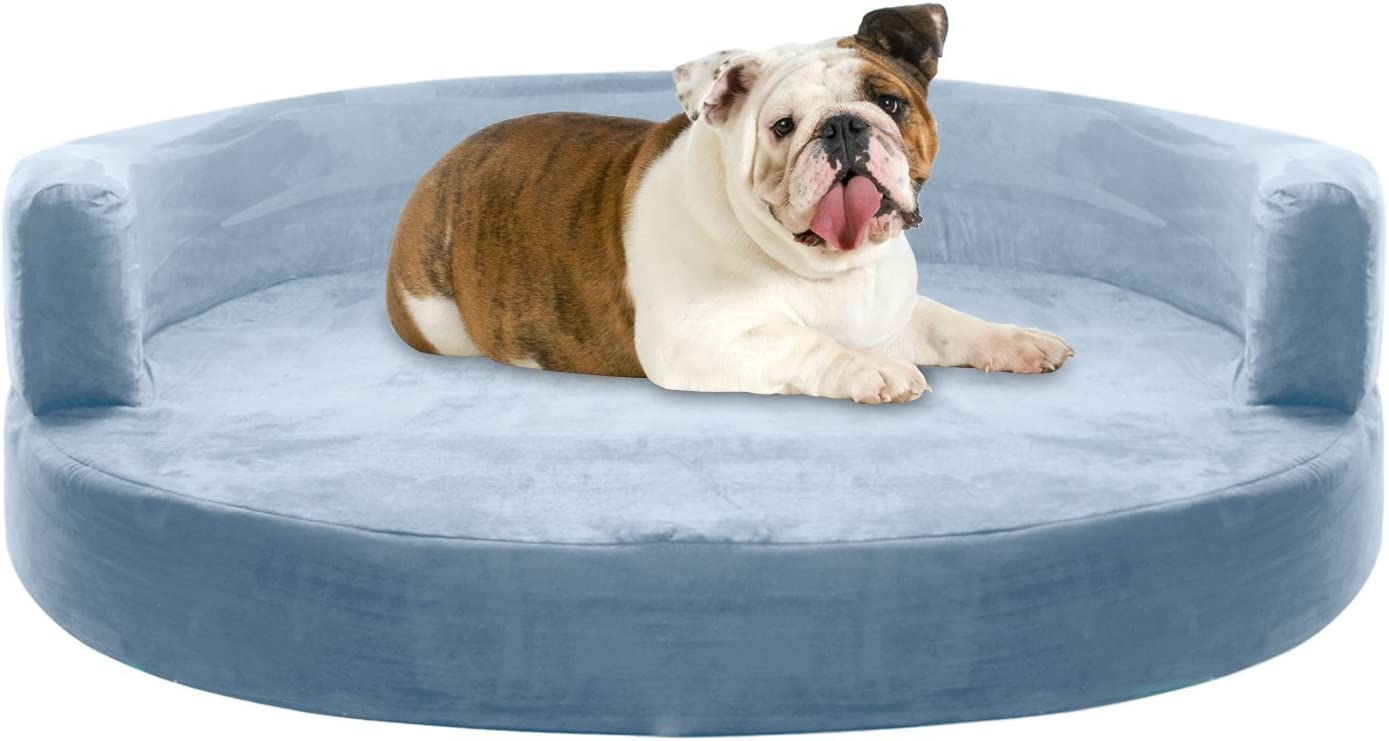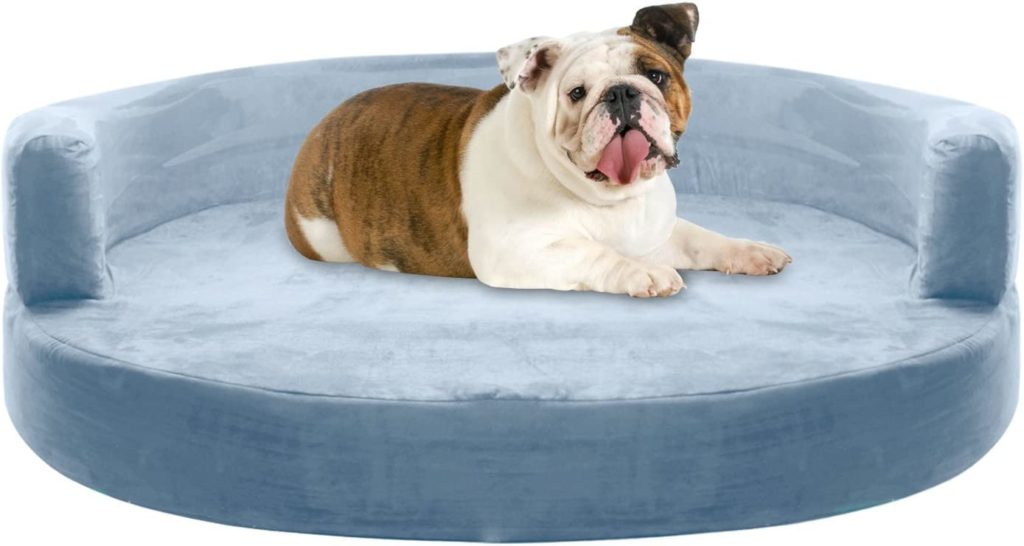 This round bed looks very stylish and is sure to be comfortable to sleep on. Kopeks produces 2 sizes – L and jumbo XL. For these large dogs, the 6″ foam is ideal. It should provide solid orthopedic support.
I like this soft, velour cover, and the 2 colors – brown and gray. But in the summer, a dog can feel hot on a bed like this. You need to consider this fact.
The cover can be removed and washed, and 2 waterproof linings will protect the foam from getting wet.
---
BarkBox Memory Foam Dog Bed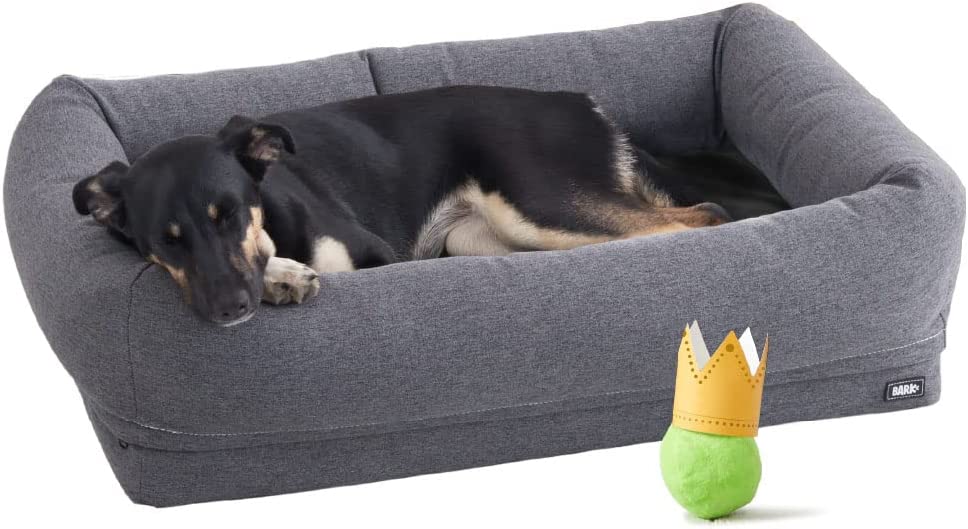 This bed is like a nest, so your dog can snuggle up in it, and it's soothing. The BarKBox uses gel foam that helps regulate the temperature. You can pull out the mattress and use it without the rollers. The manufacturer offers 5 colors and 4 sizes.
---
Dogbed4less Orthopedic Memory Foam Dog Bed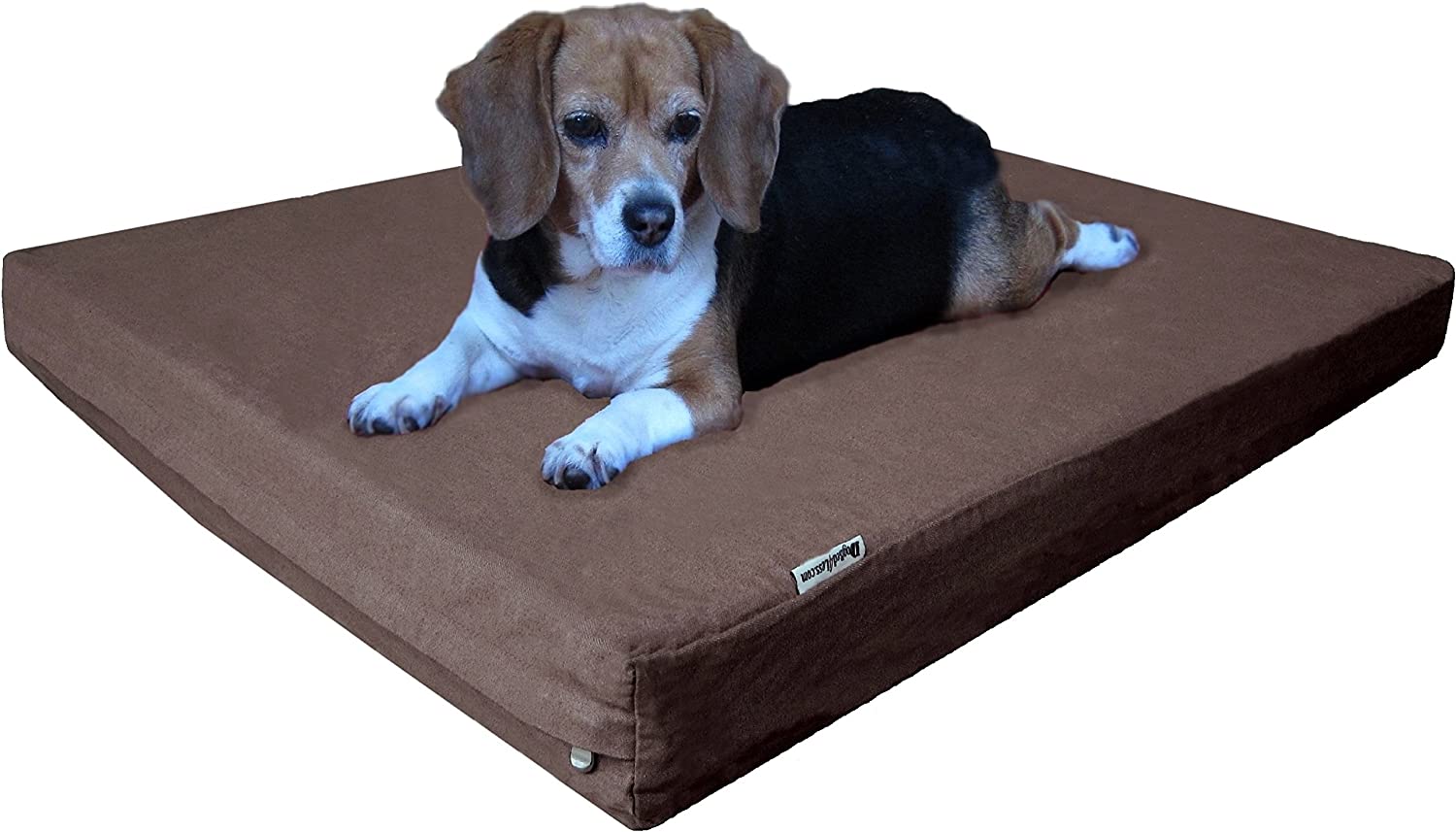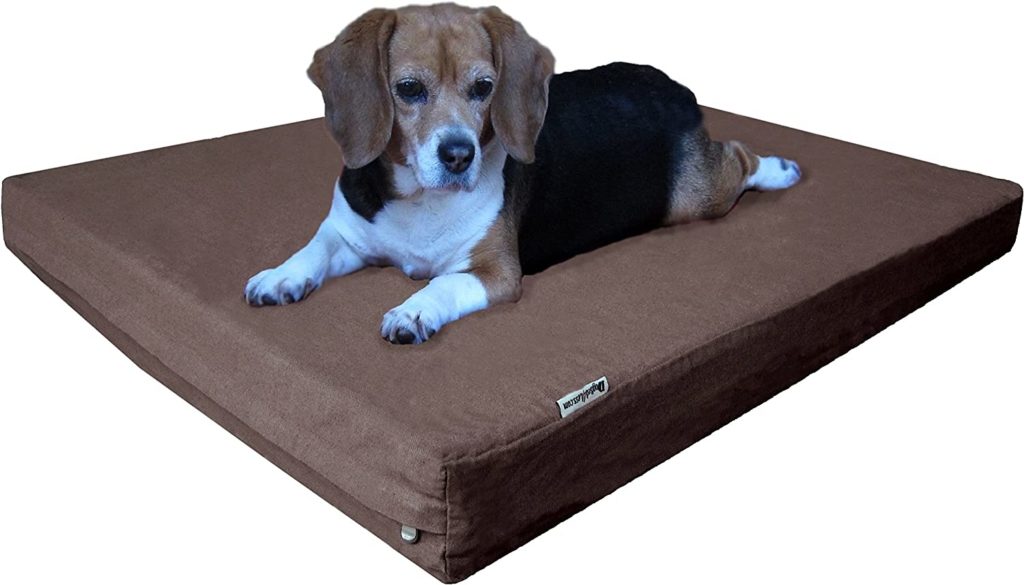 I liked that this bed has a durable cover made of 100% denim with double stitched seams. Although it is not chew-resistant, it will still last longer. In addition, the seller gives you an extra suede cover as a gift.
The manufacturers also took care of the sturdy zipper hidden by the fabric (many dogs like to pull on the zipper and tear it).
---
FurHaven Ultra Plush Luxe Lounger Memory Foam Dog Bed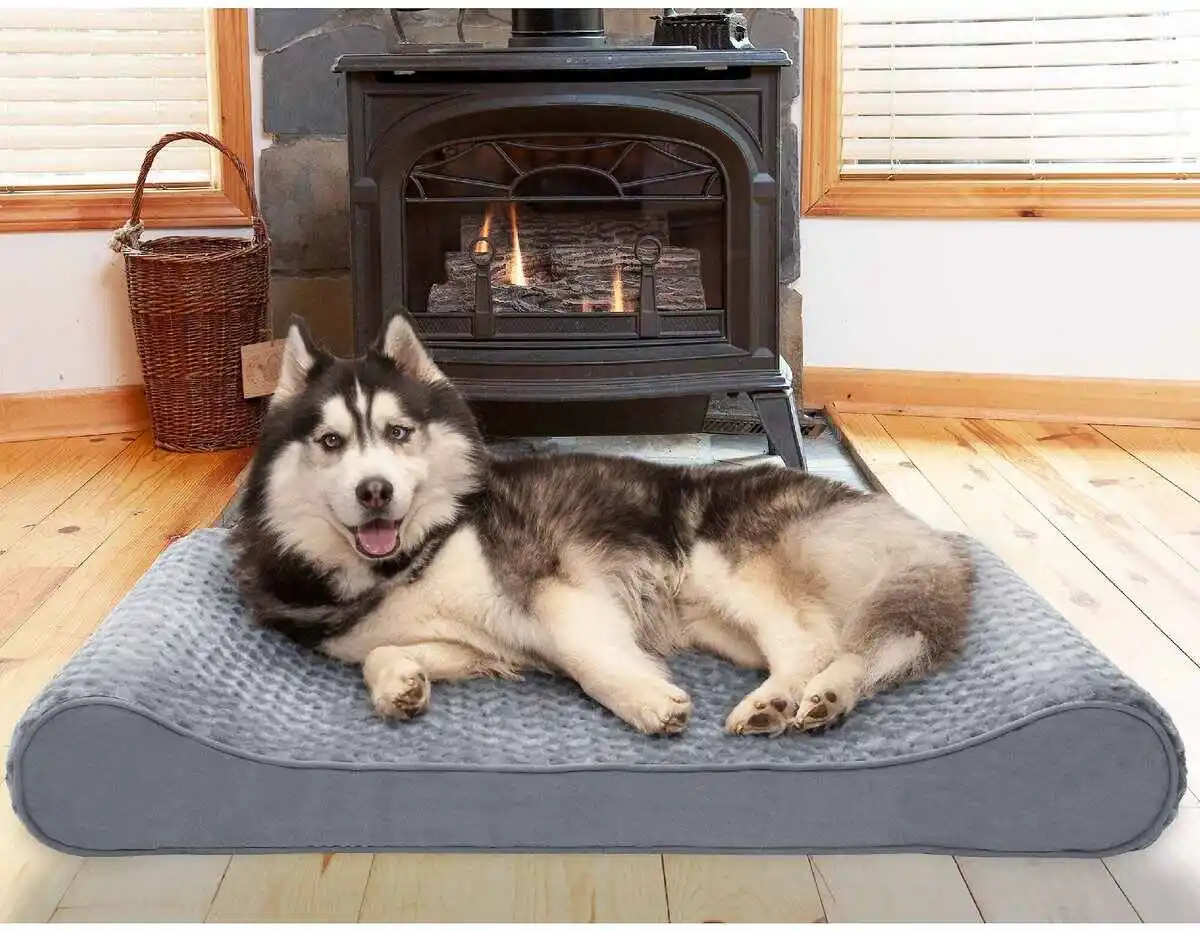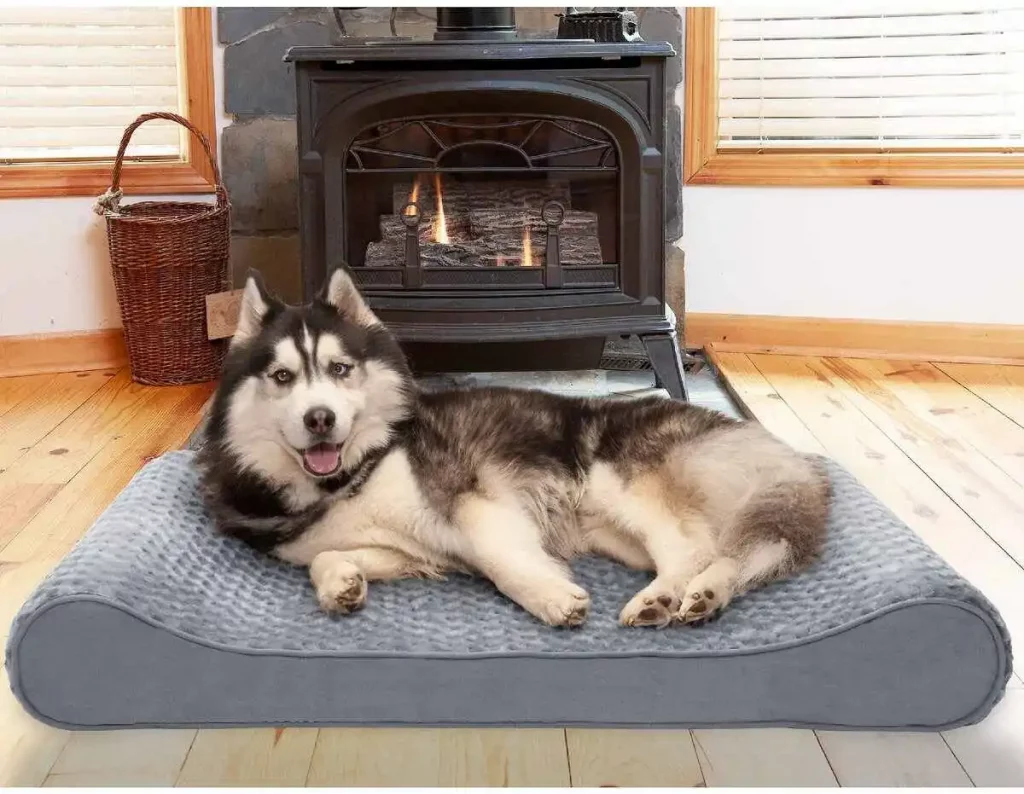 I liked this dog bed because it looks like a lounge chair. It also has quality memory foam.
The beautiful velour cover is available in gray and cream. It is washable, but many customers complain about the poor quality of the fabric and zipper.
There are also several sizes of this bed (large, jumbo and jumbo plus). Different sizes have different foam thickness from 5.5 inches to 8 inches. This provides proper support.
---

Frisco Orthopedic Rectangular Bolster Dog Bed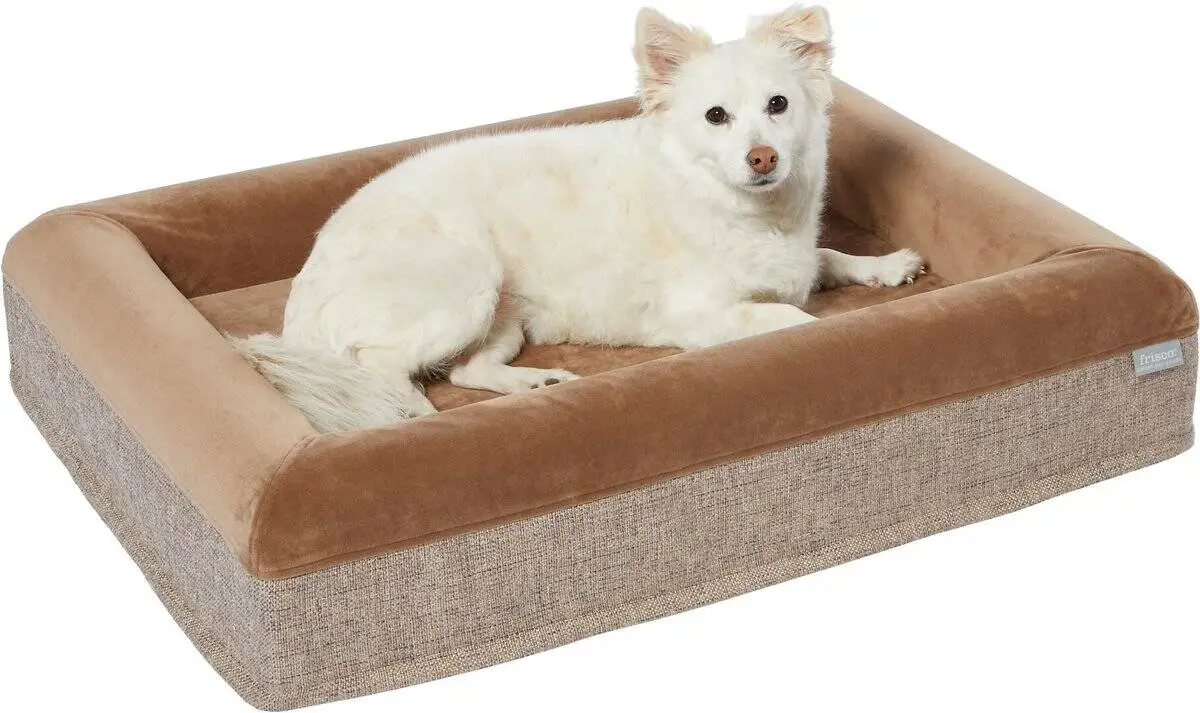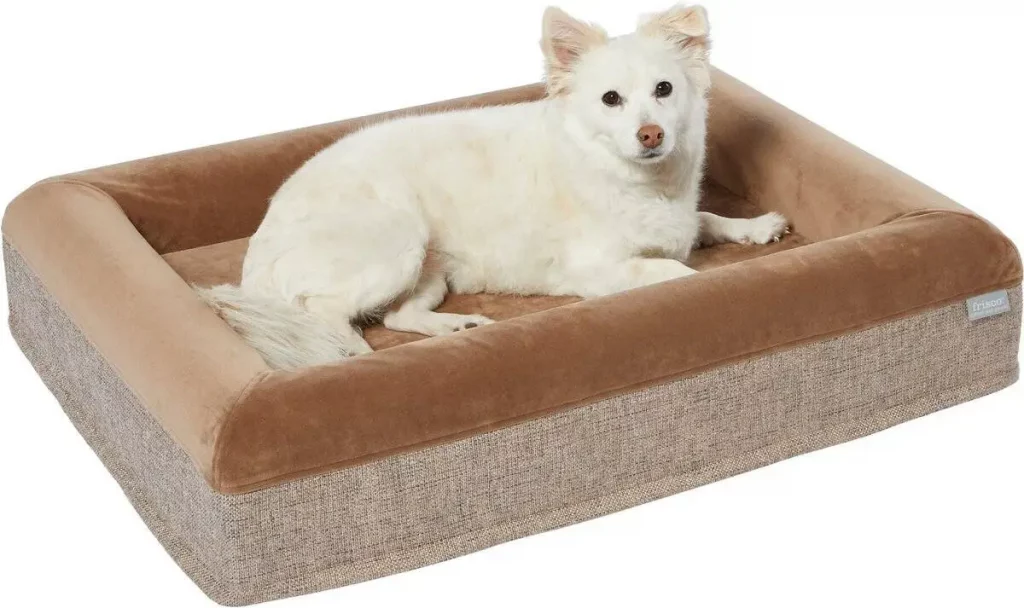 This is another option of a decent memory foam bed for medium to large dogs. It is tall enough (7-7.5 inches). The cover is easy enough to remove and does not deteriorate after washing.
You can choose a gray or white cover. Note that the manufacturer does not sell replacement covers for this bed. This is definitely a minus.
---
Save this article on Pinterest so you don't lose it!
The benefits of memory foam dog beds
Dogs spend half the day lying on the bed. If it's uncomfortable, there's a risk of developing various joint diseases like arthritis. Ordinary soft dog beds quickly lose their shape and sag. In contrast, beds with memory foam provide orthopedic support for a long time.
What is memory foam? This material was originally invented at NASA. It has special properties. When a dog lies down on the bed, the foam takes the shape of the body and distributes pressure evenly, providing cushioning. When the dog gets up, the foam returns to its original appearance.
What does it do?
Joint disease prevention. If your dog sleeps on a good memory foam dog bed, it's less likely to develop the joint disease.
Help the old and sick dogs. If your dog is elderly or has conditions such as arthritis or joint dysplasia, it will experience less discomfort and pain due to orthopedic support.
Longevity. These beds will last longer because they retain their shape longer.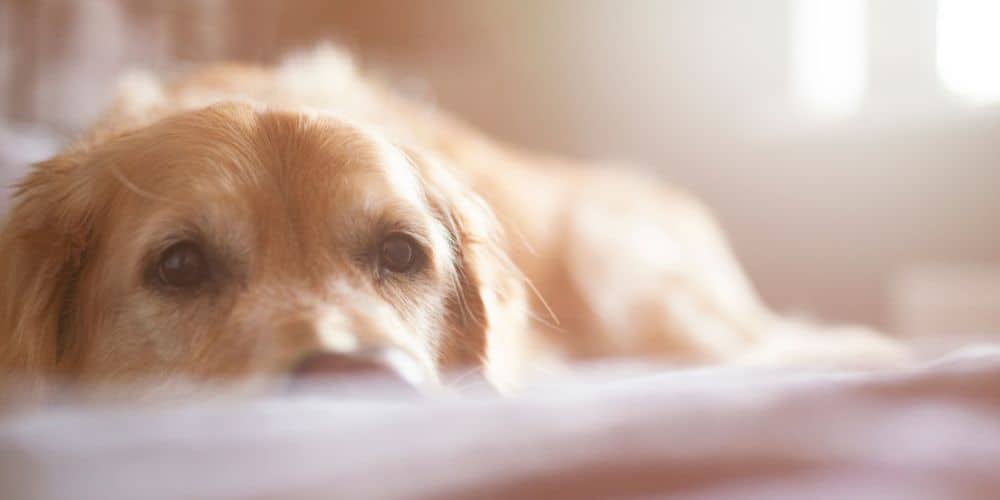 An orthopedic bed is especially important for large breed and overweight dogs, as they are more prone to joint problems.
I do not recommend buying a memory foam dog bed for a puppy or an aggressive chewer, as it will not last long. In such cases, it is better to buy chew proof bed.
Latest posts by Anastasia
(see all)