You need to consider some factors when choosing a bed for your puppy. You can't buy any item from a store, like for an adult dog, because it may not be safe.
So I wrote for you a buyer's guide and review of the best dog beds for puppies. It will help you make the right choice.
What kind of bed is best for puppies?
I've read various reviews and noticed that puppy owners are suggested to buy soft beds or beds with memory foam. But I don't think that's practical. Why?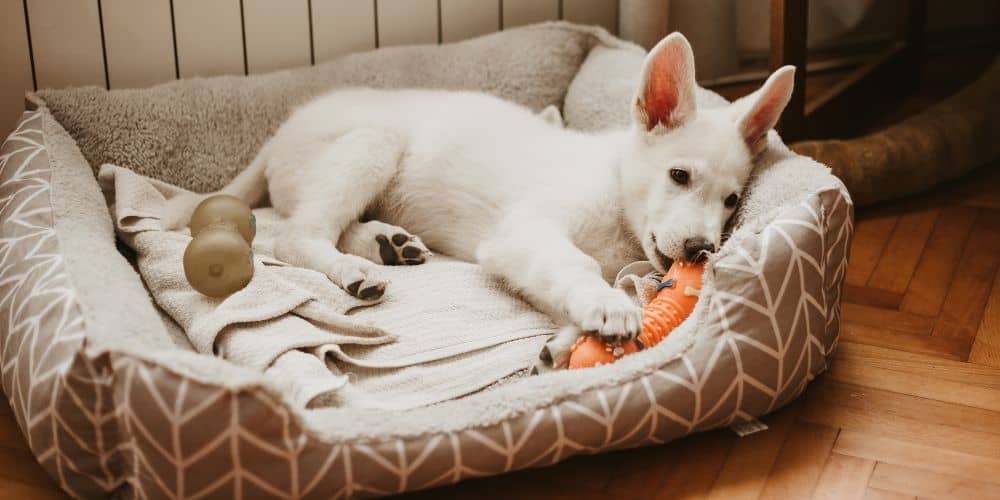 Puppies tend to chew on their bed. If you buy a bed that is not chew-resistant, the puppy might bite off a piece and choke. In addition, the bed will often get dirty and deteriorate quickly.
So here are my recommendations:
For small puppies, I recommend buying a mat or chew-proof pad. This kind of mat will be enough. It's not expensive and it's easy to wash.
You can buy another bed For older puppies 6-10 months but look for chewing and scratching-resistant material.
I recommend buying an expensive bed only when you are confident about your puppy. You need to know your pet better and understand its passions and personality.
A review of some of the best puppy beds
I'll give you a few examples of beds suitable for puppies of different ages. Based on these products, you will be able to choose something good.
Gorilla Grip Original Reusable Pad and Bed Mat
Last update on 2023-02-01 / Affiliate links / Images from Amazon Product Advertising API
These are the best dog beds for puppies that chew (±12 weeks). Gorilla pads are made up of 4 layers, so they are quite sturdy. I also like that all the edges of the fabric are securely sealed. This pad will also protect your floor from accidents, as it soaks up a lot of water. You just need to throw it in the washing machine.
GORILLA offers 7 sizes! So you're sure to find the right bed for your pup.
Use this pad or something similar until your pet stops chewing. I recommend buying more than one pad, as your puppy will often get it dirty.
---
Dogs Pad Mat from Dog Hero
Last update on 2023-02-01 / Affiliate links / Images from Amazon Product Advertising API
Try this pad mat if you're worried that your fur baby will be uncomfortable on a thin bed. It is 3cm thick and has a special structure, so it also provides some orthopedic support. It's inexpensive, so you won't feel bad if your pup messes it up.
You can also easily wash this mat. It is made of durable material, but it is not designed for aggressive scratching.
The manufacturer offers 5 colors and 5 sizes. The non-slip mat can also be used in a crate.
---
K9 Ballistics Tough Orthopedic Dog Bed Indestructible & Chew Proof
Last update on 2023-02-01 / Affiliate links / Images from Amazon Product Advertising API
When the puppy calms down and stops chewing everything, you can buy a more expensive and softer bed. But I still recommend buying beds made of sturdy or chew-proof fabric.
The K9 Ballistics bed fits those requirements. The memory foam provides orthopedic support. It distributes the load evenly over the entire surface and recovers its shape. The bed cover is made of durable, chew-proof material. The manufacturer even gives a 120-day chew-proof promise.
Keep in mind that such beds are not 100% chew-resistant, which means aggressive chewers can strip them. Don't buy such a thing for an untrained puppy.
---
Chew Resistant Dog Bed With 200 Day Guarantee
Another trusted bed is the chew-resistant dog bed from BullyBeds. It is a bed with memory foam for orthopedic support and comfortable sleep. The bed cover is made of a hardwearing fabric that can withstand scratches, digging, and biting. The manufacturer gives a 200-day warranty and promises to replace the bed if your dog can tear it.
I like that the removable cover fastens with velcro. It's more secure than a zipper. BullyBeds know their job and make really durable dog beds. That's why they have so many positive reviews.
---
Mud River Crate Cushion
Last update on 2023-02-01 / Affiliate links / Images from Amazon Product Advertising API
Although the description doesn't say this cushion is chew-resistant, it's more durable than standard soft beds because the cover is made of industrial fabric. I also like the secure whip-stitch.
Although the mattress is only 1″ thick, that's enough for young dogs. You can clean the fabric of dirt with a damp sponge. But unfortunately this bedding is not machine washable.

The bottom line
Don't invest in an expensive puppy bed. A soft mat or bedding will suffice. When your pet finally learns not to chew, and you're sure of it, you can buy any bed.
I would also love to see your comments below this post. Let me know what your pups sleep on and what challenges you've had!
---
FAQ
How big should a puppy's bed be?
The length of the dog bed should be 8 to 12 inches longer than the length of the dog.
Do puppies like hard or soft beds?
Dogs may well sleep on a hard surface, but it really depends on your pet's preference.
Do puppies need a special bed?
Yes, everyone needs a bed, as healthy sleep is important for health. The puppy bedding should be chew-resistant.
Do I need to put a blanket in my puppy bed?
No, you should not put a blanket or any other cloths in your puppy's bed because your puppy might chew them and choke on a piece of cloth.
How often should I change my dog's bed?
As your puppy grows, you should buy a new bed to make sure it has enough room.
Save this article on Pinterest so you don't lose it!
Latest posts by Anastasia
(see all)