In this article, I will guide you on how to make a comfortable and beautiful place for your dog in your backyard. It should be a safe place where your dog can rest or play without destroying your plants or making a mess. You could even leave your dog there while you're at work.
I've put together the best outdoor dog area ideas with photos to give you some inspiration.
A step-by-step guide on how to make an outside dog area
First, I'll tell you what the minimum plan of action is for setting up a dog run in your backyard. Then I'll give you some additional ideas.
Step 1 – Choosing a dog house for the backyard
Whether you decide to make the house yourself or buy a ready-made one, the most important thing is that it should be quality made:
with a good roof and no gaps in the walls;
waterproof, made of durable material.
It is also important that the house can be cleaned inside. Sometimes they make a removable roof or a spare door for access inside for this purpose. For me, it's better to choose a house made of wood rather than plastic. It will last you longer and won't fly away from high winds.
An example of houses that I like:
Last update on 2023-03-20 / Affiliate links / Images from Amazon Product Advertising API
Last update on 2023-03-20 / Affiliate links / Images from Amazon Product Advertising API
Last update on 2023-03-20 / Affiliate links / Images from Amazon Product Advertising API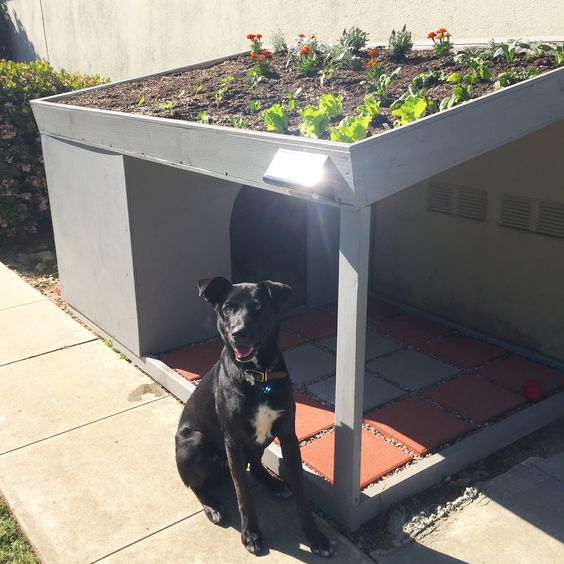 How big should an outdoor dog house be? There should be enough room inside for your dog to stand up to his full height, turn around, and sit down. So measure your dog's height and length and add at least 2-3 inches to those numbers.
Step 2 – Choosing a spot
When choosing a spot for a dog house, consider factors such as:
It should not be a location that is under the scorching sun most of the day. It is ideal to place the dog house in the shade of a tree.
The house should stand on level ground, on an elevated spot, so that it does not get waterlogged due to the rains.
You can make a dog area right next to the house so the dog can go in and out through his doggie door, as shown in the video:
A side yard can also be used:
Step 3 – Making a fence and a canopy
If you're going to leave your dog in the yard unattended, it's best to make a secure fence around the dog play area. Why is it better to make a fenced dog play area?
you will be sure that your pet will not run away;
you can keep your pet away from dangerous areas or plants in the yard;
it will help protect the rest of your garden from the furry " pooper" and his marks;
you can leave the dog in the pen when you have guests over, for example.
Wooden fencing is fine if you leave the dog in the yard for a short time, if the dog is not prone to running away and chewing on furniture. In other cases, it is better to use a solid metal fence.
If you want to make a place for walking, then allocate enough space for the dog to run and play. The length of the pen should be at least 5 dog lengths, and the width of the pen should be 2 dog lengths.
If your dog doesn't have a house, you must at least make a shelter to protect him from the sun and rain. One of the easiest ways is to put a tarp over it. But this is not very durable and reliable.
If you're serious about it, make a metal or wooden canopy:
Step 4 – Choosing a ground cover
You also need to think about what to cover the floor of your dog's outdoor space with. Leaving your dog just on the ground is not good because it will get very dirty. You may want to consider flooring options such as:
rubber mats;
gravel;
synthetic grass;
wood panels;
paving stones, concrete.
The last two options are suitable for dogs who tend to dig. Concrete is easy to clean, but it can get very hot if you live in a hot state.
You can place a dog play area on your existing flooring if that's convenient. Keep in mind that natural grass is not the best option because it is relatively difficult to care for (mowing, watering, pest control treatment).
Step 5 – Make a potty area
It's best to designate a separate area for the dog's toilet to keep your yard clean. After all, you might even get dog pee stains on your lawn. It will also make it much easier for you to clean up after your pet.
I recommend setting aside a small toilet area in the entire pen to train your dog to go to one place. To delineate this area, a low curb or something like that will work.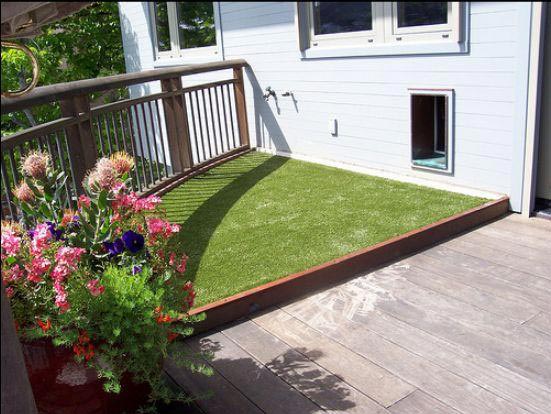 To decide how to make a potty area, think about where your pet likes to go to the toilet more? Maybe he likes to do it in the grass or in the sand. Or maybe he likes to put his foot up on fire hydrants.
One of the most appropriate materials for a potty area is mulch or wood chips. It absorbs moisture well, but the mulch needs to be changed periodically.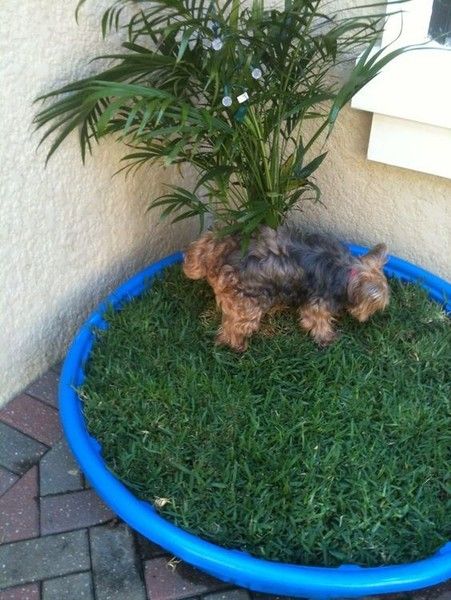 Save this article on Pinterest so you don't lose it!
Outdoor dog area ideas for the big backyard
If you have a large yard and can provide plenty of space for your dog, here are some ideas.
Water Fun
Dogs usually love to play in the water. And in the summer, it will also help them not to overheat. You can install a pool, fountain, or other water activities.
No products found.
Playground
You can install various tunnels, stairs with ramps, and pools with balls. This will not only occupy your dog but also promotes good physical and mental development.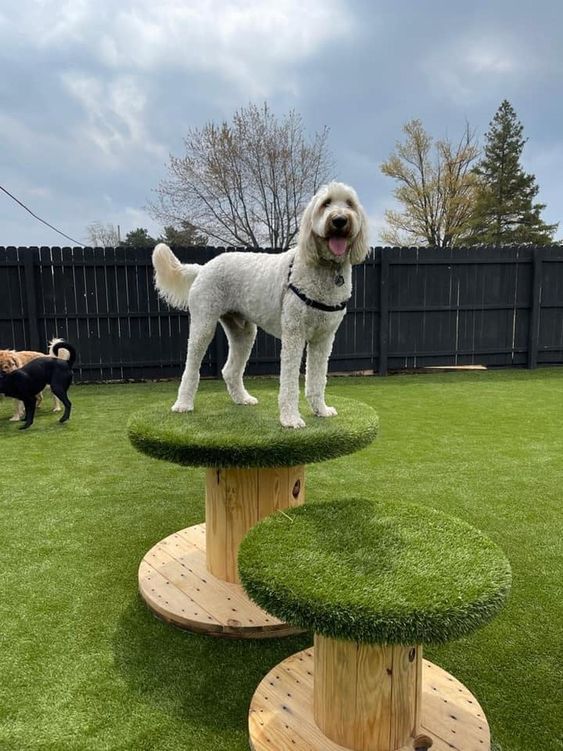 The dog playground can be made from improvised items, or you can buy agility equipment:
Last update on 2023-03-20 / Affiliate links / Images from Amazon Product Advertising API
If your dog likes to dig, he's sure to love the sandbox:
Sensory Garden
An interesting option is to make a sensory garden for your dog. This is similar to sensory mats for children. Their purpose is to engage the different senses, such as touch, smell, hearing, and taste. The BBC reports that it has a beneficial effect on the animal's emotional state. It also relieves boredom.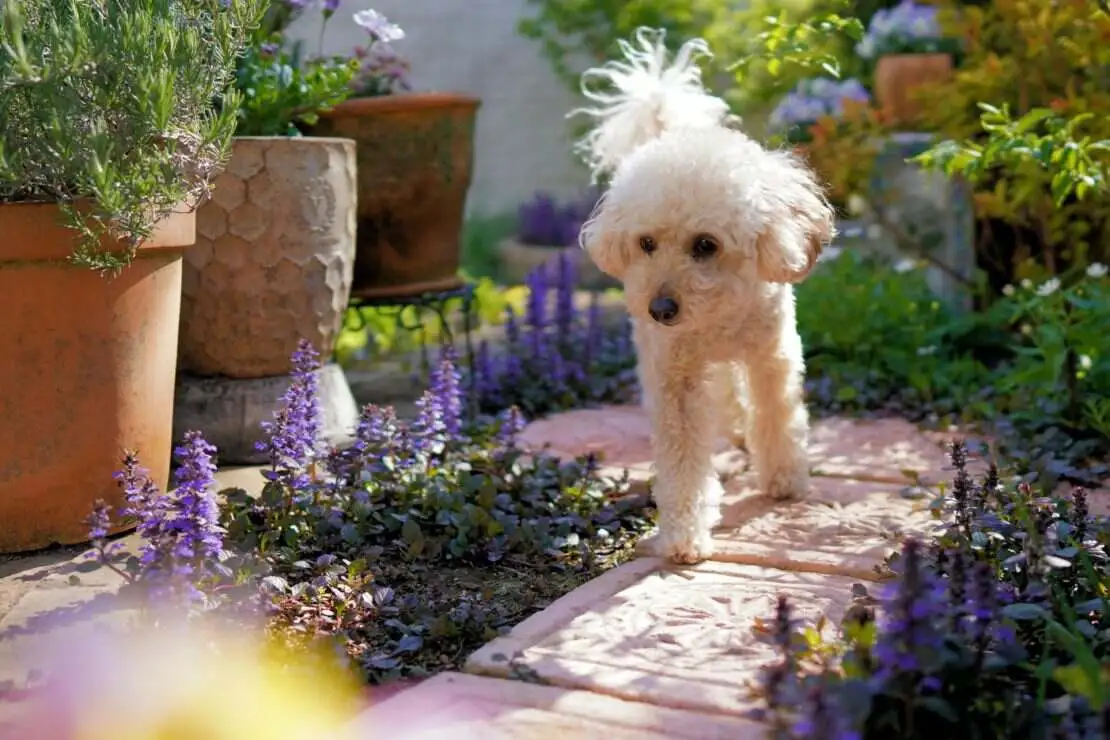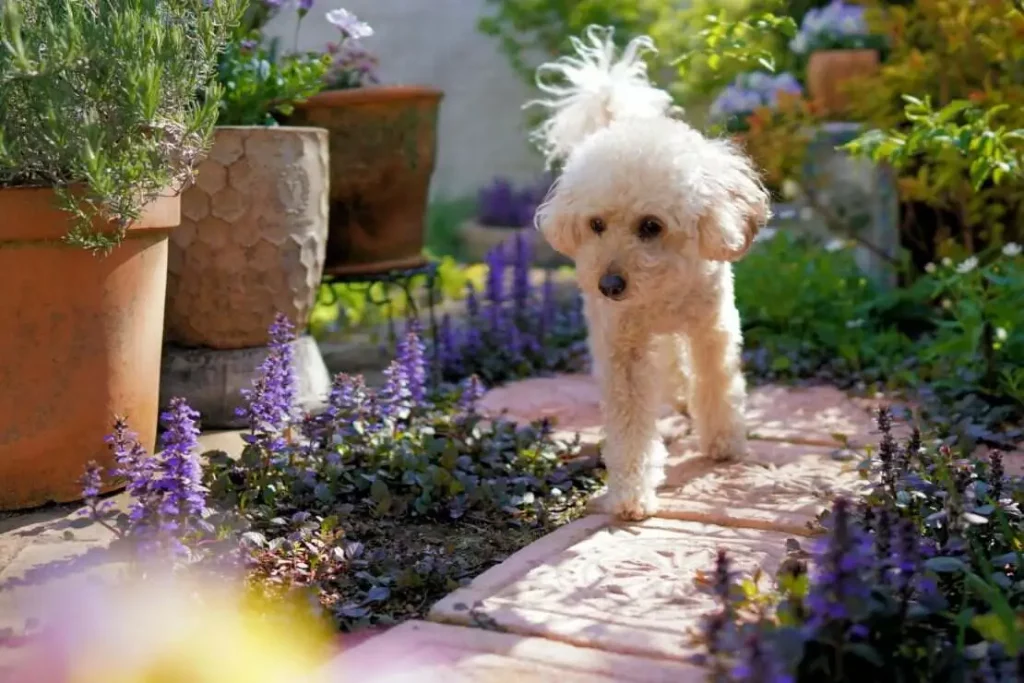 An example of what can be placed in a sensory garden:
plants for touch, smells, and sounds (but make sure the plant is safe for the dog);
stumps, and stones to create different levels;
wind spinners;
gentle chimes;
yard decorations;
fountains, ponds;
digging pit.
Here are some ideas for such a garden: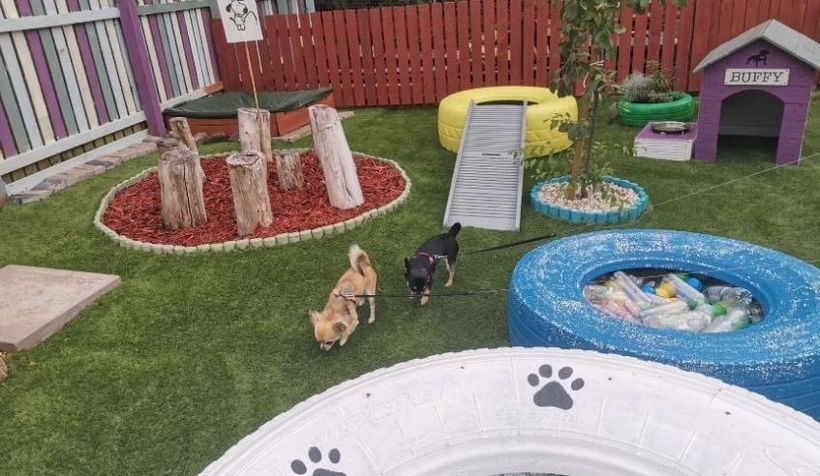 Outdoor dog kennel
For a dog who lives outdoors, the cage should be designed especially carefully. It should include a house and an enclosed area where your dog can stretch his muscles.
An outdoor kennel should provide security for your pet. It includes:
A secure fence to keep your dog from getting out and running away, and to keep your pet safe from wild animals;
a shelter from the weather (the dog's house and especially its roof must be made of durable material that is water-resistant and can save it from the sun's scorching rays);
protection from the cold. Not all dogs can withstand the winter cold. For them, you need to insulate the kennel with insulating materials. You can also install a heater.
Only a professional can make a good dog kennel. If you have no experience in carpentry, I would recommend ordering a ready-made doghouse. Here is an example:
Bonus: more outdoor dog area ideas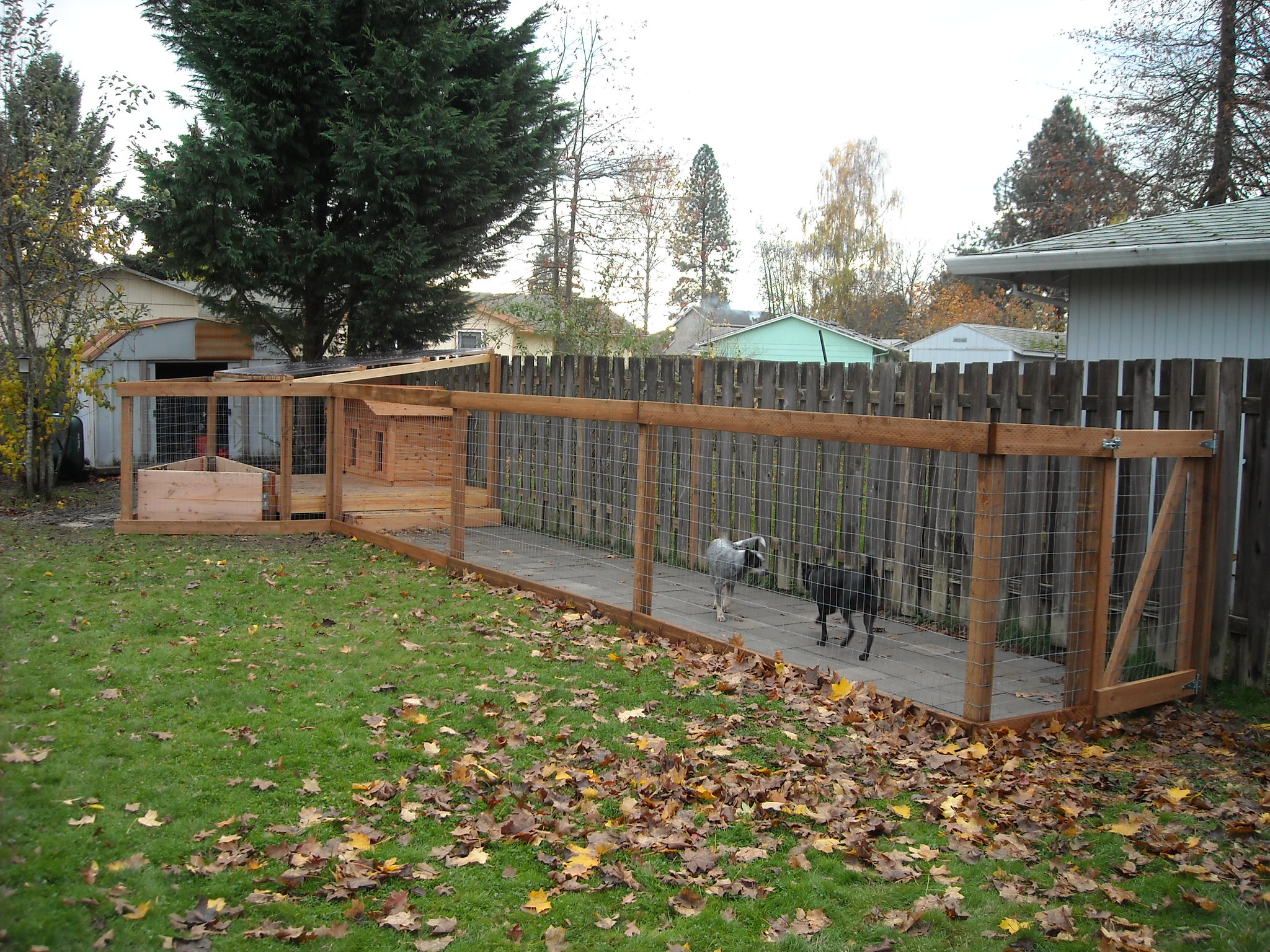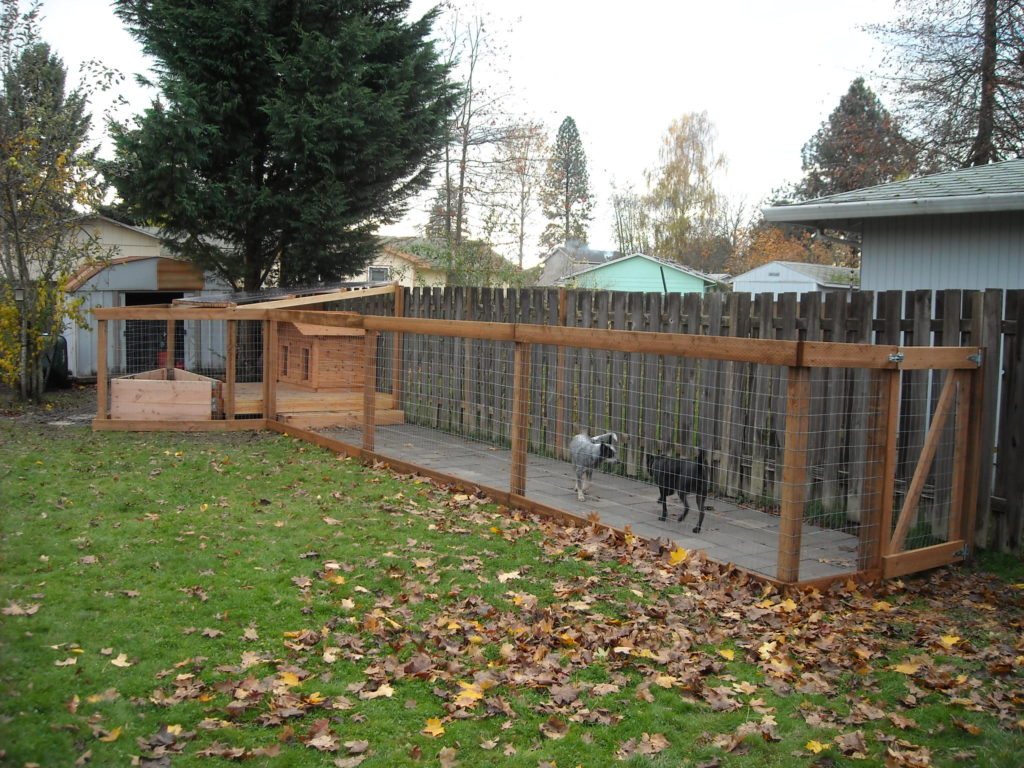 I hope these ideas help you create the perfect outdoor dog area! Keep your pet's needs and preferences in mind, as well as your own, then you will succeed!
FAQ