Do you want to make a stylish and comfortable room for your dog, but don't know where to start? You need to determine where this space will be, what should be in this room, and how to decorate it.
I will talk about all of this in this article. Among all the dog room ideas you will find inspiration.
Step 1: choose a space
The first question to decide on is: what space in the house to allocate for the dog room? There are several options for this, but the rules are the same:
The dog needs a secluded place to rest, where there is no excessive noise (and preferably away from windows, as noise and traffic on the street can disturb dogs, particularly at night).
But it shouldn't be a completely isolated place, as dogs want to be part of the family.
This place should be safe. For example, there should be no electrical wires or heaters nearby. There should also be no drafts in the room that can make the dog sick.
Do the dogs need their own room?
A separate room may be needed only in a few cases:
For shelter dogs who are afraid of people.
For older dogs, who need peace and quiet.
If you have several animals that need to be kept apart from each other.
If you think your dog needs a separate room, you can set aside a secluded space in the laundry room, basement, or unused closet:
Look closely, maybe you have a space in your house that is not being used in any way? For example, near the stairs.
Or under the stairs:
under stairs dog room idea
How to designate a part of the room for the dog
In most cases, it's best to set aside a part of some room. It can be a living room, kitchen, bedroom, or mudroom. The main thing is to have enough space for the dog and not have its bed in the aisle under the feet of family members.
Here are some ideas on how to integrate dog space in the house:
A place for the dog under the table
A place for the dog in the mudroom:
Another idea: to save space, you can also make a built-in space for the dog.
You can separate the space for the dog with a divider or dog gate:
A partition with a gate is a good way to keep your dog safe when you're not home.
Step 2: Decorate the room
Sure, your furry friend doesn't care what his room looks like, but you do. Nowadays, many people get very involved with the design of a dog's room, and the availability of many products on the market makes it possible to do so.
To decorate a dog's room, you can use pictures of dogs, bone-shaped items, paw stickers, and more. Garlands, pillows, toys, and other decorations will also work. I also like animal name posters or a name cut out of wood.
Here are some ideas for inspiration:
You can also paint the walls in the dog room:
I also like the idea of decorating the dog's room like a human bedroom, with the same small bed, closet, and nightstand:
Some might like the idea of a doggie room that looks like a luxury apartment:
Decor for the dog's room:
Save this article on Pinterest so you don't lose it!
You can also install a camera in the dog room to keep an eye on your pet while you are away. I would like to recommend the PETCUBE BITES 2 LITE camera. With such a camera you can even talk to your pet and give them treats.
Step 3: set up the room
What should be in an indoor dog room? Here's a list of what you might need.
Bed
The most important thing for a dog is a bed because that is where he will spend most of his time. Therefore, it is important for the dog bed to be of good quality and provide a healthy sleeping environment. If your dog has an uncomfortable bed, the animal will be restless.
But every dog has different preferences. My Buer's guide with best dog beds will help you choose the right one for your dog.
I like raised beds because they are more durable and practical; they get less dirty. Check out this lovely raised bed with drawers I found: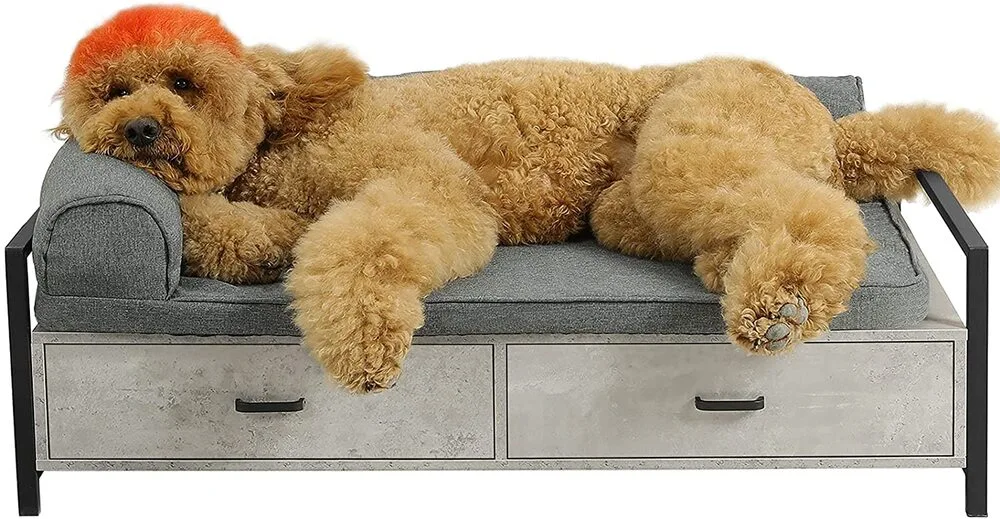 Crate
Even if you don't intend to lock your dog in a crate, it can be helpful to have one. The crate may come in handy in the future, for example for transporting the dog. So it is good if the dog is accustomed to the crate and will not be afraid of it. The crate may be a favorite place for your dog to rest, because it is like a den.
There are many kinds of crates: plastic, metal, soft, and wooden, that look like furniture. You can even match the crate to your interior. Buer's guide with the best dog crates will help.
The crate can be built into any cabinet:
Or look for a furniture style dog crate that can act as a table:
Storage for dog things
Toys can be stored in any box. But you can buy a special basket for dogs that will fit the design:
Boxes of toys can be stacked on racks or hanging shelves. The racks can hold your pet's accessories and clothing.
Here's what a wonderful shelf I found:

If your Fido has enough clothes, you can place them on a hanger for decoration:
You may find it convenient to hang hooks for collars, leashes, and other things:
Play Area
If you have a large enough room for your dog, you can even install some large toys, such as a pool of balloons: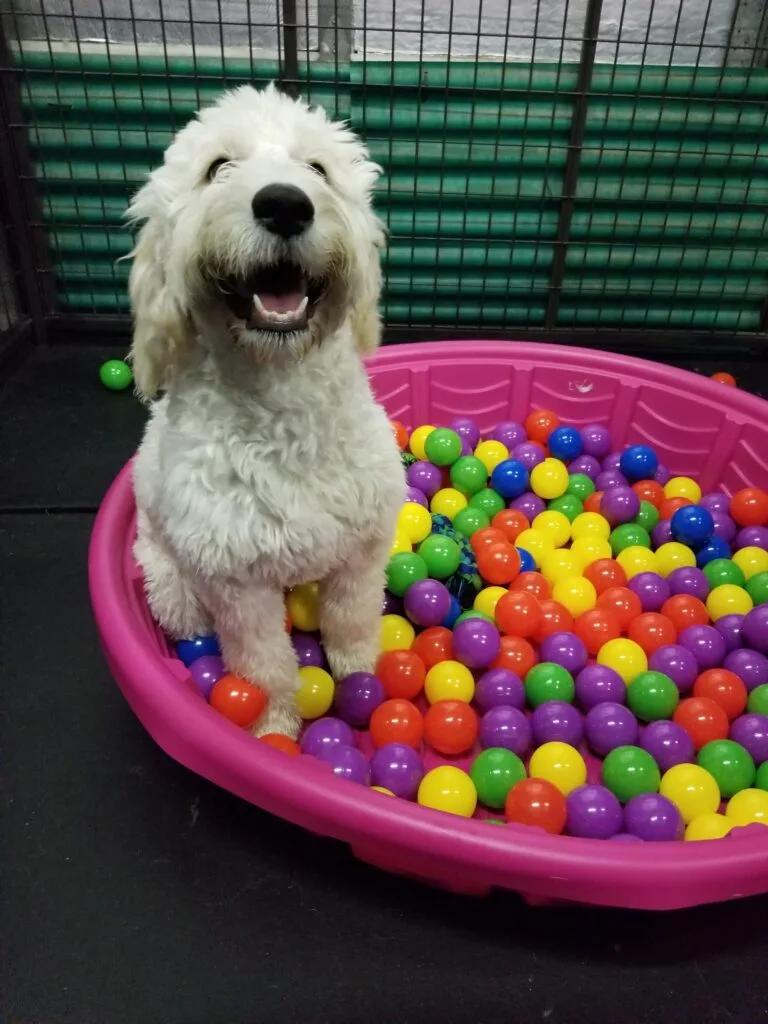 Interactive toys: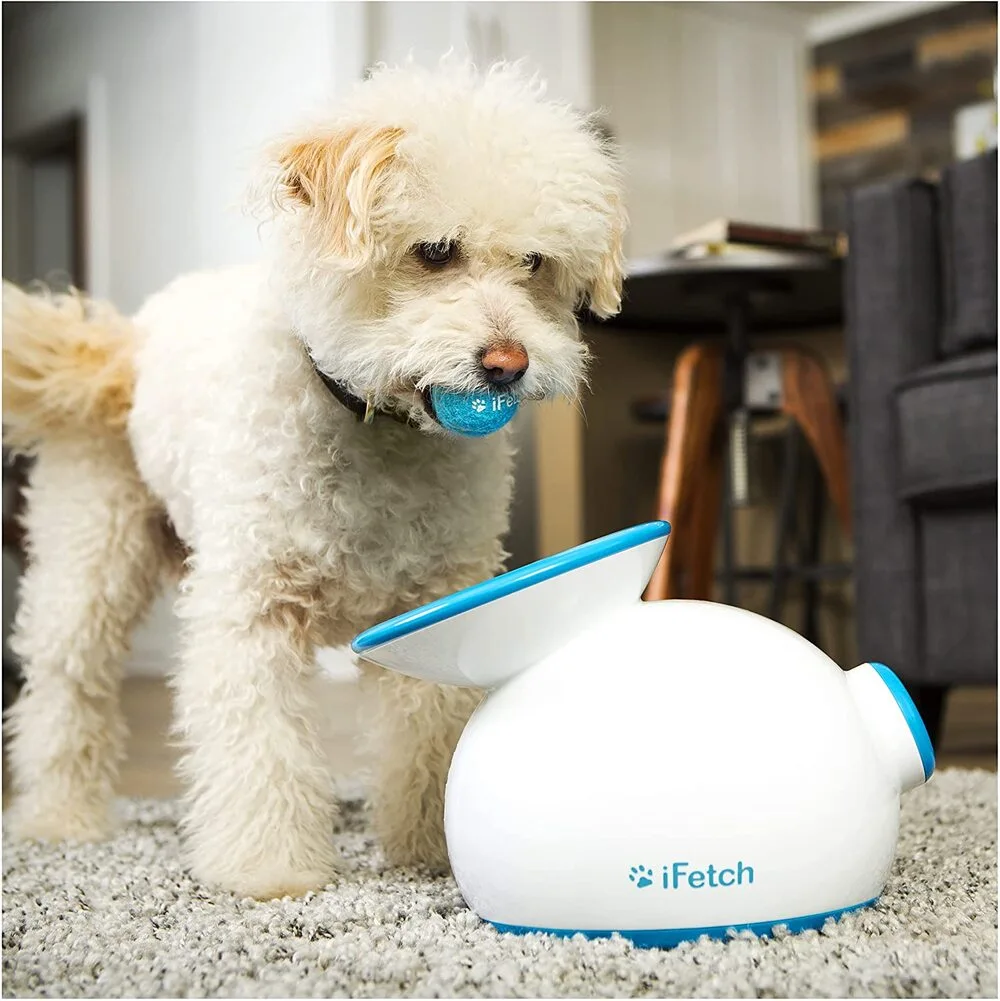 Snuffle mat:
Feeding Place
You also need to decide whether to put bowls in the dog's room. If yes, you need to put a tray or special mat under the bowls to protect the floor from water and dirt.
Here's a good idea on how to set up a feeding area:
By the way, I found where to buy such a feeding station:
You can make a pull-out bowl tray to save space:
I feel more comfortable feeding my dog in the kitchen. Food storage can be placed not far from the bowls. It is important that they be airtight containers, such as these: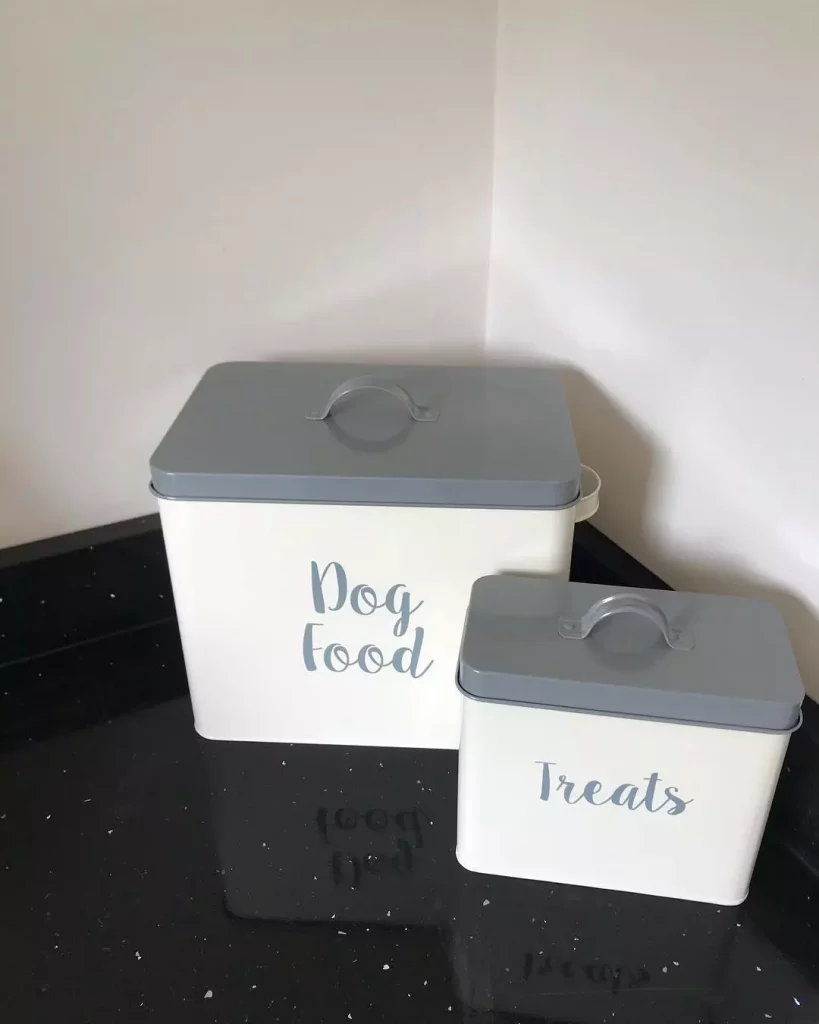 A feeding station can be made in some niche:
Bathing Station
This idea is suitable for those who are going to make a room for their dog in the laundry room. It has now become popular to make a separate bathroom for dogs. It looks like this:
It is good if the bathing station is located indoors near the entrance to the house. Then if your dog comes dirty from a walk, you can wash it right away and the house will stay clean.
FAQ
I recommend watching this video at the end for even more ideas:
An organized space for your dog will help keep everything in its place and keep the house tidy. Your pet will have a private place where they can get some peace and rest. Wouldn't that be great?