If you are searching for the best indestructible dog crates because your dog keeps chewing through their kennel or escaping, you are at the right place. Heavy-duty dog crates are designed to withstand canine Hercules while keeping them safe and relaxed.
However, like any other equipment, many dog crate models and brands claim to be indestructible and chew-proof but cannot live up to expectations. It can hence be very difficult for you to find one that will perfectly suit your dog's needs, particularly if you are not familiar with these items.
To save you that hassle, here is an exclusive review of the 6 best indestructible dog crates and everything you need to know before buying one of them.
Quick choice
The most indestructible dog crate – Impact
Best value – Agesisi Heavy duty dog crate
Best budgete – Otaid
Best Value – AGESISI Heavy Duty Dog Crate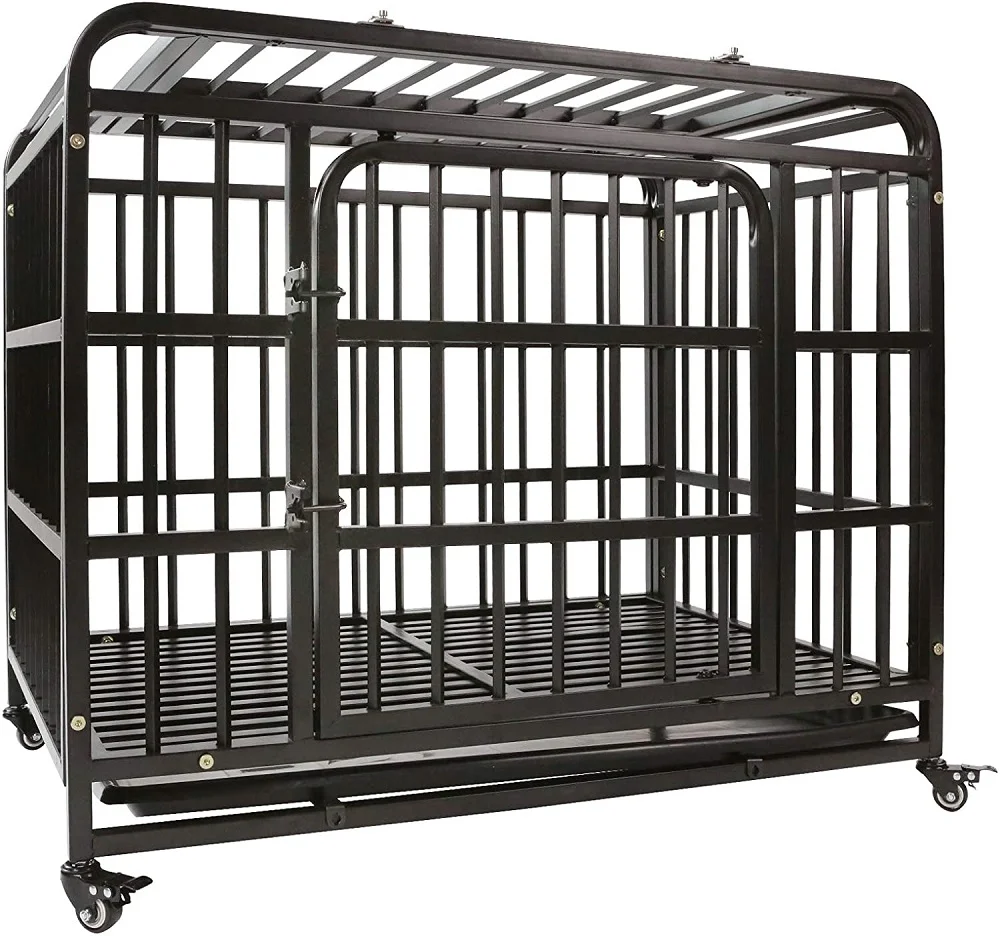 I found the most pluses in this crate, so I put it at the top of my list. It is made from corrosion-resistant steel, so a dog can't ruin it. The top of this crate is designed with rounded corners, protect your kids and your pet from sharp edges, more secure. It's two removable plastic trays making it easy for you to clean it up.
Price: $169.99
---
---
Snimoy Heavy Duty Idenstructible Furniture-Style Dog Crate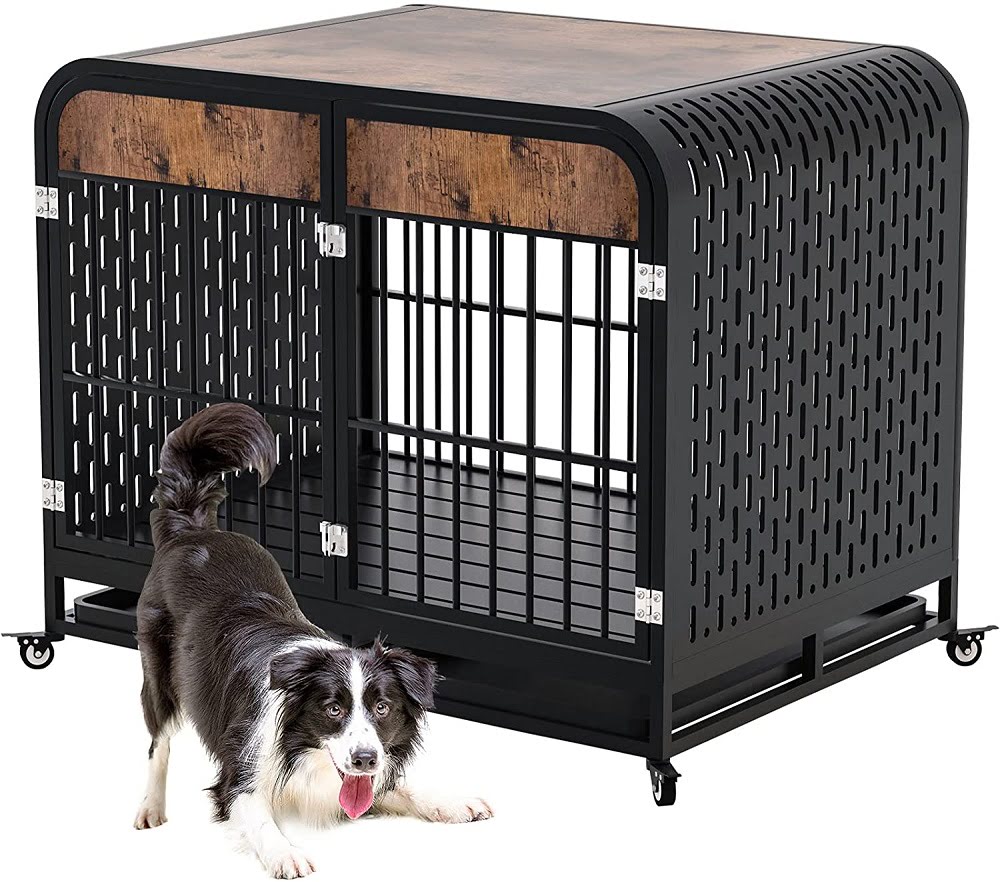 It is the only heavy duty crate with a nice design in my opinion. Because the others look like some kind of animal confinement cell. It's not embarrassing to put a crate like this in the house, and you can also use it as a table.
Also I like this model as it is more enclosed than the classic metal crates. And the idea with rounded corners will be appreciated by all who, like me, once kicked the corners of furniture.
Price: $299.99
---
 If you buy a crate with a lattice bottom, you might need to put a blanket or mattress inside to make it more comfortable.
---
ProSelect Empire Dog Cage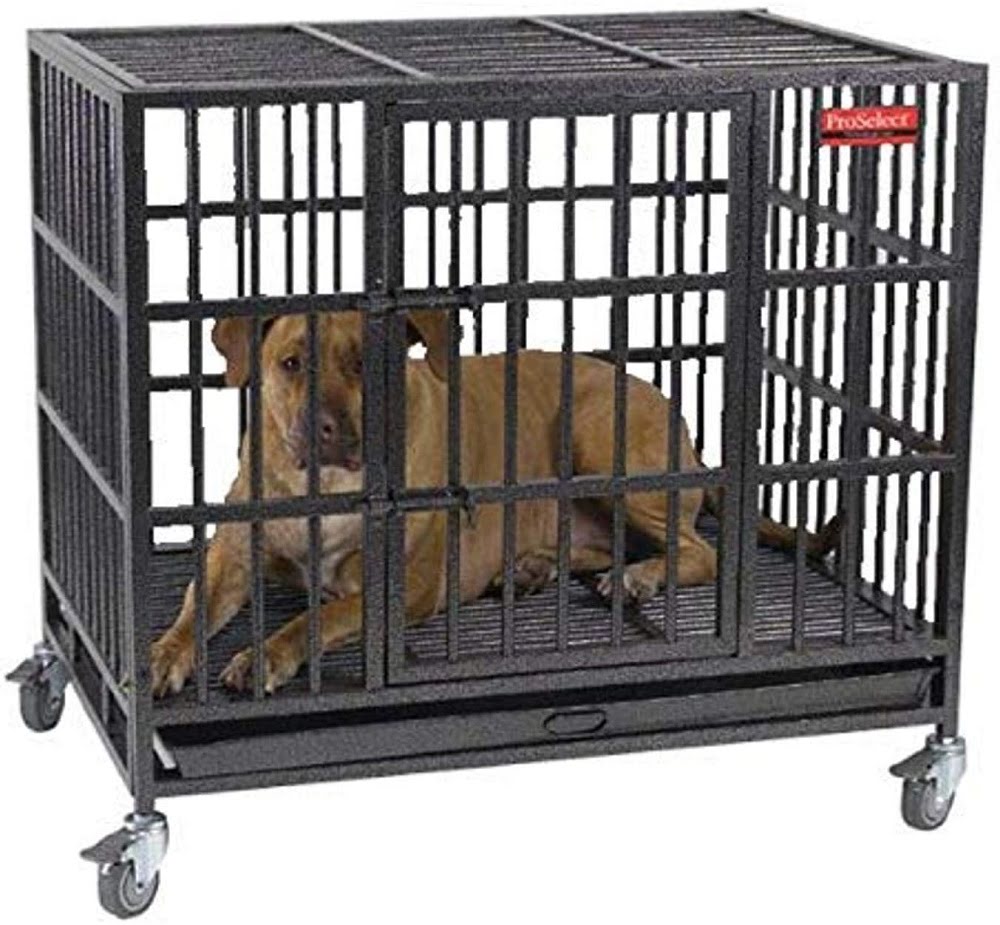 ProSelect Empire Dog Cage popular as a one-of-a-kind heavy-duty crate for medium and large dogs.
It has been made with a heavy-duty 20-gauge steel and reinforced by ½" diameter steel tubes. It is not only sterilizes the probability of your dog escaping but also guarantees long-lasting durability by being rust-free. A heavy-duty door with dual latches ensures an escape-proof guarantee.
Price: $385.73
---
 I want to tell you that for EVERY crate there is a dog that can open the lock and get out. You have to try different options to find the perfect one for your dog (it's good that you can return items that don't fit).
---
Best Budgete Heavy Duty Indestructible Dog Crate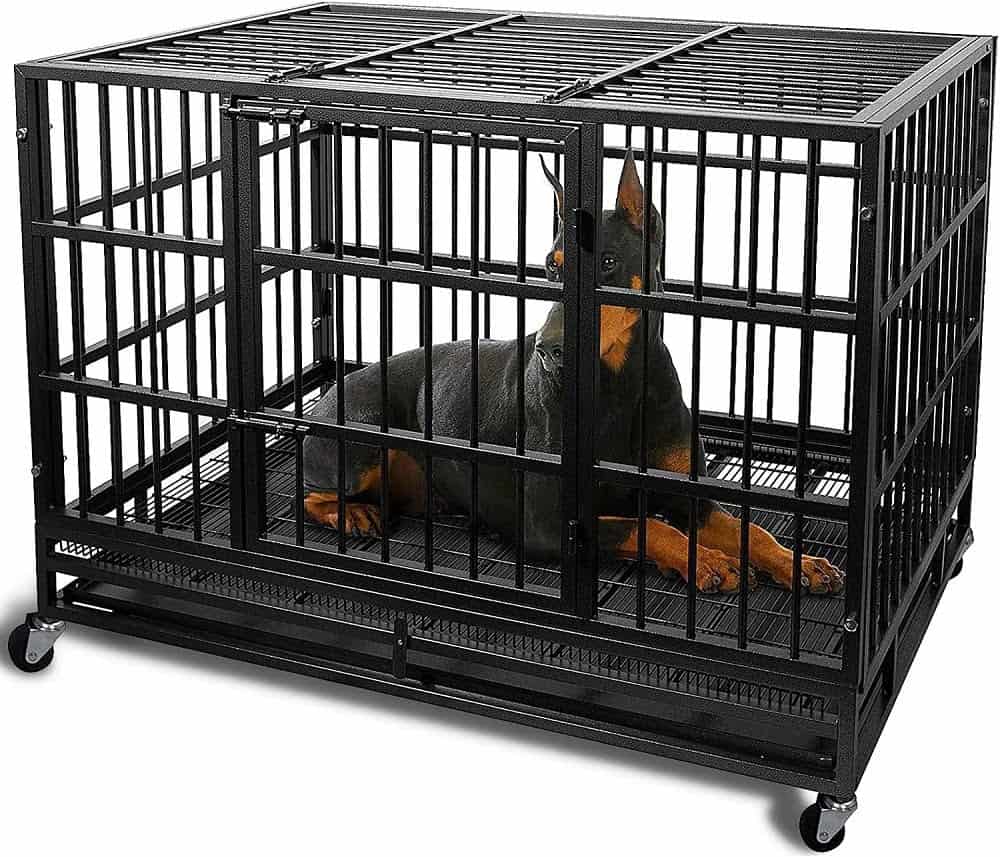 Next on our list is this heavy-duty dog kennel from Otaid. If the previous option is too expensive for you, here is a similar crate, at a lower price. And it is made of the same materials, judging by the description on the seller's website.
I like that the crate comes with double doors. It also has a removable tray that makes it easy to thoroughly clean the inside and four wheels for easy storage and mobility.
Price: $229.99
---
---
Best idenstructible collapsible Dog Crate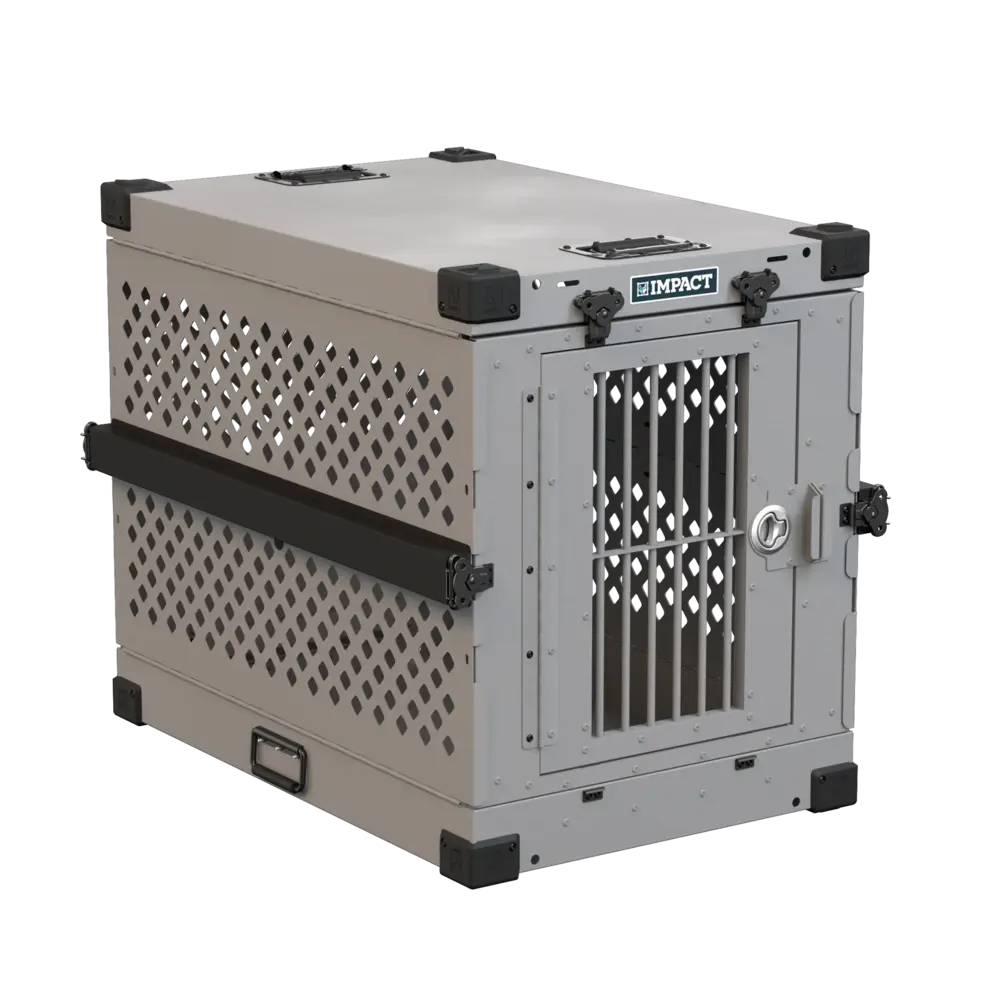 This option is more suitable for professional use in dog kennels. But you can buy such a cage if the situation is critical. For example, to transport a destructive dog.
Collapsible Dog Crate comes with a high-quality construction that justifies its high price. This model is fully collapsible and takes only a few seconds to collapse to a height of just eight inches.
When it comes to security features, this kennel has a slam latch that makes it a self-closing model with stainless steel and aluminum build materials guaranteed to keep your dog indoors.
---
---
PUPZO Heavy Duty Dog Crate with roof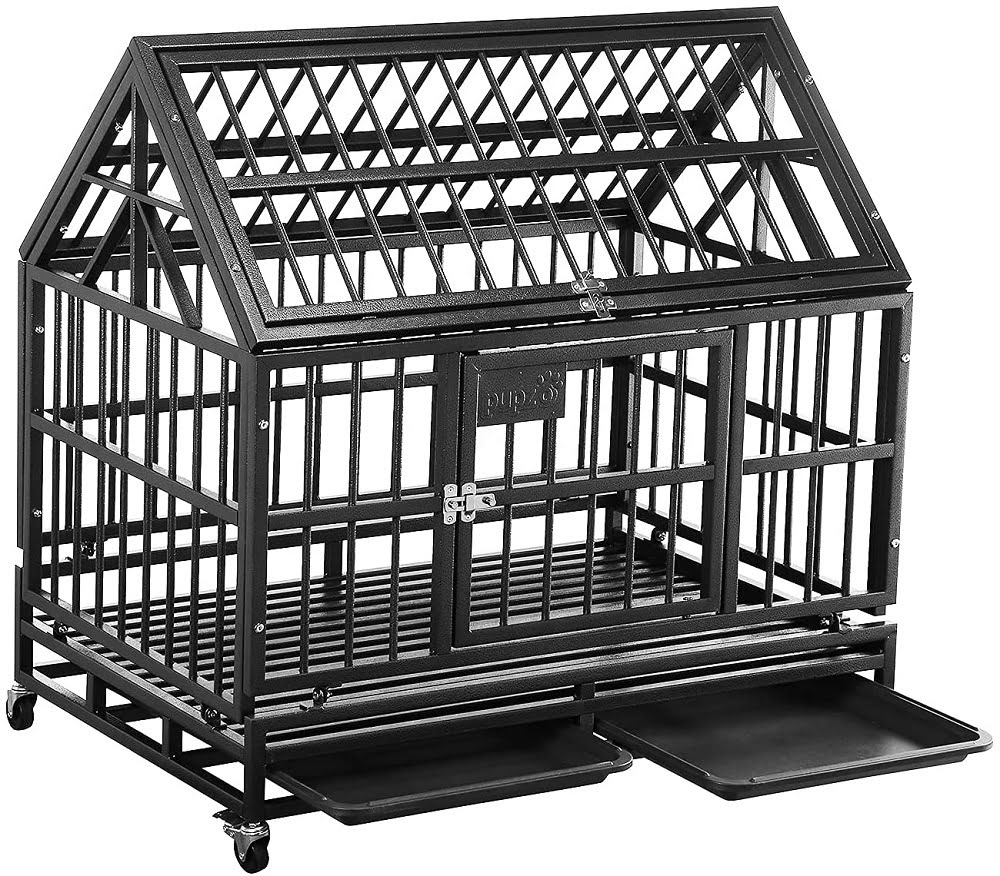 In general, in all characteristics this crate is the same as the previous model. The only difference is the design. Some people will like this design with a roof more than the standard rectangular crate.
Price: $225.99
---
---
ZINGER HEAVY DUTY 3000 CRATE

Zinger Heavy Duty 3000 Crate – $1,209.99
from:
Pet Pro Supply Co.
This crate is suitable for use in the toughest conditions. Every detail of this product has been designed to ensure reliability and durability. I'm talking about the wide square bars, the reinforced door, and the incredibly secure lock. The aluminum construction is strong, yet lightweight.
No dog will be able to break a kennel like this. It can even be safely used for transport in the car because the ZINGER crate will withstand an accident.
---
---
Buyers Guide – How to Choose Indestructible Dog Crate
If you begin searching for dog crates without assessing your dog's needs and personal preference, you might end up getting confused and buying the wrong choice. To avoid these, here are factors to consider when choosing the right crate for your dog.
Materials
Wooden cages can easily be chewed, while sub-standard wire cages can cause injury to your dog. You should opt for a reinforced steel crate with a sturdy metal frame to best contain your dog.
Breed and size
Start by narrowing down your dog crates search by sorting out the heavy-duty crates with the right size for your dog's size and breed. If your dog is medium-size, purchasing a large dog crate will not just occupy a lot of space but will also be heavy on your pocket.
Therefore, before investing in a dog crate, carefully consider the dimensions of your dog-crate and the size of your dog.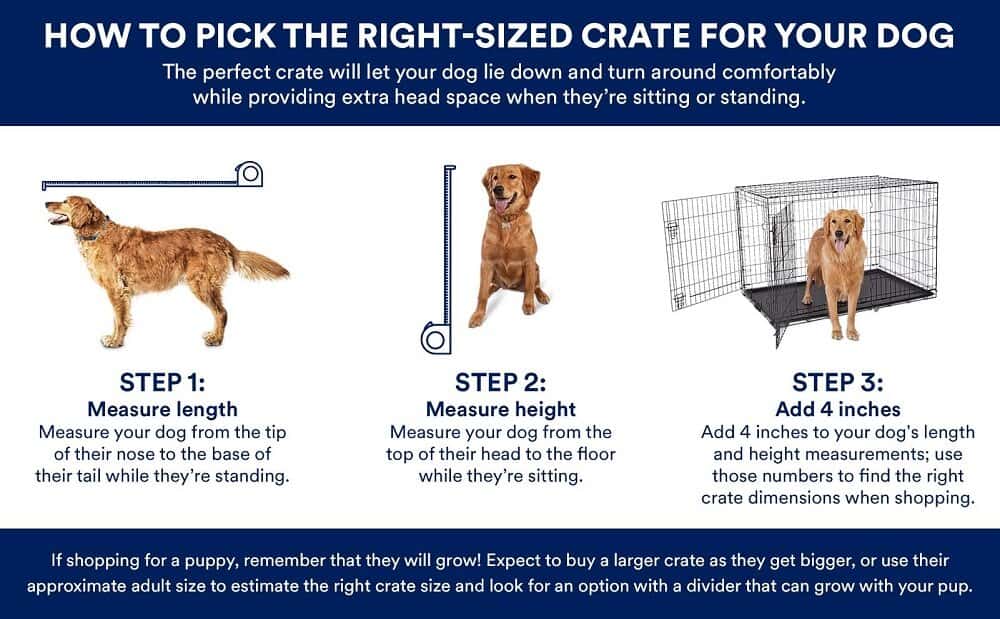 Locks and latches
Even though a dog cage has an industrial-strength frame material but with a poorly designed latch made from inferior material, it will be useless. Most premium quality heavy-duty dog crates provide advanced high-quality locks that provide secure latch.
The best type of latch is one that automatically locks when the door shuts because they have lesser external parts for your dog to get hold of their mouth.
Portability
The ability to move your dog crate from one place to another easily is essential. You might require to move it around the room to offer your dog the ideal shade, or you want it to double up as a travel crate or outdoor playpen, in which case, portability is important.
Hence, you should keep your options open and get a two-way dog crate with detachable caster wheels.
Easy to clean
When dogs eat in their crate, they often spill food and water, leaving a dirty dog crate floor. For a hygienic and hassle-free crate, you should go for an easy-to-clean crate featuring a slide-out tray.
A removable tray will enable you to clean the crate without having to remove your dog. You just need to slide out the tray, wash it and install it back for a sparkling clean dog crate floor.
---
Save this article on Pinterest so you don't lose it!
How Dogs Typically Escape Standard Crates
To have a great chance of keeping your dog inside his crate, it is essential to know how most dogs get out of kennels. Some of the most common escape ways include:
Chewing on connectors and weak spots. Most standard wire dog crates use minor metal connectors to keep the sides and the kennel door properly mounted. Many dogs will chew these significantly fragile pieces with the mouth, pull them off and escape via the resulting opening.
Manipulating the latch. If your dog uses its brain more than the jaws, he might full around with the latch mechanism until he learns how to open the door. While the initial attempts to work on the latch might look random and clumsy, dogs quickly learn how to open the door by practicing several times.
Brute force. Most dogs, including the relatively small ones, will use their mass and muscles to twist the bars apart. While they might include some mouth-work, dogs often force their head between metal bars with a perceived weakness until bending them sufficiently for their body to fit through.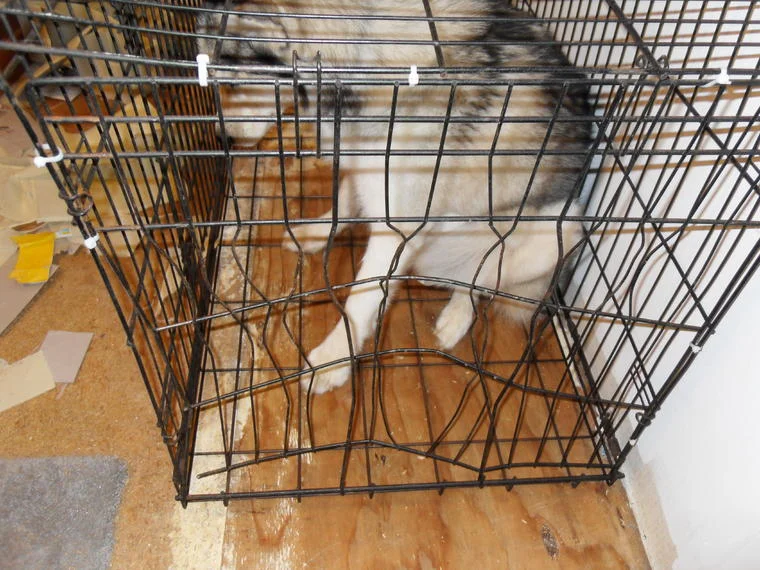 If the dog tries to get out of the crate, he may hurt himself. Therefore, do not leave your pet unattended for long periods of time unless you are sure that the crate is 100% secure.
Summary
If you are tired of purchasing dog crates that can't withstand the aggressive nature of your dog, then try one of the options from this review of indestructible crates. More you, by considering the buying guide factors, you are now in a better position to make a wise decision.
As outlined, our top and overall best heavy-duty dog crate is the ProSelect Empire Dog Cage, as it is strong, spacious, durable, and provides value for your money. The PUPZO Heavy Duty crate is the most budgetary if you are on a budget, while the Collapsible Dog Crate is the lightest and most portable option.
However, all the other dog crates reviewed are a good option with exceptional attributes depending on your particular needs.
FAQ
How do I keep my dog from breaking out of the crate?
For this, dog crate should have a secure lock and connections, as well as sturdy bars. But you shouldn't leave a dog prone to running away in a crate for too long. It is also important to do proper crate training to avoid separation anxiety in the dog. Then your dog will not try to escape.
What can I use instead of a dog crate?
If your dog does not like the crate, it is better to try other options, for example, you can assign the dog a part of the room or a separate room with a pet gate. This way the dog will be in a safe, confined place, but at the same time it will be a big enough place.
Can a dog crate be truly indestructible?
Professional cages like Zinger and IMPACT really can't be destroyed by any dog.
Latest posts by Anastasia
(see all)