If you are searching for the best indestructible dog crates because your dog keeps chewing through their kennel or escaping, you are at the right place. Heavy-duty dog crates are designed to withstand canine Hercules while keeping them safe and relaxed.
However, like any other equipment, many dog crate models and brands claim to be indestructible and chew-proof but cannot live up to expectations. It can hence be very difficult for you to find one that will perfectly suit your dog's needs, particularly if you are not familiar with these items. To save you that hassle, here is an exclusive review of the 7 best indestructible dog crates in 2021 and everything you need to know before buying one of them.
ProSelect Empire Dog Cage
On top of our list is ProSelect Empire Dog Cage, popular as a one-of-a-kind heavy-duty crate. This dog crate features a sleek design that has been approved by veterinarians and provides utmost comfort.
It has been made with a heavy-duty stainless-steel material that not only sterilizes the probability of your dog escaping but also guarantees long-lasting durability by being rust-free. A heavy-duty door with dual latches ensures an escape-proof guarantee.
Pros
It has a highly chewed-proof material.
Features four detachable casters for enhanced portability
Easier to clean due to the removable steel tray under the floor.
Its bar-like designs provide the best ventilation.
The hammer tone finish makes it rust-proof.
Cons:
This heavy duty dog crate is relatively expensive
The floor might be a bit uncomfortable for your fur baby
Otaid 48 Inch Heavy Duty Indestructible Dog Crate Cage Kennel with Wheels
Next on our list is this heavy-duty dog kennel from Otaid. This is a sturdy, strong, and high-quality dog kennel that will last for years. The upgraded 20-gauge steel and reinforced 0.5 inches diameter steel tubes are sturdy and indestructible even for large, aggressive, and powerful dogs.
The crate comes with double doors with heavy-duty locks to keep your dog safely inside the kennel. It also has a removable tray that makes it easy to thoroughly clean the inside and four wheels for easy storage and mobility, making it the perfect choice when bringing your pet with you for travel.
Pros:
Two access doors
Built with strong and rust-resistant steel
Has slide-out trays for easy cleaning
Available in different sizes
Four 360 degrees rolling casters for easy mobility
Cons:
You might need to put a blanket or mattress inside the kennel to make it more comfortable
ECOFLEX Dog Crate
This ECOFLEX Dog Crate is one of the most innovative dog crates that are both stylish and functional. This crate has a design that allows it to double as an end table, blending and camouflaging the large dog crates with your interior décor.
More so, this recycled plastic and wood polymer composite construction material will not easily become a victim of your pet's teeth. The front door latches very securely, and the crate also comes with a removable table top for easy cleaning.
Pros:
Available in 4 sizes
It's an elegant piece of furniture for your home
Made of non-toxic plastic material that is easy to clean
No tool assembly needed
Good size for large dogs
Cons:
Not ideal for aggressive and destructive dogs
Collapsible Dog Crate
Collapsible Dog Crate comes with a high-quality construction that justifies its high price. This model is fully collapsible and takes only a few seconds to collapse to a height of just eight inches. When combined with its lightweight built and IATA compliant certificate, this model has ultimate portability and is very easy to store away.
Another space-saving feature on this crate is the stacking corners that allow you to stack multiple Grain valley dog crates together. When it comes to security features, this kennel has a slam latch that makes it a self-closing model with stainless steel and aluminum build materials guaranteed to keep your dog indoors.
Pros:
Space saving-collapsible design
Lots of ventilation
Strong, anti-corrosion, and durable construction
Straightforward to assemble
Not harmful chemicals or toxins
Cons:
A bit expensive
Needs some assembly
Dog Cage Crate Kennel Heavy Duty
This Heavy-duty dog crate kennel is built for ultimate strength and performance. First, it comes with a solid square tube that easily withstands any devastating bite from your canine friend. It also features four strong slide-bolt latches that firmly lock the door of the crate keeping your dog safely inside.
It's two removable plastic trays making it easy for you to clean it up. One special feature about this crate is how easy it is to assemble. You can set it up in a few seconds without the need for any assembly tools and folds flat for easy portability and travel.
Pros:
Easy to clean
Double heavy-duty latches for ultimate security and safety
Four wheels for easy control and movement
Strong and durable built-in materials
Cons:
It can be a bit challenging to assemble for first-timers
DEStar Heavy Duty PE Rattan Wicker Pet Dog Cage Crate
Are you considering looking for a heavy-duty dog crate that blends well with your house décor? DEStar Heavy Duty PE Rattan Wicker Pet Dog Cage Crate is your best option. This crate is made of PE wicker and blended with strong metal material, making it a strong dog cage that blends with the furniture and décor in your house.
This dog cage sufficient to hold a dog weighing 66 pounds and below. To cover your dog from rain or harmful sunlight rays, the cage comes with a polyester cover that you can use to roll over it.
Pros:
It has a beautiful design
Raised feet essential for flooding
Easy to install
Features remarkable innovation
Cons:
Features a powerful chemical smell that can be a problem for some dogs
Heavy Duty Dog Cage Crate Kennel Strong
The cage has been built with carbon steel material which makes it durable, strong, and corrosion-resistant. More so, the crate has a non-toxic rust-resistant finish that is not harmful to your dog. It comes with dual door latches that close and open securely and 360 degrees rotating wheels for easy movement. This indestructible dog crate has sufficient space even for big, aggressive, and strong dogs.
Pros:
Dual door latches for enhanced security
360 degrees rotating wheels for easy movement
Sturdy and rust-resistant material
Removable tray for easy cleaning
Cons:
It has a warranty of just three months.
Buyers Guide – How to Choose Right Crate
If you begin searching for dog crates without assessing your dog's needs and personal preference, you might end up getting confused and buying the wrong choice. To avoid these, here are factors to consider when choosing the right crate for your dog.
Materials
Wooden cages can easily be chewed, while sub-standard wire cages can cause injury to your dog. You should opt for a reinforced steel crate with a sturdy metal frame to best contain your dog.
While some wire cages are ideal for possibly destructive dogs, they are not long-lasting as steel-built bars. Plastic crates can also be amazingly durable, particularly those made of durable blow-molded plastic. 
Breed and size
Start by narrowing down your dog crates search by sorting out the heavy-duty crates with the right size for your dog's size and breed. If your dog is medium-size, purchasing a large dog crate will not just occupy a lot of space but will also be heavy on your pocket.
Keep in mind that smaller dogs can comfortably stay in a large crate, but a large dog living in a smaller-sized crate would be very difficult and uncomfortable. Therefore, before investing in a dog crate, carefully consider the dimensions of your dog-crate and the size of your dog.
Locks and latches
Even though a dog cage has an industrial-strength frame material but with a poorly designed latch made from inferior material, it will be useless. Most premium quality heavy-duty dog crates provide advanced high-quality locks that provide secure latch. The best type of latch is one that automatically locks when the door shuts because they have lesser external parts for your dog to get hold of their mouth.
Portability
The ability to move your dog crate from one place to another easily is essential. You might require to move it around the room to offer your dog the ideal shade, or you want it to double up as a travel crate or outdoor playpen, in which case, portability is important. Hence, you should keep your options open and get a two-way dog crate with detachable caster wheels.
Easy to clean
When dogs eat in their crate, they often spill food and water, leaving a dirty dog crate floor. For a hygienic and hassle-free crate, you should go for an easy-to-clean crate featuring a slide-out tray. A removable tray will enable you to clean the crate without having to remove your dog. You just need to slide out the tray, wash it and install it back for a sparkling clean dog crate floor.
How Dogs Typically Escape Standard Crates
To have a great chance of keeping your dog inside his crate, it is essential to know how most dogs get out of kennels. Some of the most common escape ways include:
Chewing on connectors and weak spots. Most standard wire dog crates use minor metal connectors to keep the sides and the kennel door properly mounted. Many dogs will chew these significantly fragile pieces with the mouth, pull them off and escape via the resulting opening.
Manipulating the latch. If your dog uses its brain more than the jaws, he might full around with the latch mechanism until he learns how to open the door. While the initial attempts to work on the latch might look random and clumsy, dogs quickly learn how to open the door by practicing several times.
Brute force. Most dogs, including the relatively small ones, will use their mass and muscles to twist the bars apart. While they might include some mouth-work, dogs often force their head between metal bars with a perceived weakness until bending them sufficiently for their body to fit through.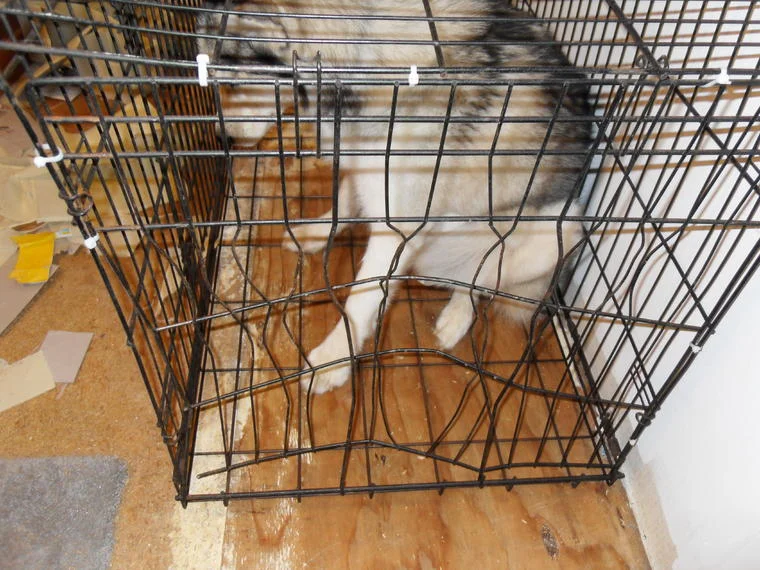 Dogs might combine these three techniques appropriately to get their freedom, and some crates offer them specific and unique opportunities to try.
Summary
If you are tired of purchasing dog crates that can't withstand the aggressive nature of your dog, you should worry not because the heavy-duty indestructible dog crate we have reviewed above will not disappoint. More you, by considering the buying guide factors, you are now in a better position to make a wise decision.
As outlined, our top and overall best heavy-duty dog crate is the ProSelect Empire Dog Cage, as it is strong, spacious, durable, and provides value for your money. The DEStar Heavy Duty crate is the most budgetary if you are on a budget, while the Collapsible Dog Crate is the lightest and most portable option. However, all the other dog crates reviewed are a good option with exceptional attributes depending on your particular needs.