A dog car crate is necessary for convenient and safe driving with your dog. After all, animals also need protection in case of an accident. Your furry friend will not disturb you during the trip.
But it's important to make the right choice. To that end, I've put together a list of the best dog crates for the car for you.
What dog crate is best for the car?
You can choose the right crate based on your needs and budget:
The safest dog car crates are crash-tested, impact-resistant crates. I would especially recommend them for those who travel with a dog, and owners of large dogs (since it is more dangerous to get into an accident with large dogs). But these crates cost $300-600 and more. They are also quite bulky and heavy.
If you are not ready to spend $500, you can buy an inexpensive soft dog crate for cars or safe carriers. Although they are not impact-resistant, they can still keep your dog in place without disturbing the driver. The main thing is that such a crate should have reliable fasteners.
I would not recommend buying cheap plastic or wire crates that have not passed crash tests. In an accident, they will not provide reliable protection and on the contrary, may lead to more injuries.
Quick choice of best dog crate for the car
Impact-resistant crate designed for transportation in the luggage compartment of the car – North America MIM Safe VarioCage Single
Best soft crate for car, 5-star crash-tested – Sleepypod Air in-Cabin Pet Carrier
Best inexpensive soft car crate – Sherpa Forma Frame Pet Carrier
One of the inexpensive carriers for dogs – Purrpy Premium Pet Carrier
Safest, crash-tested dog crates
I have included in this list only crates that are certified by an independent organization, The Center for Pet Safety (CPS). If a manufacturer can provide certificates from the CPS, it guarantees the safety of its products.
Of course, such testing costs a lot of money, like the creation of truly quality products. So such crates will cost at least $300.
4×4 North America MIM Safe VarioCage Single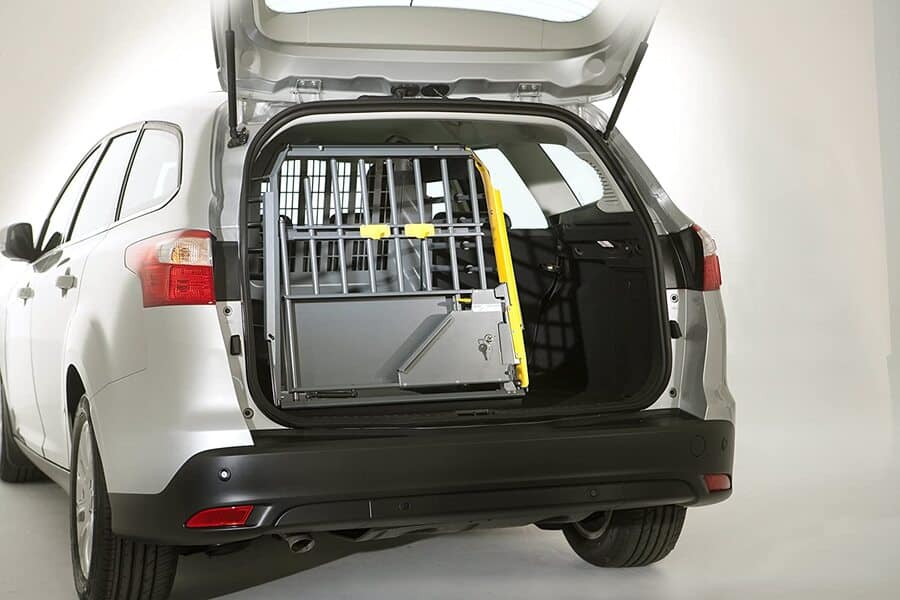 It is an impact-resistant dog crate for cars passed Pass Front, Rear & Roll-Over Crash Tests. It is what will really help save your pet in the event of an accident. Sure, it's expensive, but no more expensive than a dog's life.
For those who travel with a dog, it's worth splurging on such a crate. It is doubly important if you have a large dog, as large dogs become dangerous projectiles in an accident.
I like that 4×4 North America offers crates in a variety of sizes. In addition, it has adjustable telescoping lengths.
Price: $909.77
---
Gunner Kennels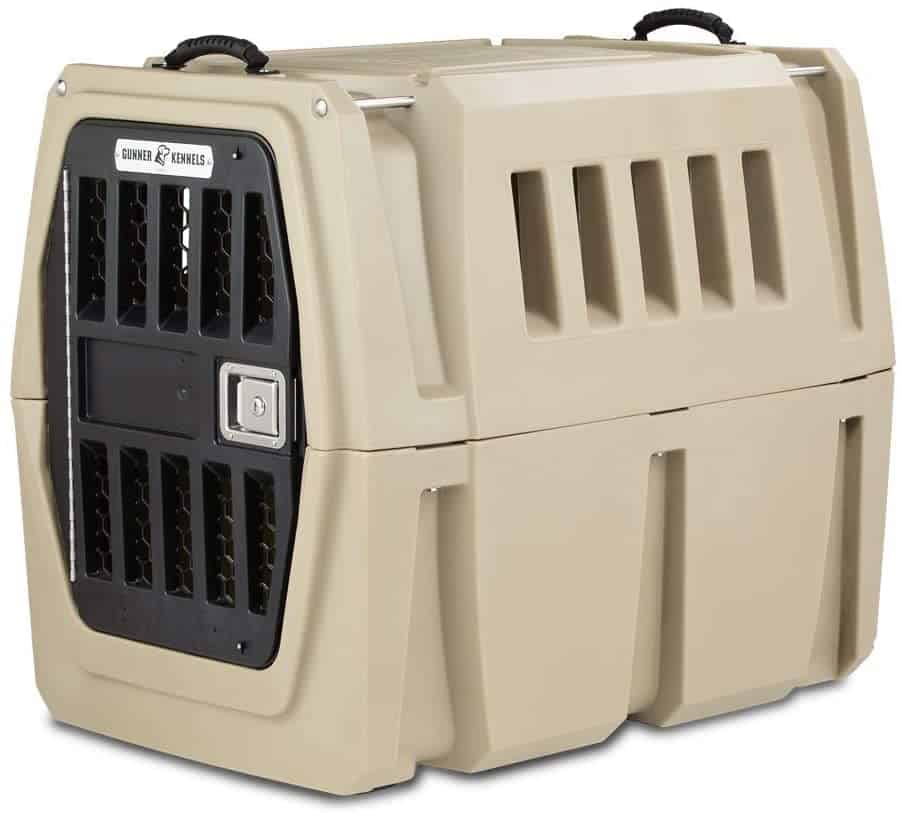 It is another example of a crate you can trust with your pet's life. Gunner products have been tested to withstand over 4,000 lb. of force, a 12-gauge shotgun at 7 steps, a 200+ foot cliff drop, and a 630 lb. sled dropped from 8'4″. And they're so confident in their product that they offer a lifetime warranty.
Transport kennels for dogs from Gunner have sturdy double walls and secure escape-proof locks. They are suitable for large dogs up to 110 pounds.
Price: Price not available
---
Sleepypod Air in-Cabin Pet Carrier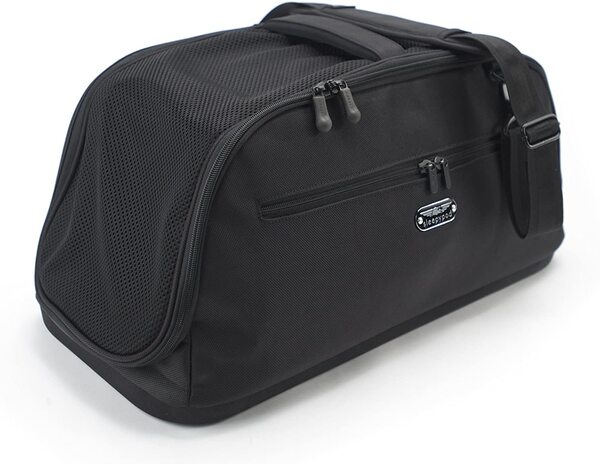 Sleelylod has been crash-tested and is CPS certified with a five-star rating. The carrier is approved for airplane and car travel. Therefore, I think this product is worth the money.
The bag is made of durable ballistic nylon. The fabric is water-resistant, so it is easy to clean from dirt. The bag folds up for easy storage. This carrier can be secured with a seat belt (there are straps on both its sides).
Price: Price not available
---
Other crates for cars
I understand that not everyone would agree to buy a dog crate for $300 or $800. So in this case, I picked some decent budget products. I would choose this option (but we do not travel a lot with a dog and do not drive in extreme conditions).
RUFF LAND KENNEL DOG CRATE FOR SUVS AND CROSSOVER CARS

Ruff Land Kennel Double Door Side Entry Dog Crate – $310.00
from:
Pet Pro Supply Co.
This is an inexpensive version of a sturdy dog cage that's great for SUVs and crossover cars. The American company RuffLand specializes in making professional equipment for dog owners. Their products are of high quality. The cage is molded in one solid piece of strong, thick plastic, and the fasteners are metal. It can hold up to 350 pounds! That said, the product only weighs 21 pounds, so it's comfortable to carry.
I also like that they allow you to customize the cage to your liking, such as choosing the location and number of doors in the cage, as well as the location of the vents. They have several sizes of cages available for different dogs.
---
ZINGER HEAVY DUTY 3000 CRATE

Zinger Heavy Duty 3000 Crate – $1,209.99
from:
Pet Pro Supply Co.
This sturdy aluminum crate is specially designed for heavy-duty use. It is very open, yet has ¾ inch thick square rods that provide a sturdy construction. This crate also boasts a reinforced door and the strongest lock I have ever seen.
ZINGER suggests customizing the door position to your preference: front, side, or combo. It's a great choice for transporting your dog in the car, including anxious dogs prone to escaping.
---
Sherpa Forma Frame Airline Approved Crash Tested Pet Carrier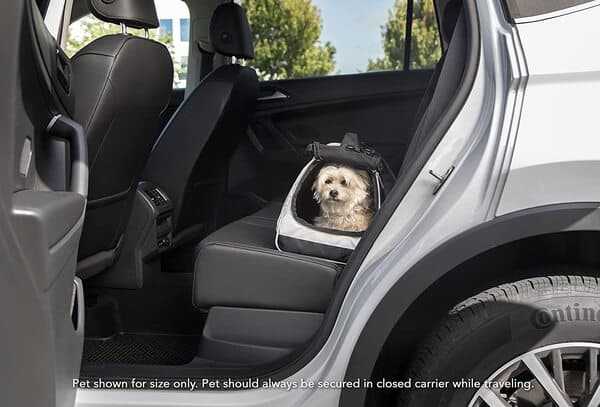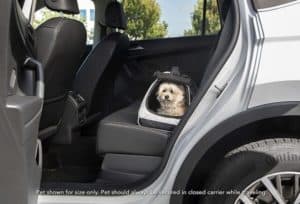 Such a dog carrier is three times cheaper than the previous version. The manufacturer's website says that the product was crash-tested. Sherpa conducted them directly, so they do not have a certificate from CPS or other independent organizations. This is a minus.
But I think this carrier is good enough for its price. If you don't have to travel a lot with your dog, then this one will definitely work for you. It's a pity that Sherpa only offers two sizes – medium and large. But they have other types of crash-tested carriers on sale.
Price: $84.25
---
Purrpy Premium Pet Carrier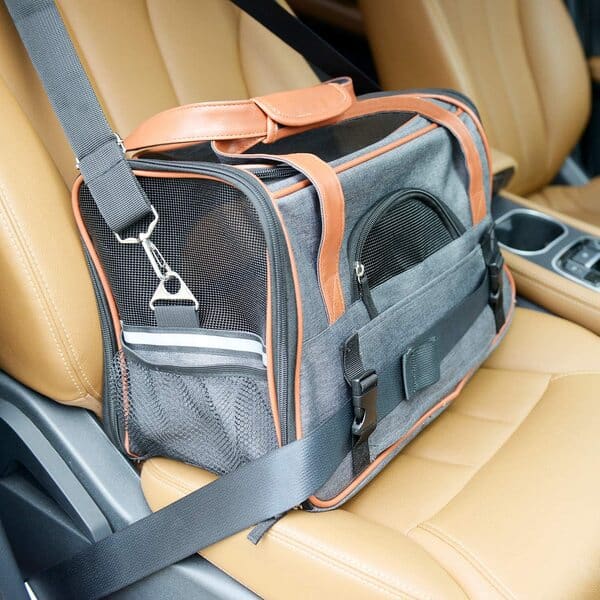 It's an inexpensive option that will at least secure your dog during the trip and protect the car cabin from dirt. The carrier can be attached to the car seat by threading the seat belt through the loops.
I liked that this bag has three exits and lots of pockets. Also, it comes with a soft fleece cushion.
The Purrpy carrier is only suitable for puppies and small dogs.
Price: $29.99
---
IMPACT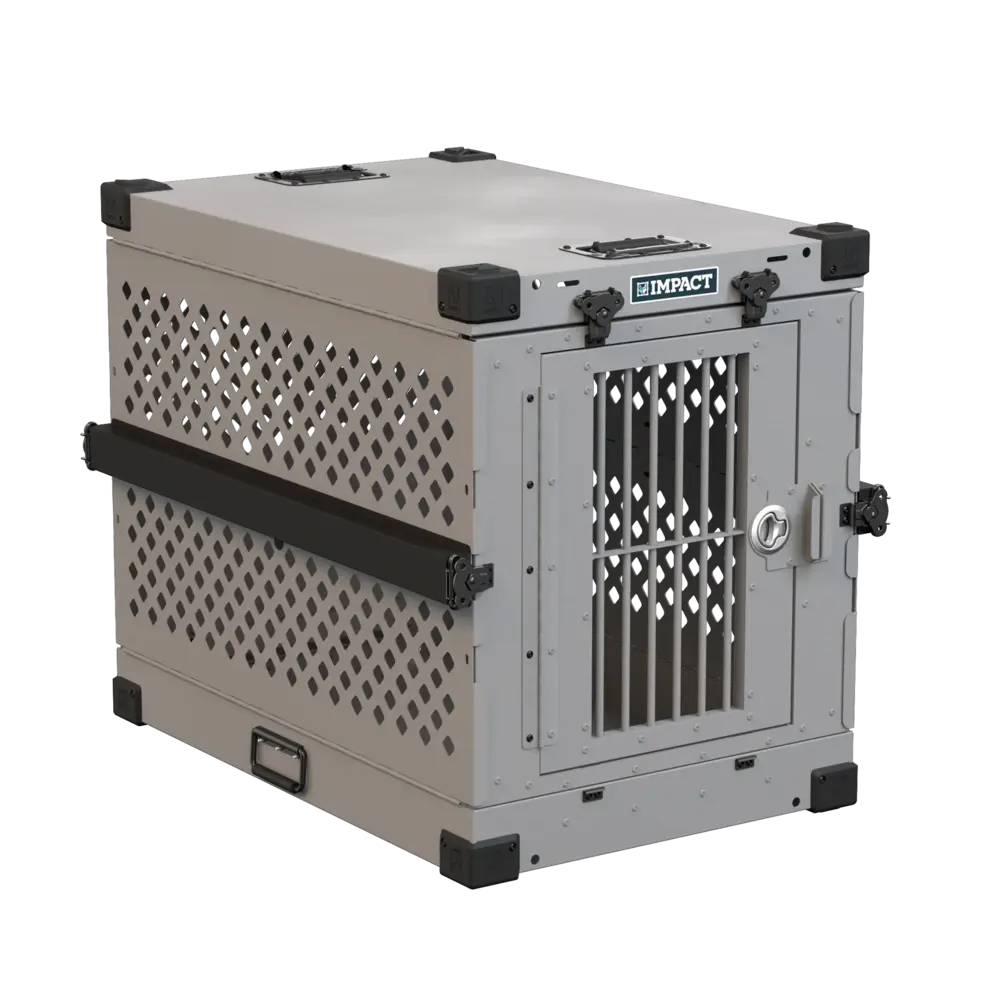 Another option for safe car crates is IMPACT crates. This company makes heavy-duty, high-quality dog crates. Although IMPACT cages have not been crash-tested, they have real testimonials from customers who have survived car accidents.
The stainless steel slam latches are rated to withstand 500 pounds of force, meaning the door won't fly open in the event of an accident and is designed to keep your dog secure rather than the pet becoming a projectile.
The crates are often used in the back seat or cargo area of cars and SUVs. To secure the crate inside of a car or SUV, you can attach a tie-down strap, ratchet strap or bungees from the top crate handles, or ventilation holes, down to the D-rings or designated cargo hooks in the vehicle.
---
Save this article on Pinterest so you don't lose it!
Why should my dog be in a crate in the car?
The answer to this question is "unequivocally yes! Why is a dog crate for cars so necessary?
If a dog is unbuckled, it will be severely injured in the event of an accident and may injure the passengers in the car.
Dogs that walk freely in the car often distract the driver from the road. It even causes accidents.
In addition, you will keep your car clean. There won't be as much fur and wet crash marks on the seats.
Some dogs get sick on the road, others get anxious. A crate will help calm down your pet.
This infographic from carrentals.com explains how dogs can interfere with drivers on the road.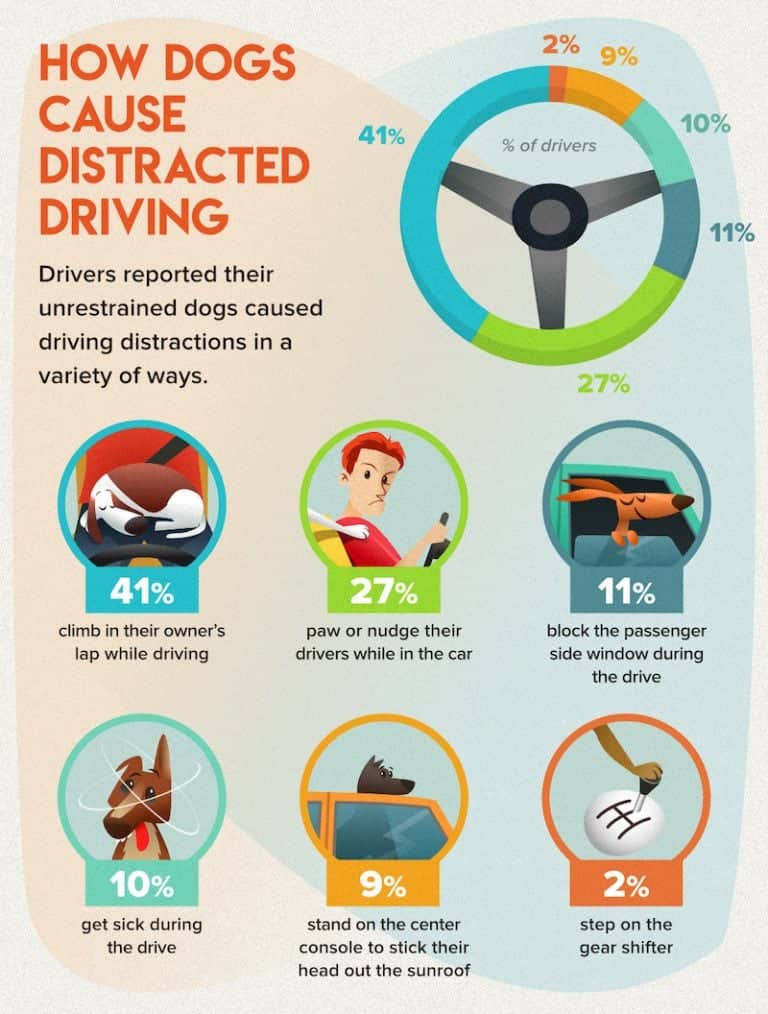 It is especially important to take care of a crate for large dogs, as their weight makes them more dangerous in an accident.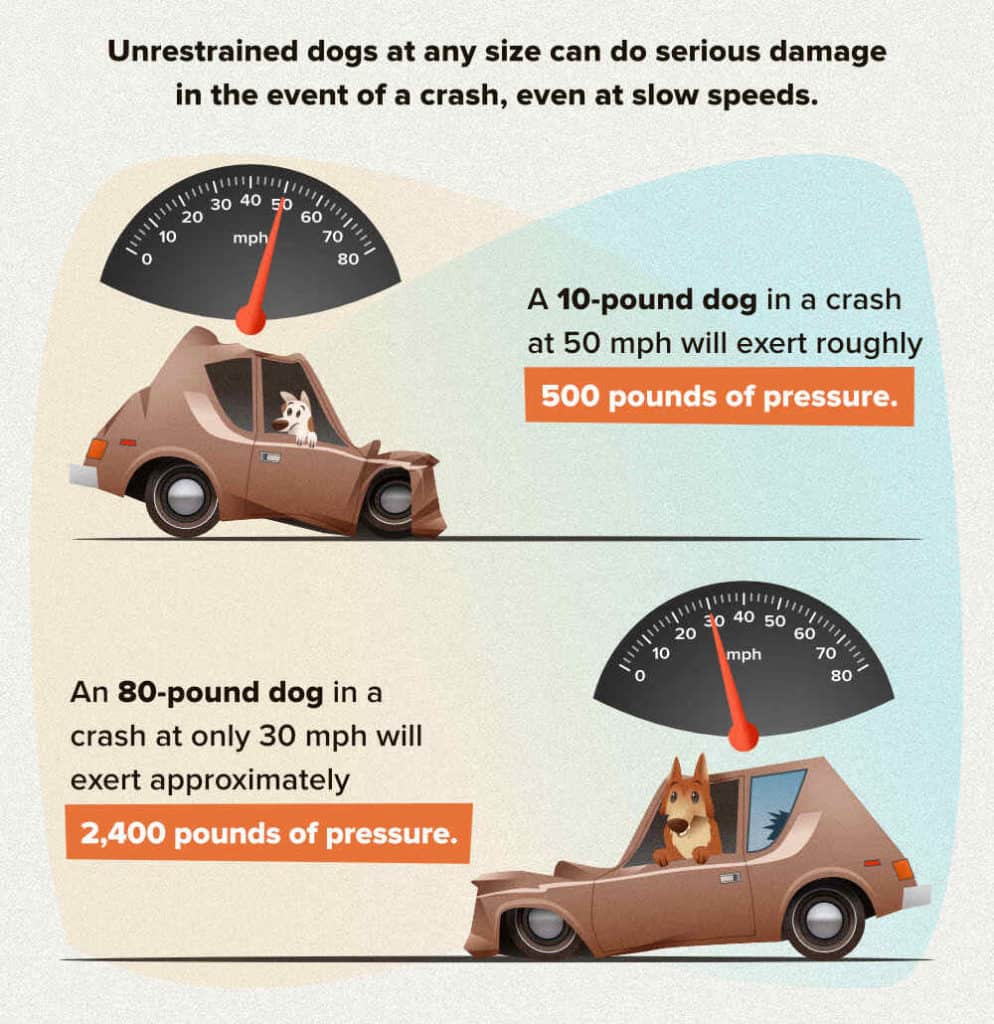 Where should I place my dog in the car? It is best to fix the crate on the backseat. As children, it is not safe for dogs to be in the front seat because of their size concerning the airbag's path.
Latest posts by Anastasia
(see all)