Many dog owners don't like the look of dog crates resembling a dog prison.Thay really doesn't always fit in the interior of the house. So you can view dog crates that look like furniture. It is also an excellent option to save space in small apartments.
Be prepared that the average price of such crates is $200. And I would not recommend looking for something cheap, because you are unlikely to get good quality for less.
Best furniture style dog crate – Frisco "Rockford"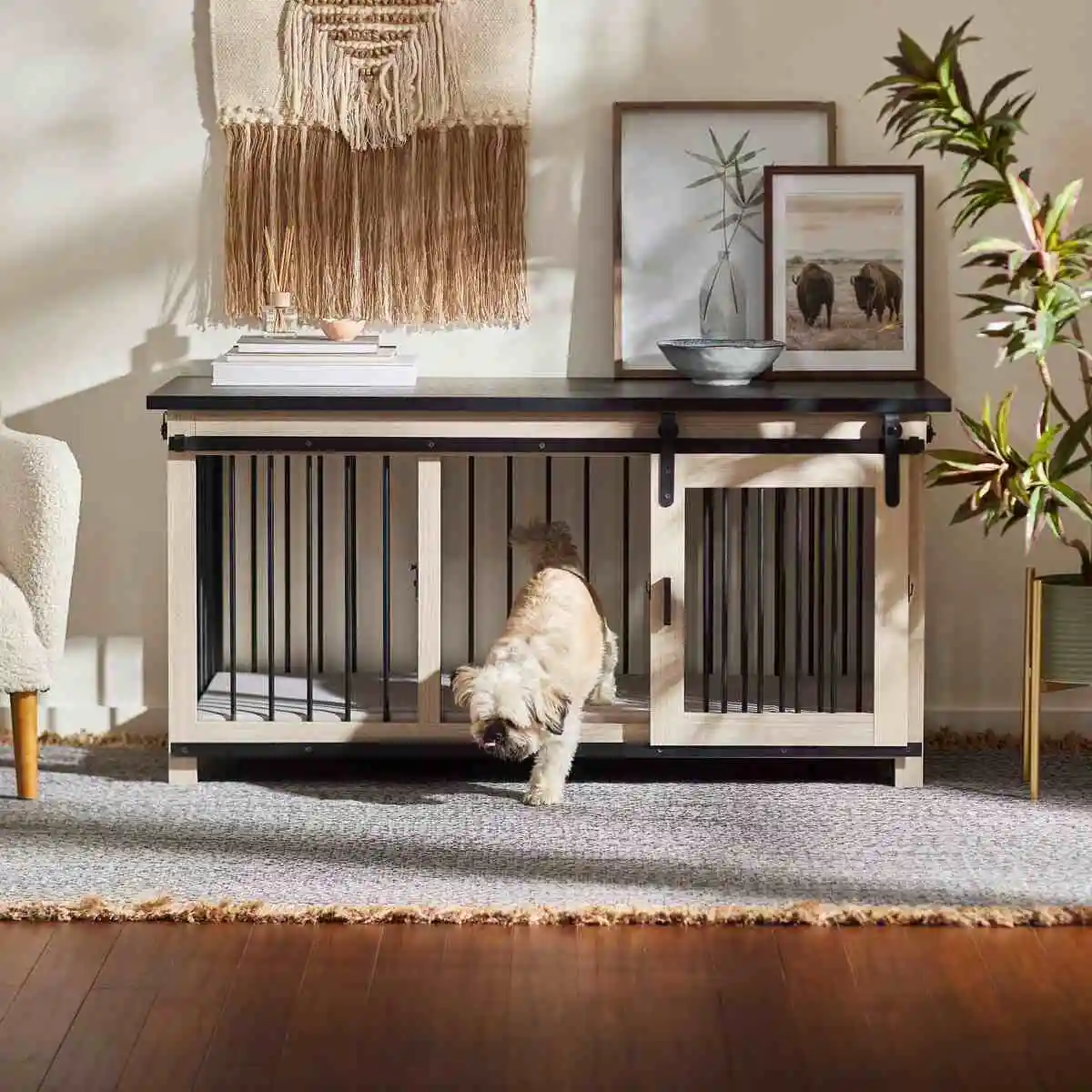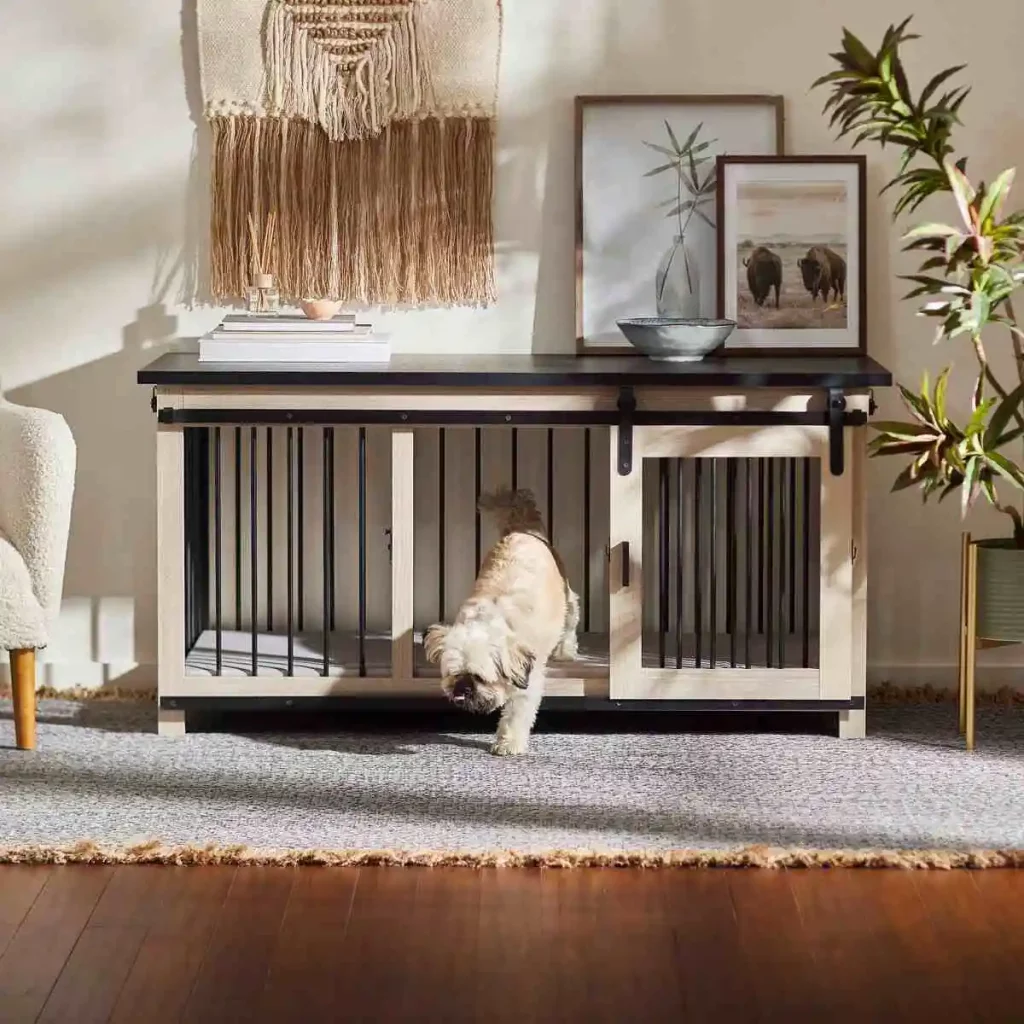 This gorgeous cage is the work of the Chewy Company. I love every detail about it, although it won't work for every home, but only if you have enough room.
I especially like the sliding doors, which help save space.
Also glad that chewy has free shipping, otherwise it would have cost a lot.
Best Wooden Portable Foldable Pet Crate Lovupet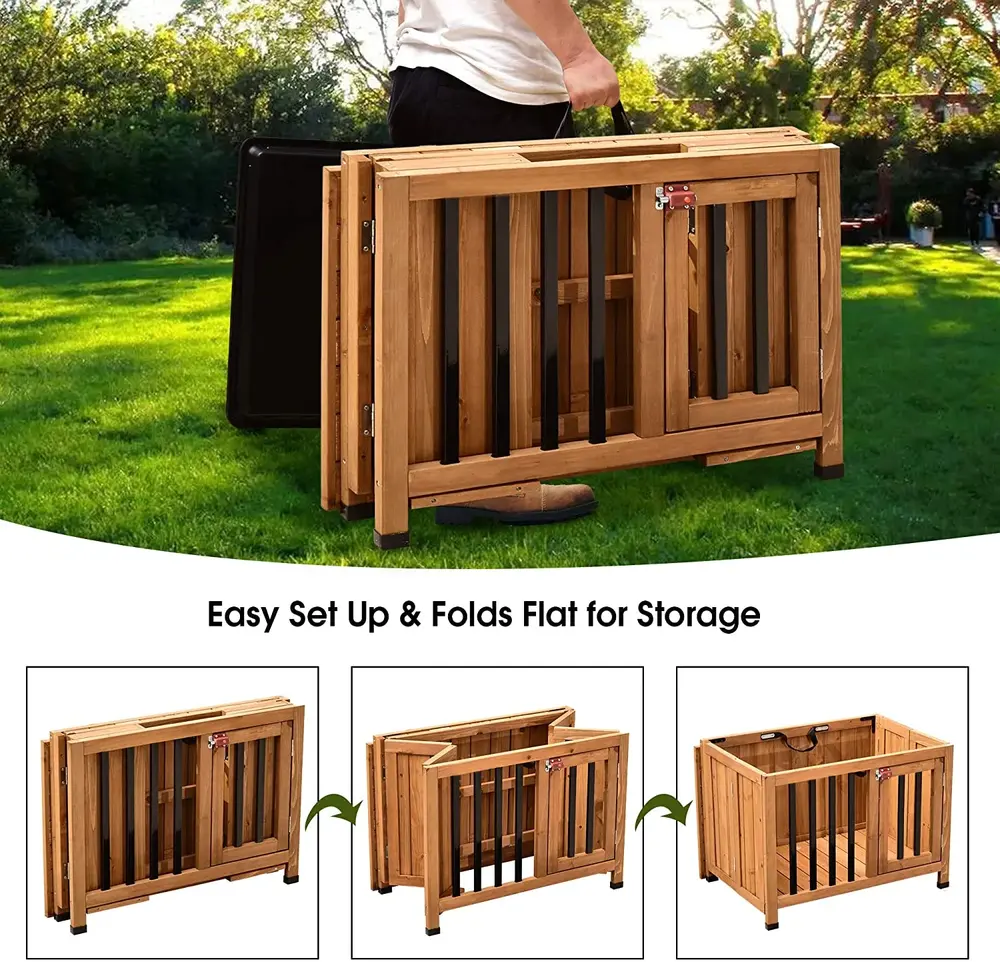 I can't stop recommending this crate, as it has many pluses and no critical disadvantages. And the price is relatively low.
Price: $169.99
PawHut Wooden Dog Kennel
Although this crate has few reviews, I will risk including it on my list because I haven't found the typical wooden dog crate furniture with an enclosed cabinet. However, PawHut is a company that specializes in making pet supplies, so I think you can trust them.
Such a large kennel can be used as a TV stand.
Price: $169.99
Furniture Dog Crate for Small Dogs – IDEALHOUSE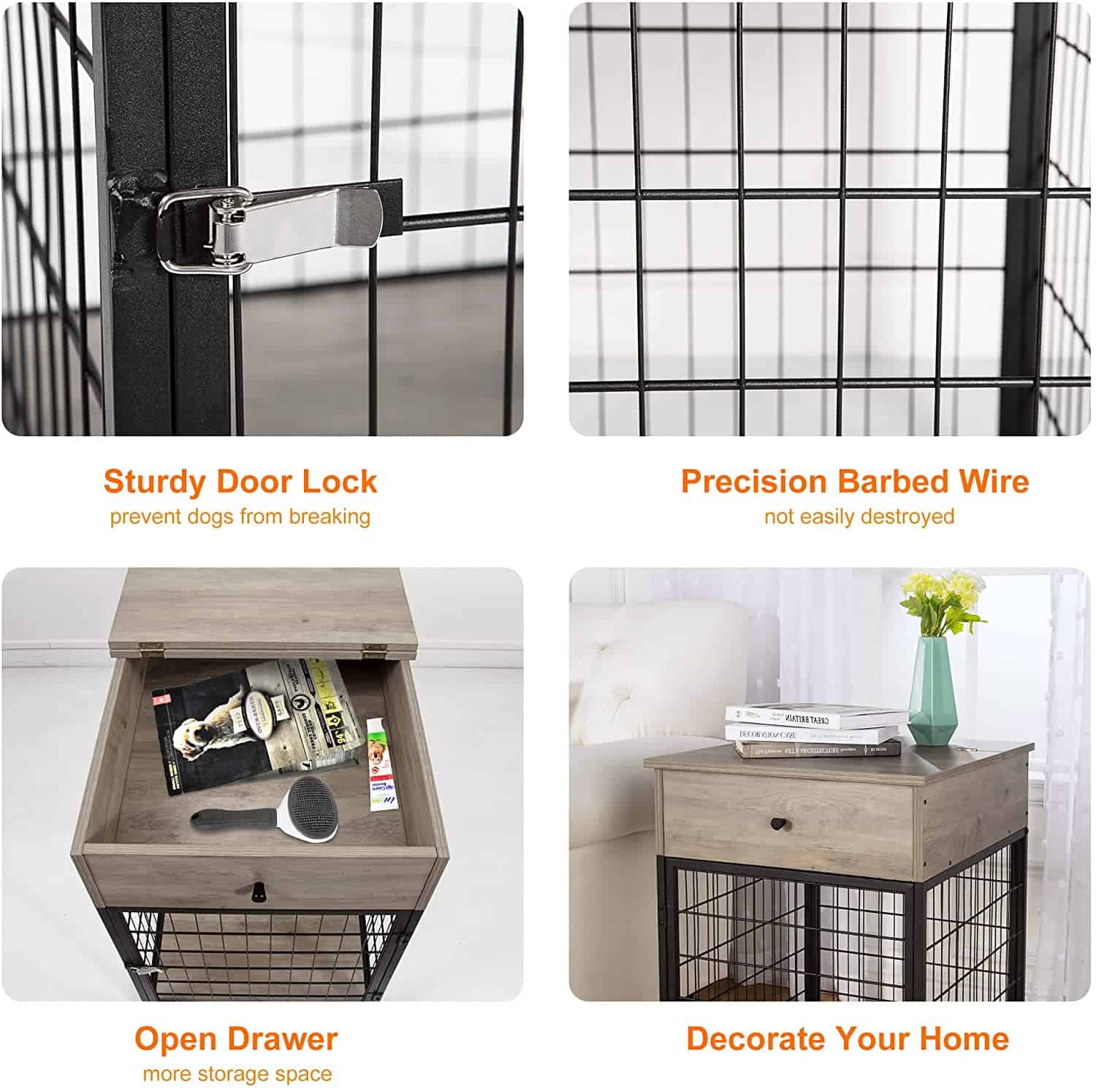 Owners of small dogs may like this crate end table, which you can place in the bedroom, next to the bed. Dogs tend to sleep more peacefully next to their owners, so it would work well for crate training.
Price: $89.99
ZSQ Furniture Style Dog Crate on wheels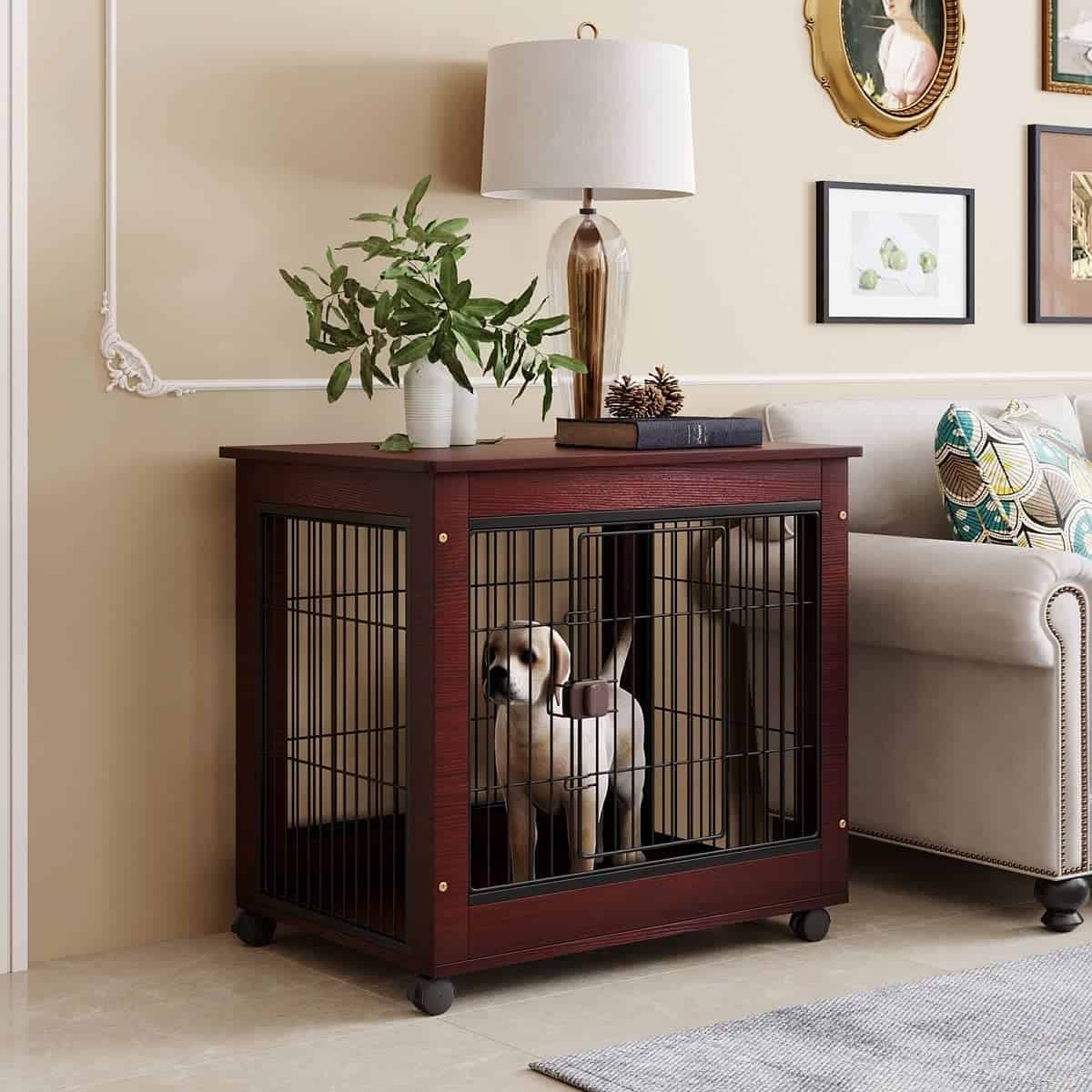 You can use this classic style crate as a coffee table, nightstand or console in the living room, office, or bedroom. It is the only option with wheels. The manufacturers position their product as a premium, so the price is slightly above average.
Price: $136.96
Rating:
Best Dog Crate Furniture for Large Dogs – Snimoy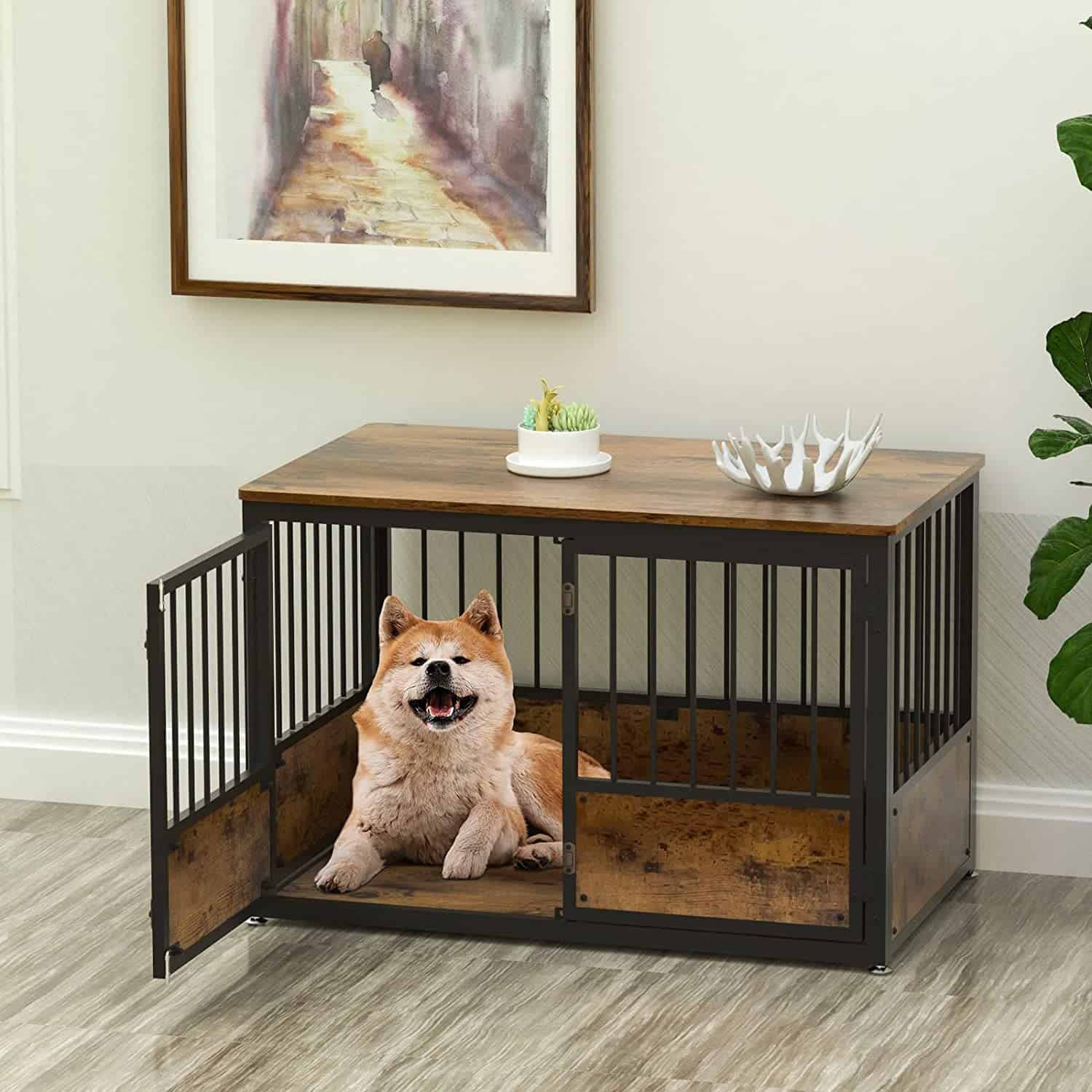 I picked up a Snimoy crate for owners of large dogs. The wood and metal style would fit almost any interior.
Price: $269.99
FEANDREA Wooden Dog Crate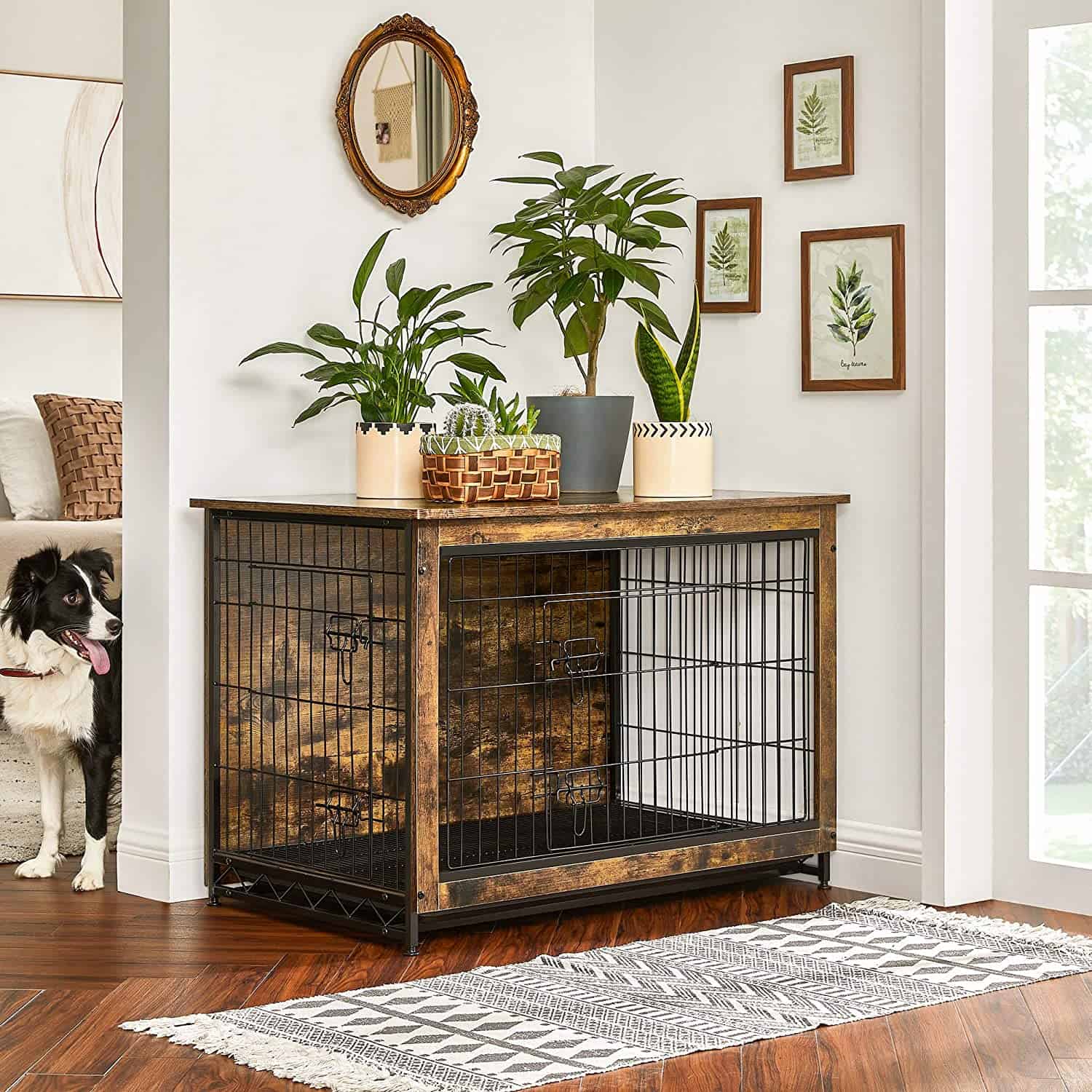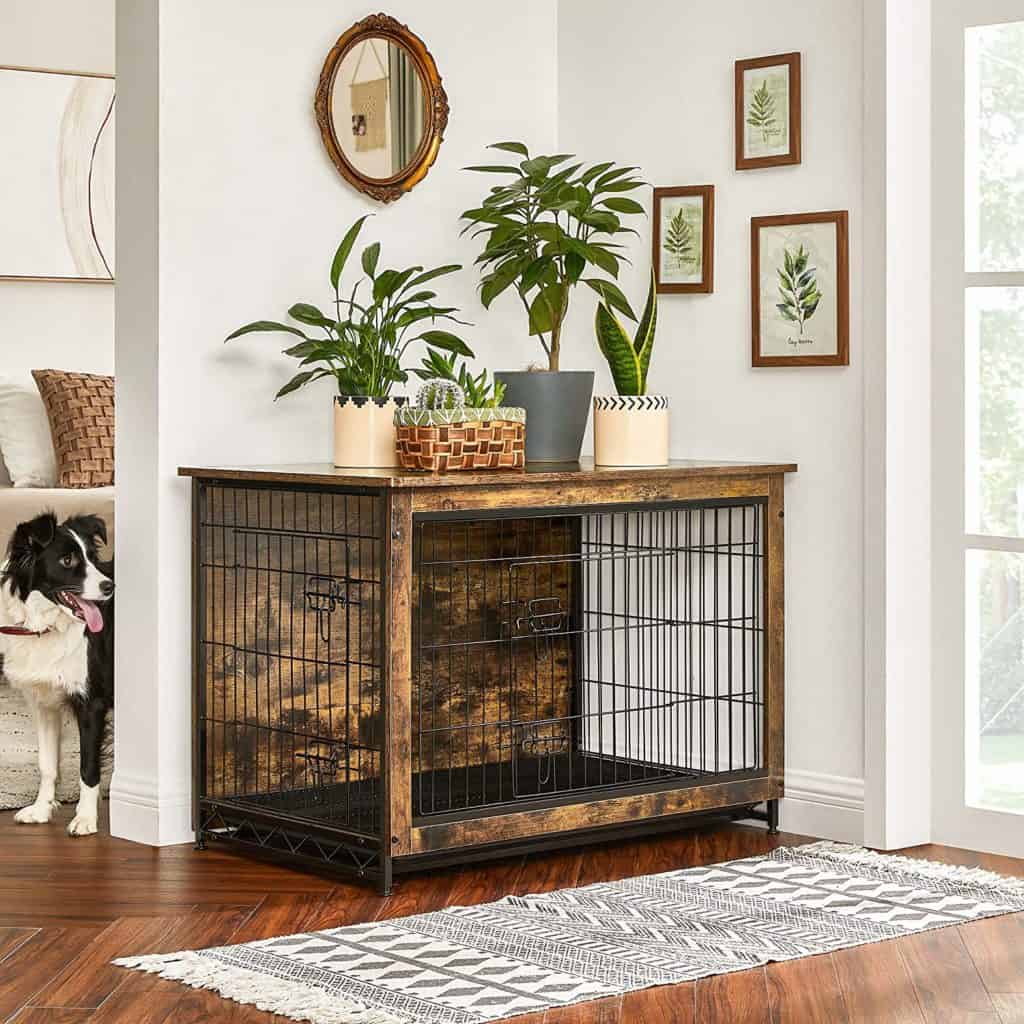 I decided to pick up a furniture-style dog crate for large dogs (up to 68lb), and my choice fell on a crate from FEANDREA. It has a lot of good reviews. And I liked the design.
Price: $169.99
Tip: put a bed in the crate to keep your dog comfortable. You can find the best chew-proof crate pad in my article.
unipaws Furniture Style Dog Crate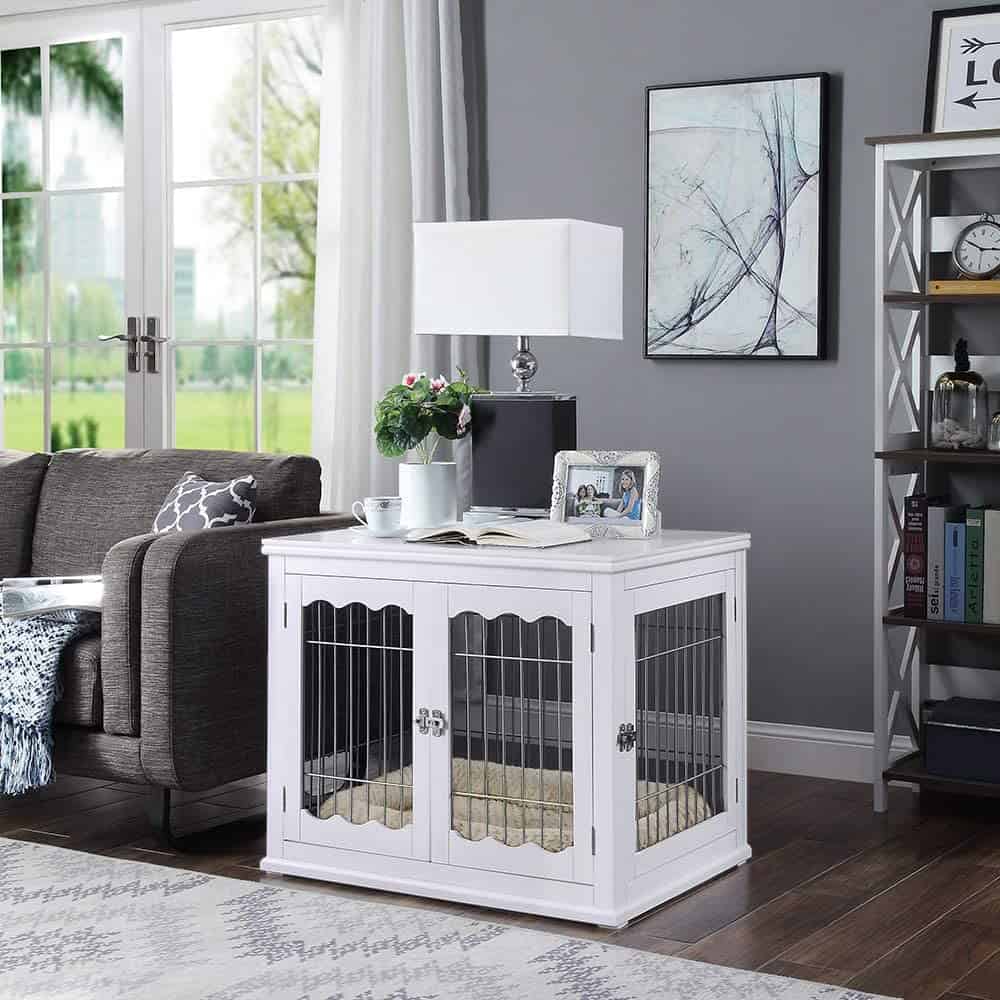 It is a beautiful, stylish dog crate table suitable for medium to large dogs. Unipaws offers 2 colors to choose from – espresso and white. I like that there are lots of good reviews.
Price: $215.99
unipaws Furniture Corner Dog Crate with Cushion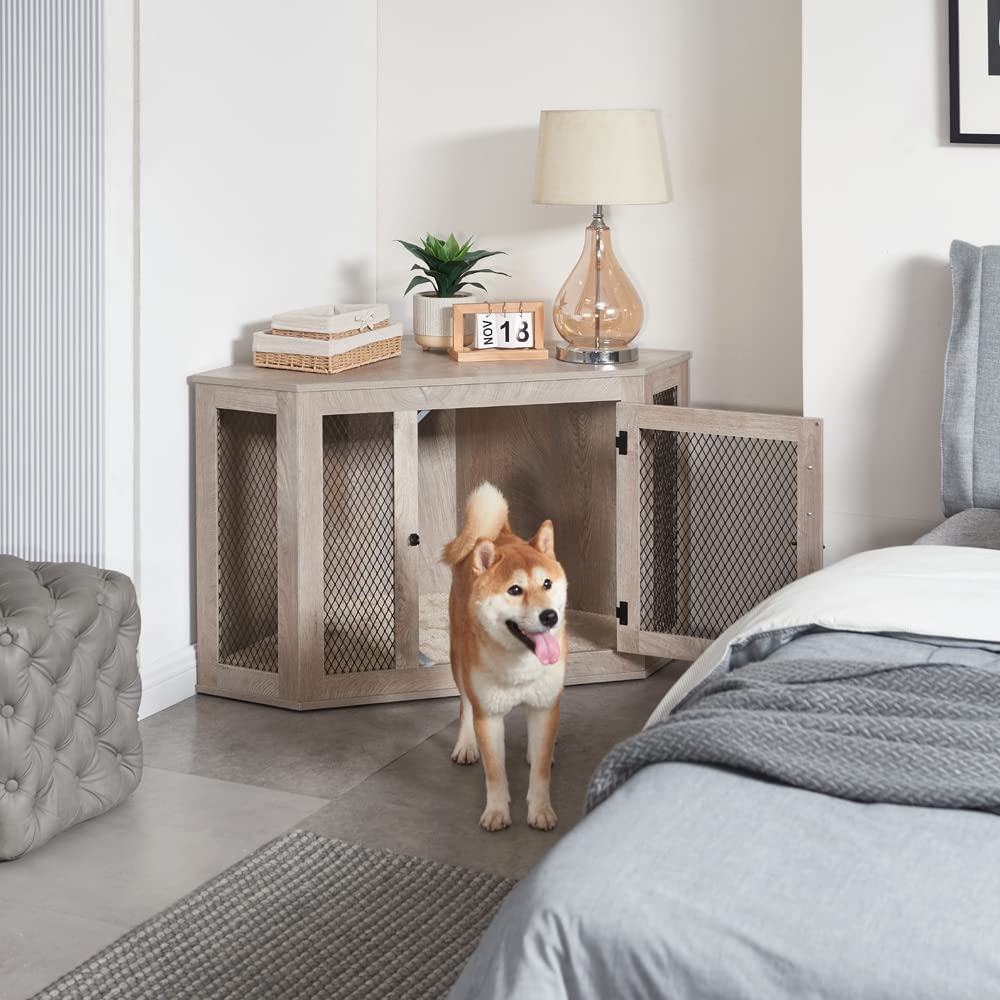 Using a corner cage can help save space in the room. I think it is very convenient.
Price: $269.99
LUCKY KENNELS BEST FRIENDS SINGLE DOOR CENTERED KENNEL
LUCKY KENNELS is a small company that produces kraft crates for dogs. Assembled by hand, these crates are of high quality and attractive design. You can tell right away that this is no ordinary kennel from a store. They are made of solid wood, sturdy metal hardware, and thick bars that will keep your dog from getting out.
The manufacturer offers a large palette of colors. There are 4 sizes to choose from for dogs from 30 lbs to 90 lbs.
LUCKY KENNELS MARBLE DOUBLE Furniture crate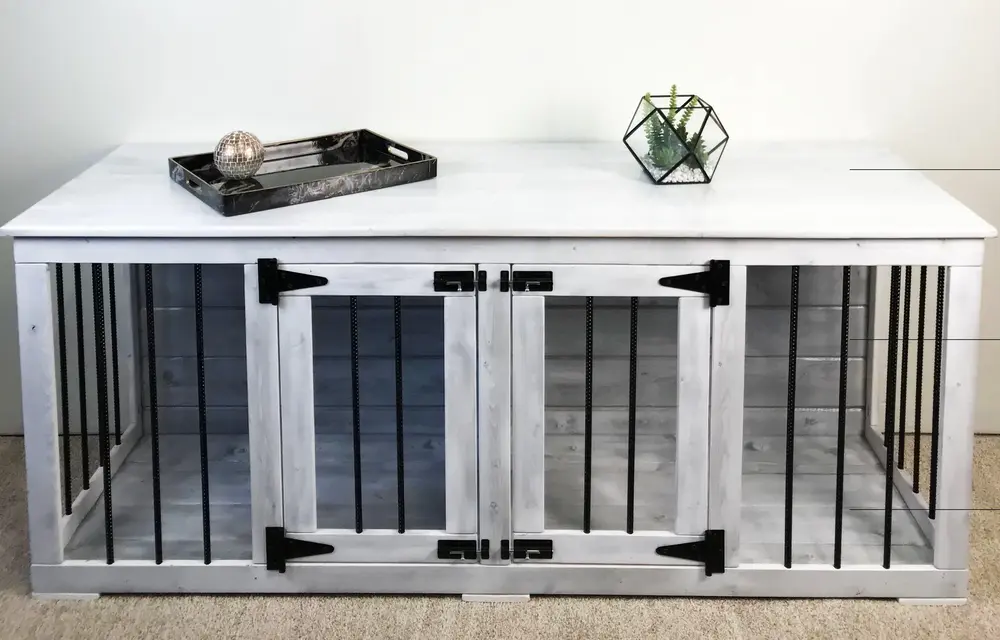 Another crate from Lucky Kennels. It's still just as beautiful and reliable. If you, like me, appreciate handmade goods, then you will love it.
This is one of the few decent furniture crate options for two dogs.
RICHELL WOODEN END TABLE CRATE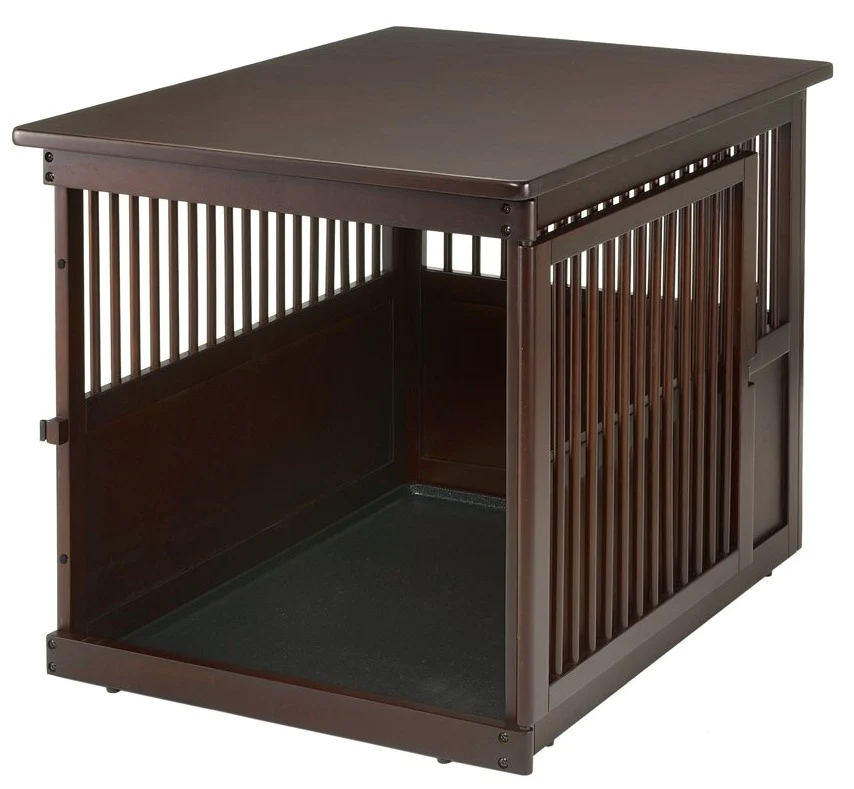 If you need a square cage that acts as a table, this option might work for you. I like that the door of this cage can be fully opened and fixed to the side. That way your dog can get in and out safely and the door won't get in the way.
There are 3 sizes to choose from. It also includes a removable tray.
Original round crate table – Richell Accent Table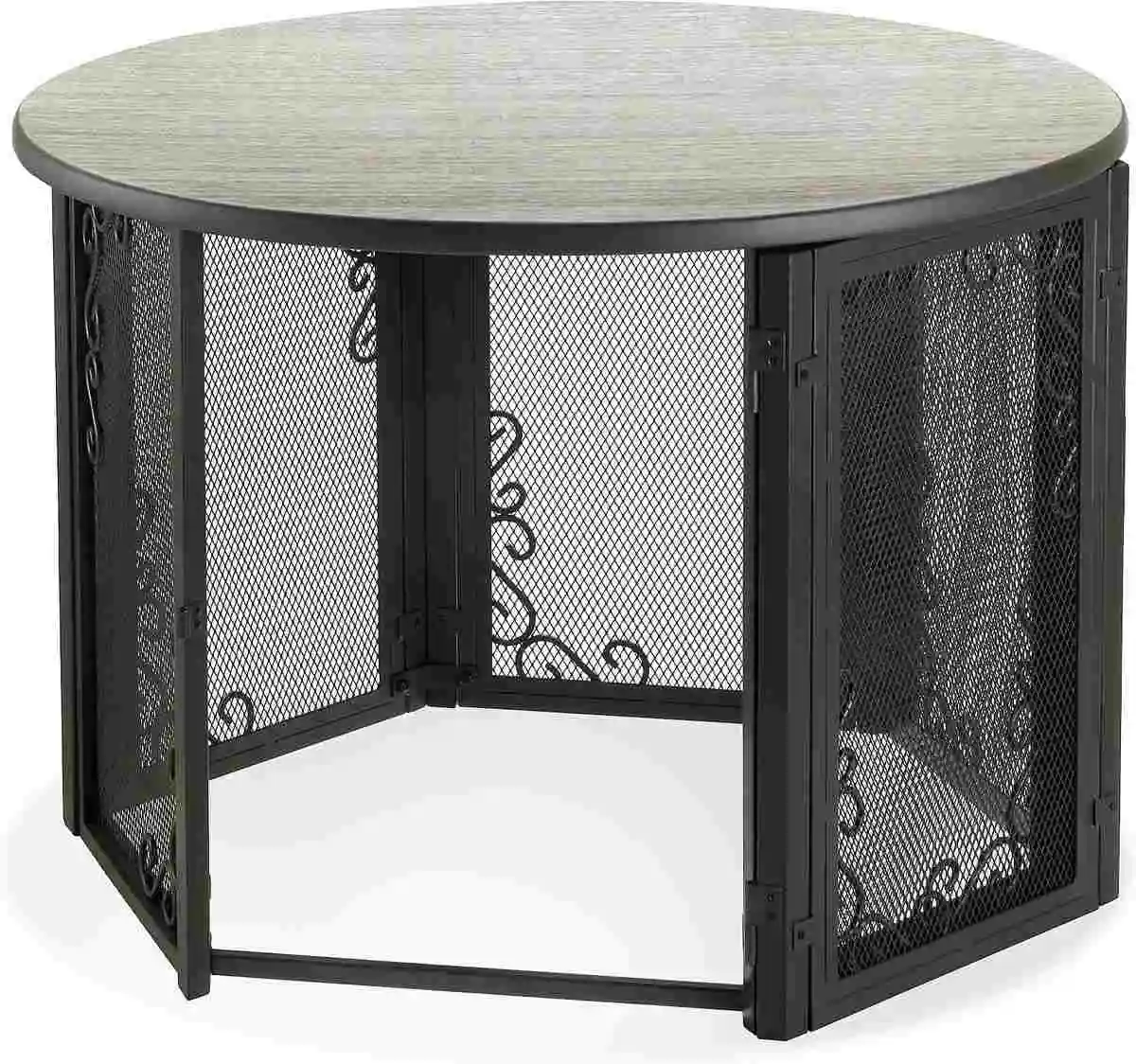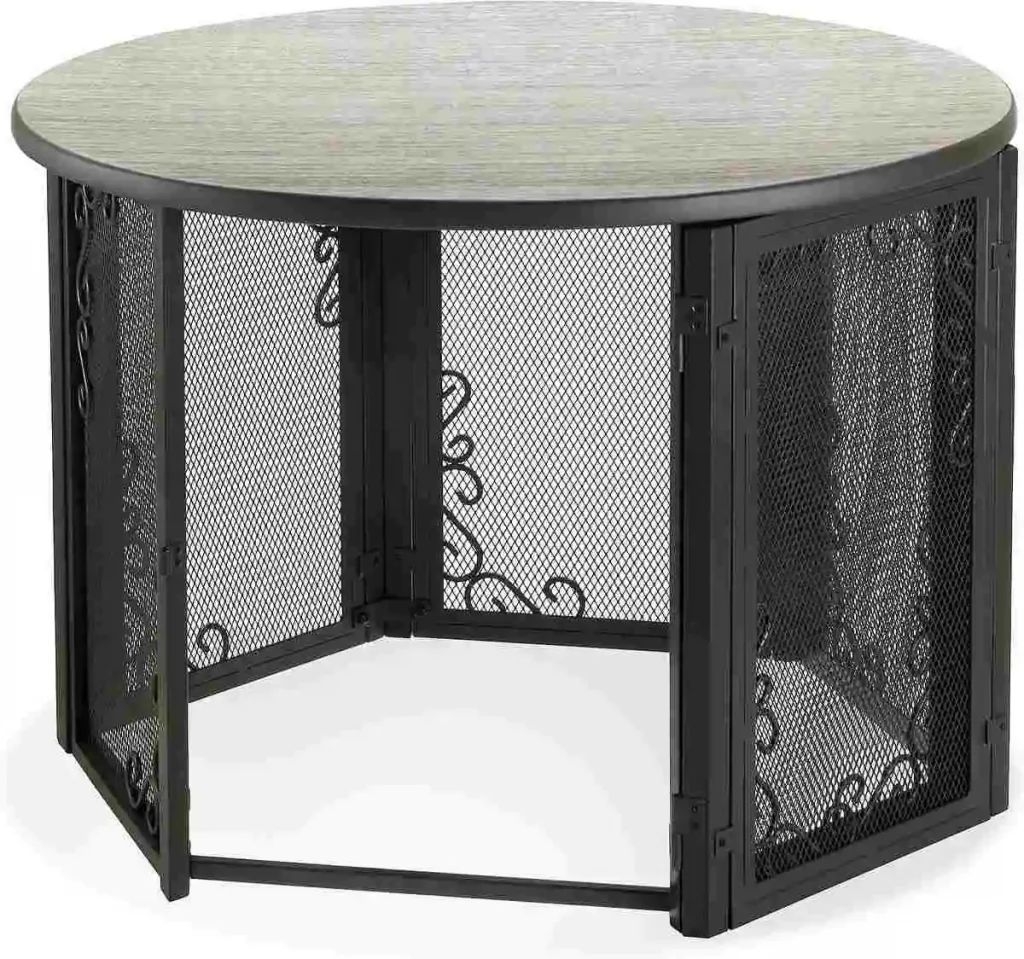 ---
Save this article on Pinterest so you don't lose it!
What crate is better not to buy
At this time, I've decided to do a crates blacklist. I see that other sites recommend these products as "best", but it seems that these reviews are written by people who just want to make money. They don't try to figure out WHAT product they are recommending.
So, with the examples of this blacklist, you can figure out what crates are best not to buy.
ECOFLEX Dog Crate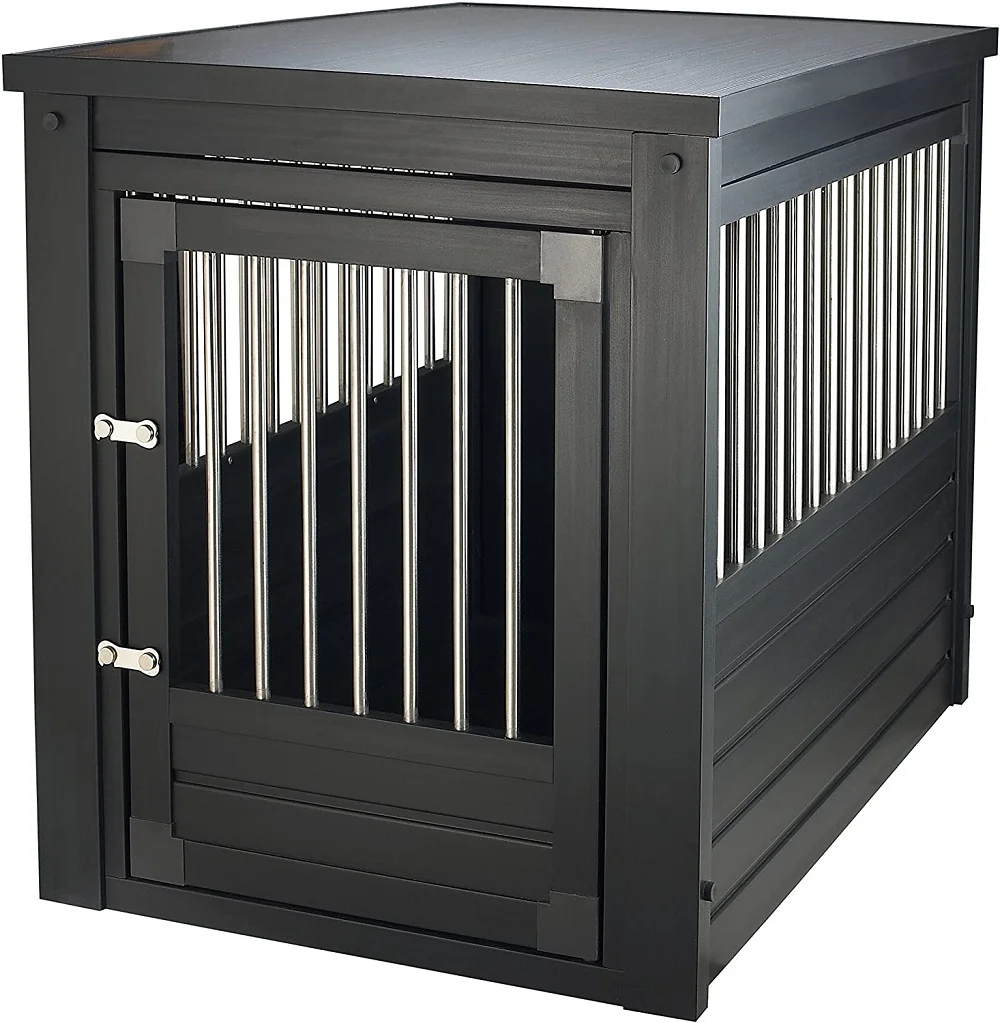 Why it's on the list:
made of poor-quality material that breaks down easily. The bars can easily be broken off, so dogs get out of the crate in minutes
often the product is delivered with damage, scratches, or other flaws
And yet ECOFLEX crate costs $150-$200! If it were $50-70, I would recommend it as the least expensive option for a while. But it's a shame to waste a lot of money on a low-quality product…
Megidok Wooden Dog Crate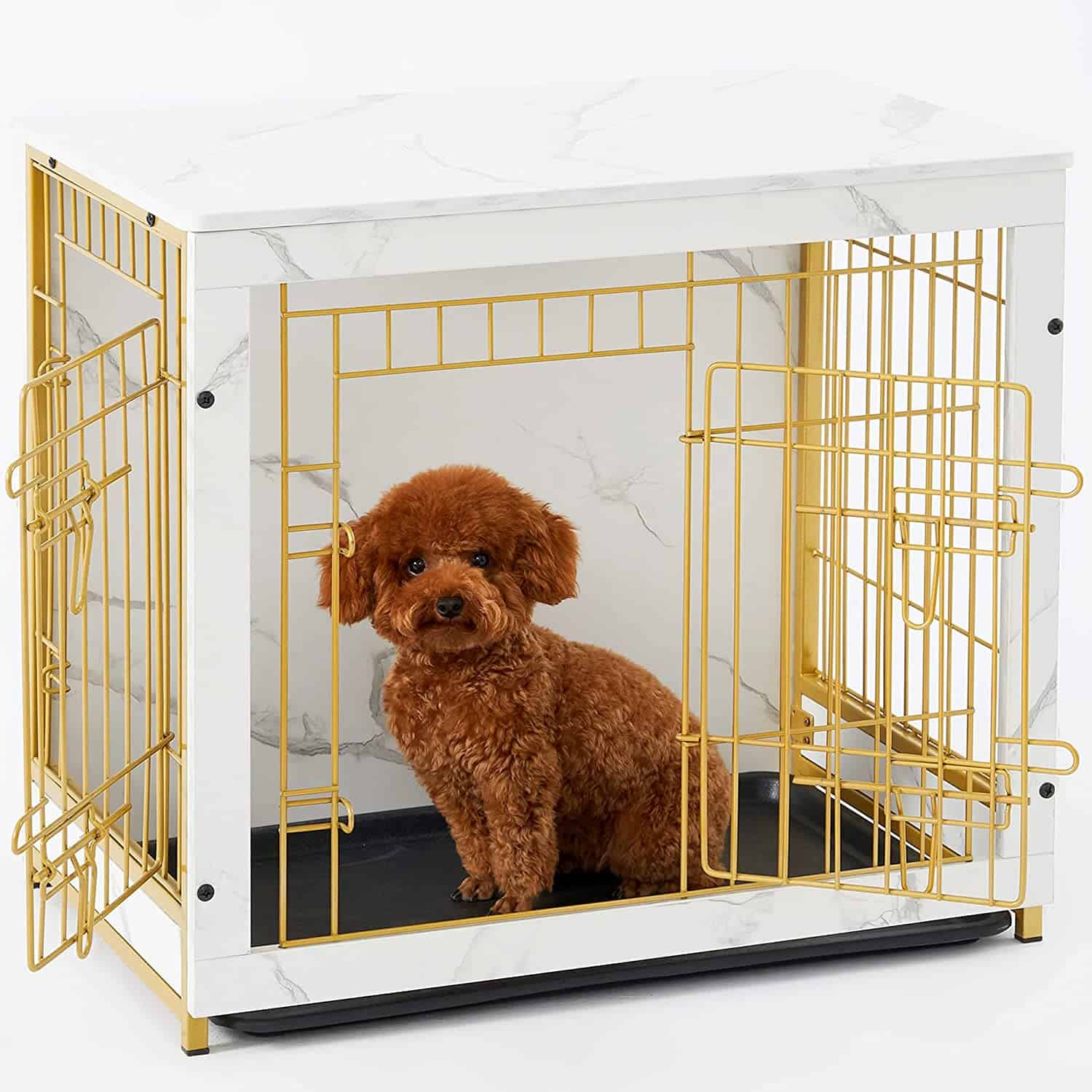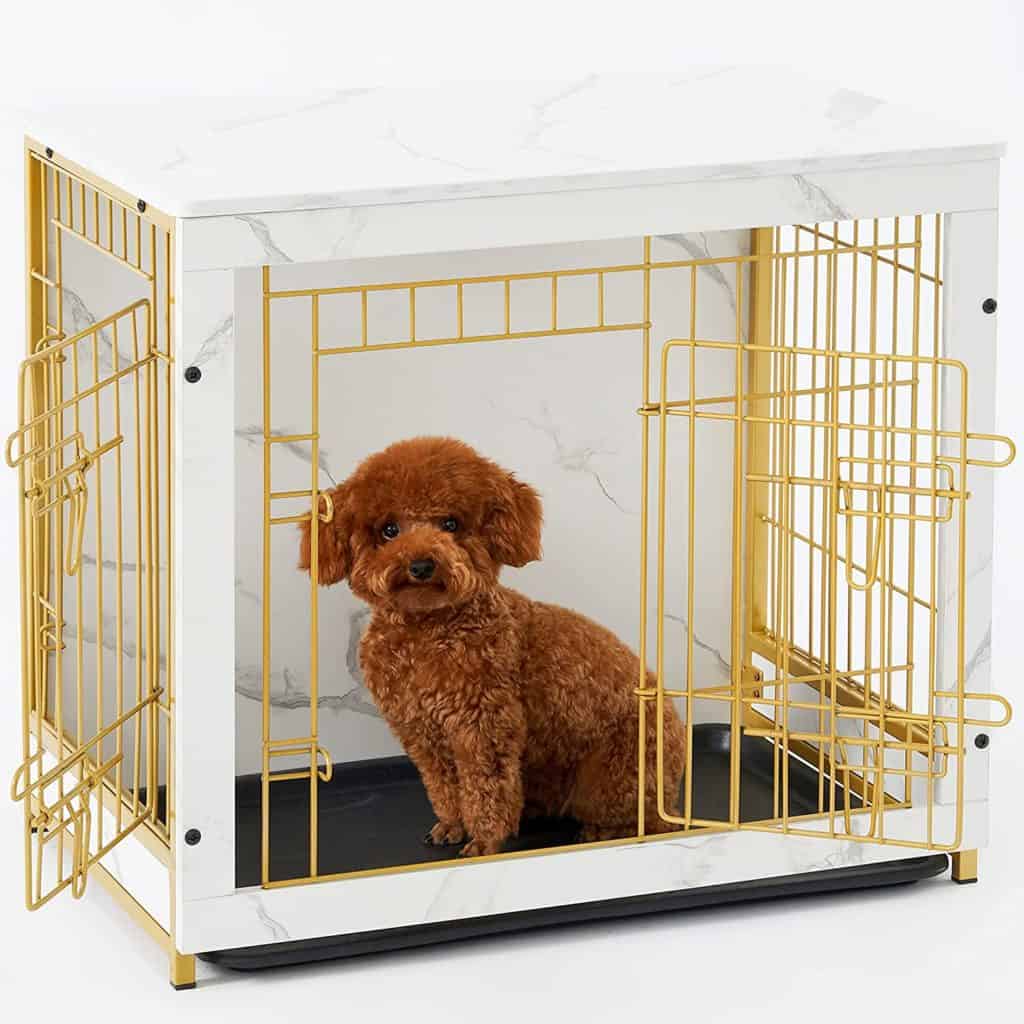 Why it's on the list:
although there are no reviews for this product, I can already predict what customers will complain about: the lack of a bottom. I don't know what the manufacturers were thinking, but here is just a tray on the floor instead of a bottom. And this is supposed to be comfortable for my pet?
I really liked the design of the Megidok crate; it is very stylish. Why can't pet product manufacturers make something really modern and high quality? =(
Important! Most dog crates that look like furniture are made of wood. So they are not suitable for dogs who like to chew everything. Wire crates with thin rods are also not suitable in this case. If you own a chewer dog, then look for indestructible dog crates.
Have a great shopping experience! Please, write your feedback here; it's very important.
Latest posts by Anastasia
(see all)