There are circumstances when it is necessary to leave a dog in the crate because of work. For example, if the animal has health problems and it is dangerous to leave it unattended, or if it shows destructive behavior. Of course, dogs can stay in a crate for a long time, but can we do it all the time? Here's your answer.
Is it cruel to lock a dog in the crate while being at work?
You can use a crate as a temporary measure, taking into account the capabilities and characteristics of your pet. You need to find out how long dogs or puppies of this breed and age can stay in a crate.
You can crate dogs while being at work a few times if there is such a need, but you can not do it all the time, 5 days a week. In such conditions, the dog will not feel normal and may develop behavioral problems. This is also reported on the Humane Society of the United States website.
Instead of a crate, you can try alternative methods. We'll talk about them later.
What you need to know if you are locking a dog while being at work
If you need to leave your dog in crate while you are working, remember these tips:
Make sure someone comes and takes the dog outside at least once. You can ask someone you know or hire a sitter. Or maybe you can come home on your lunch hour?
You need to make sure your dog gets enough exercise. Give it plenty of walks and exercise in the morning and evening after work.
Make the crate as comfortable as possible and leave everything you need for your dog. For food and water, I recommend using special bowls that attach to the crate so your furbaby can't knock them over. In addition, leave some toys and something to chew on. To keep your dog busy find right crate toys.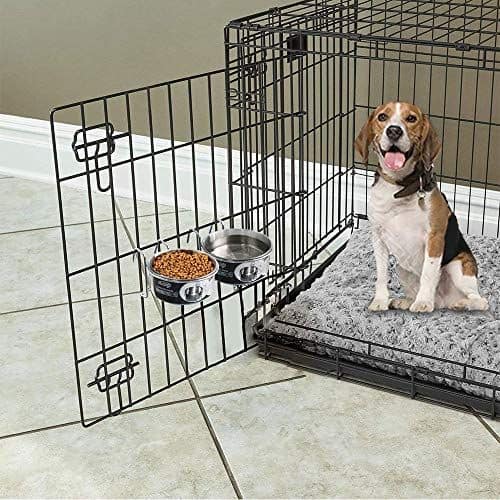 If your dog is restless, you can play soothing music or use calming aids such as a calming diffuser or calming collar.
You must understand that you cannot take a dog that has not been in the crate before and lock it up for a long time. Crate training should be gradual. It is easiest to get the dog used to staying in the crate at night right away, because they sleep at night, and then staying in the crate for long periods of time is not harmful.
FAQ
How long can you keep a dog in a crate while at work?
In emergencies, an adult dog can be left in a crate for no more than 8 hours. But that still doesn't mean it can be done that way regularly, every day. In addition, some breeds, such as huskies, can't lie down and stay without exercise for long periods of time. So even 8 hours is too much for them.
Can you leave a puppy in a crate while you are working?
Puppies older than 4 months who are already used to the crate can stay there no more than 4-5 hours, and some even less. Puppies need to go to the toilet often and are more restless and prone to homesickness. So it is unlikely that any puppy will endure prolonged confinement. And it's cruel.
Should I crate my dog while being at work?
It's hard to think of a situation where you would be advised to lock your dog in a crate every day. There is no such recommendation. You just need to create a safe environment for your furry friend in the house and make sure someone checks it during the day.
Alternatives to the crate
How to leave your dog alone while you're at work, if you decide not to use a crate? So that your dog can be left alone in peace and safe, it is not necessary to use a crate. There are other alternatives:
Take your dog to a dog boarding service if there is one in your city. It is like a day care center. There, the animals play and socialize with each other.
If you're worried about your dog peeing at home while you're at work, you can install a doggie door so the dog can go out into the yard on its own when it needs to pee. Those who live in an apartment can try potting with pads. Read my post about best indoor dog potty for choose the one.
If your dog behaves disruptively when left alone, you need to get it trained or get help from a professional. Once the problem is solved, you can safely leave your dog at home while you are at work without the use of a crate.
Consider taking your pet to work with you.
How do you know if your dog is feeling okay when you're not home? You can use a wonderful thing called a pet camera. You can use it to see and hear what's going on in the house. I like the cameras from Petcube because they have a 2-way audio feature.
Conclusions
In special cases, you can lock your dog in a crate while you are at work to keep the dog or your home safe. But you can't do that very often. You must think of other options to deal with the situation.
The good thing is that there are many alternative ways. You can always hire a pet sitter for your pet or take it to daycare.
Save this article on Pinterest so you don't lose it!
Latest posts by Anastasia
(see all)