Perhaps you have a dog that barks constantly or you live right next to one. Then you might have heard of such an anti-barking device as Dog Silencer Max and are thinking about buying it (because you want to stop that annoying barking).
This device costs more than another bark deterrent on the market, so, logically, people have a question: is it worth the money? In this Dog Silencer Max review, I will try to find out the answer to this question. I will also tell you what cheaper alternatives are available.
An overview of Dog Silencer Max
First of all, I wanted to know the answers to a few questions: what is a dog silencer, how does it work and what can it be used for? Here is what information I found.
What is this? Dog Silencer Max is an ultrasonic device designed to stop excessive dog barking. It is the work of the Good Life, which has been producing anti-barking products for 20 years.
How does it work? You can control the device with the remote or enable the automatic mode. It works like this:
The sensor reacts to the dog's barking and generates ultrasonic waves which are detected only by dogs.
This sound causes discomfort to animals but does not harm them.
Once the dog stops barking, the barking control device will automatically stop sending ultrasound.
Eventually, the dog realizes that the excessive barking will be accompanied by such an annoying sound. Then your pet will no longer want to make noise again.
Dog Silencer Max is waterproof and stormproof; it can be used indoors and outdoors. You can purchase an additional wall mount that includes a pan and tilt. So you may hang it up on a wall or fence, tree decks, and many other things.
Where can you use it? Good Life Dog Silencer Max can be used for different purposes: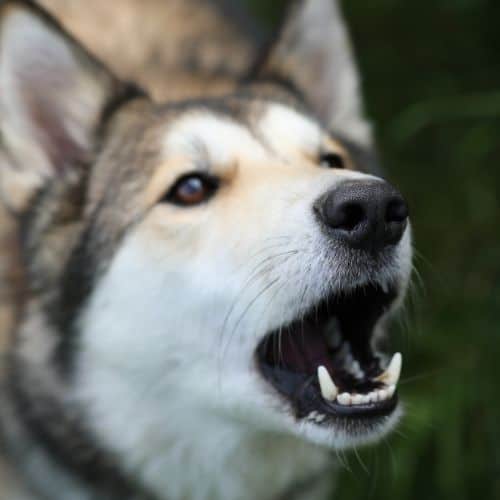 But remember! Barking for dogs is a means of communication. They should not be completely forbidden to bark. Teach your dog when it is appropriate to express its emotions and when it is too much. Therefore, I recommend using anti-barking devices judiciously and in extreme cases.
Is it worth the money?
The average cost of anti barking devices on the market is $30-70. Dog Silincer Max costs more than $100. What explains such a high price? I found several advantages of this device:
The most extensive ranges available in the market. Cheaper counterparts have a maximum bark detection range of 50 feet and sound distance up to 150 feet.
Dog Silencer Max is 40% louder than other similar devices from competitors. You can also buy an additional cone for sound amplifying to boost the volume by about 4-6 decibels.
The set includes a remote. And it's really convenient. With the remote, it is possible to ensure that your dog can hear the high-pitched sound each time it barks. You can turn the device on if you're within the 75-foot detection area. The cheapest bark deterrent has no remote at all. Others include a remote, but it has a lower range up to 50 feet.
Good life give a risk free 60 day money back guarantee for these devices.
Availability of additional accessories.
Option to use solar power to run the device with no wires or batteries. It will eliminate the need to purchase batteries or keep the device connected each time.
Dog Silencer Max can be used with several barking dogs at one time. If you have to deal with a lot of barking dogs then buying bark collars for all of them will be expensive. Dog Silencer Max can be used for many dogs at once, and that's why it is more effective.
As you can see, Dog Silencer Max does has many strong advantages, and that is why it is so expensive. It's up to you to decide whether or not you're willing to overpay for these benefits. At the end of the article I will write about a cheaper analogue of the anti-barking device, which has pretty good characteristics.
Does Dog Silencer Max really work?
To find out an answer, I went through a lot of customer reviews. Most of them say that this bark deterrent really works. But of course, as with all things, it doesn't work for some dogs. An anti-barking device does not help everyone immediately. In some cases, it took several weeks to wean the dog from a bad habit.
Dog Silencer Max customer reviews
Here's what Melinda from New Orlean tells after she bought Dog Silencer Max:
"I ordered a dog silencer max because my neighbor moved in with two dogs. Incessantly barking, I contacted neighbors who said that their dogs didn't bark!

Just in a few minutes of placing my dog's silencer inside my window did the dog noiser work! I am very grateful it worked! I was seriously considering leaving after spending 31 years in my present house! But I am able to return home now!"
Here's a second review by customer who is happy:
"This product works. Our neighbor owns four amazing dogs. Two of them constantly bark when their owners are not around. Our border is 300′ in length, and their street width is more than 300′. I purchased two boxes, separated by 100 with ENE and ESE pointing. I immediately saw their stunned reaction. They quit barking and headed back to their homes. The remote for me sometimes works from more than 100 feet away when required. The range of ultrasound seems to be working beyond 200′."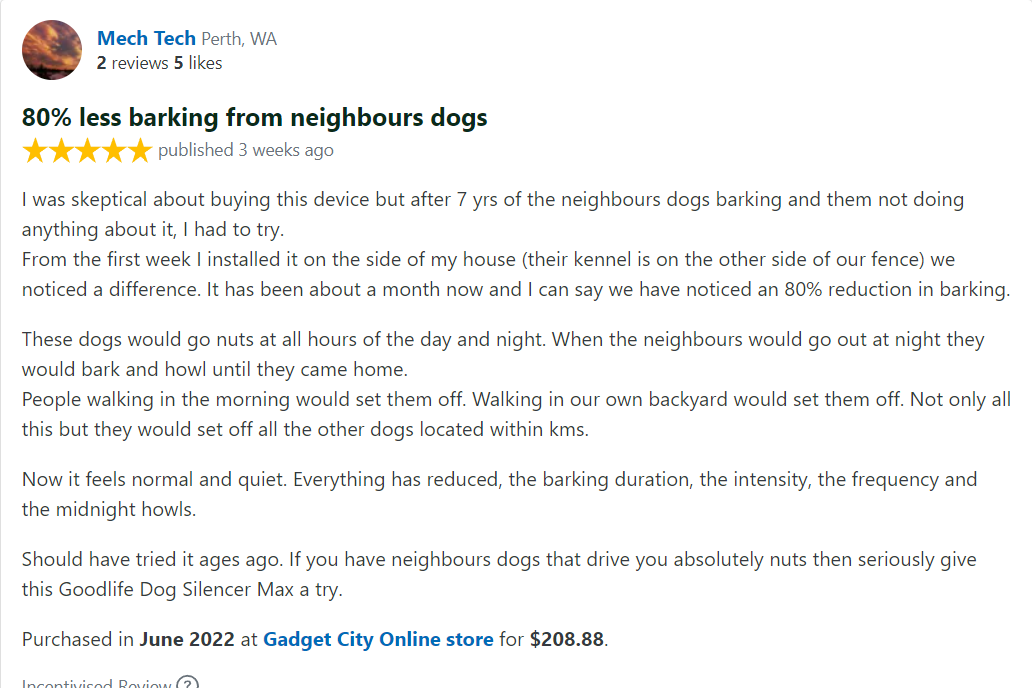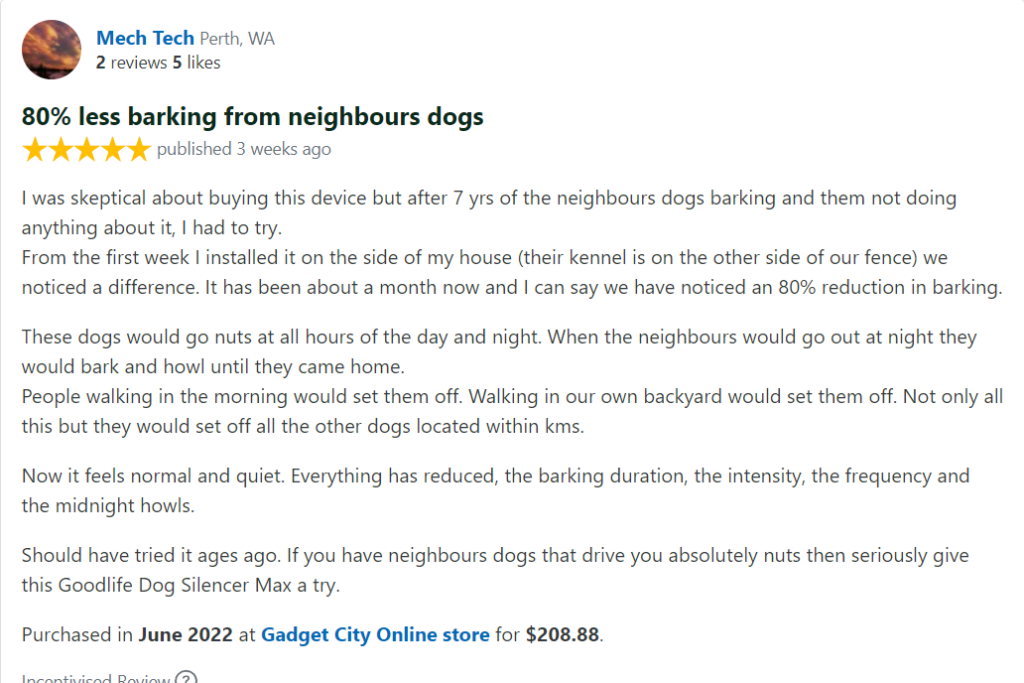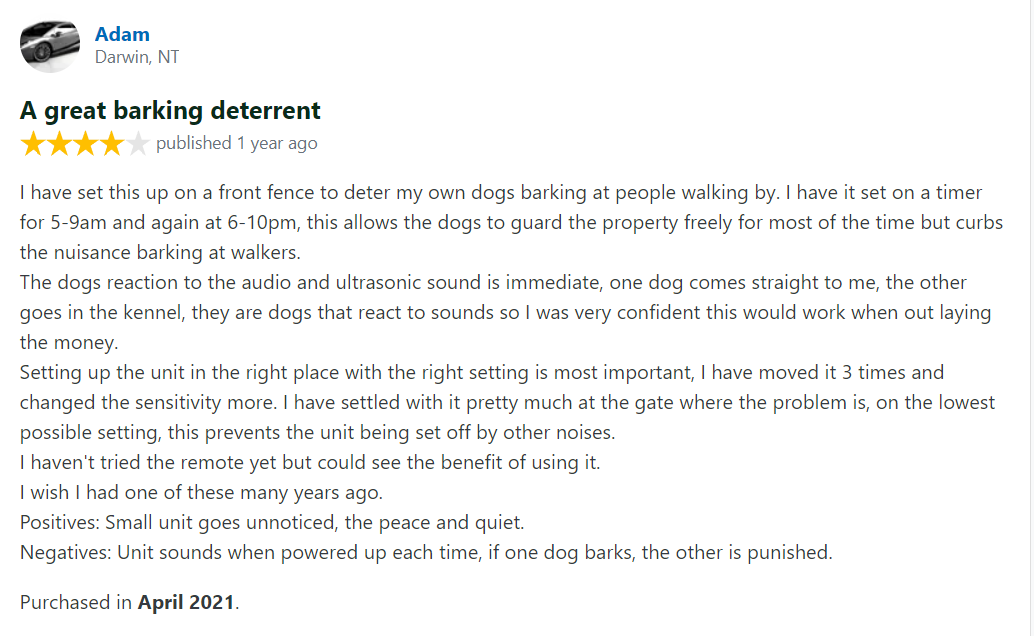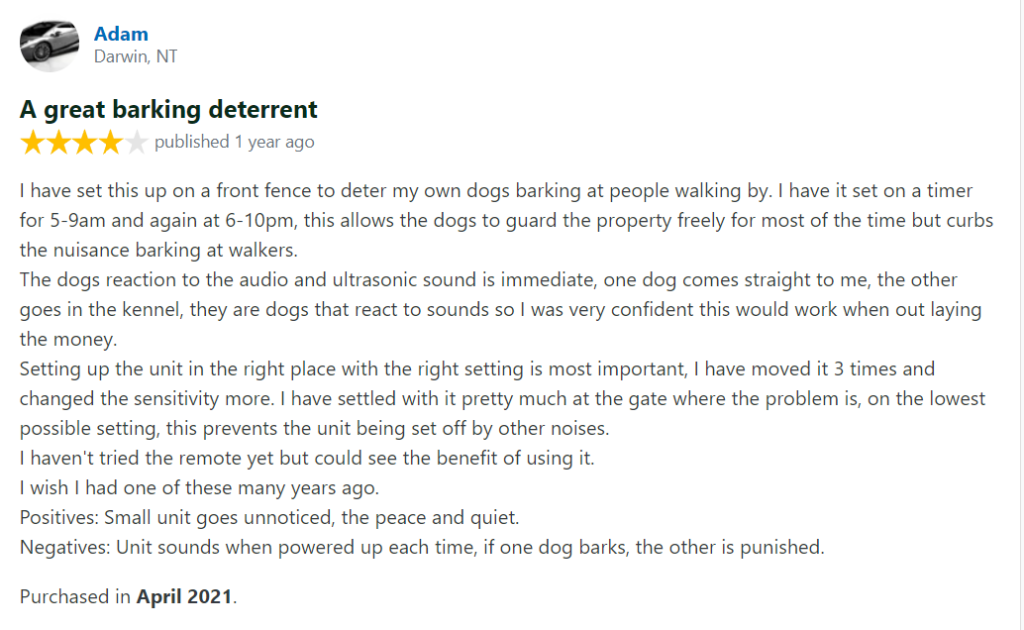 There are some unsatisfied reviews, but not as many:


Video Proofs
I also found some video proofs. The first video belongs to an ordinary man who shares how an ultrasonic barking device helped him. The second video is from KXXV Channel 25 in Waco, TX. On TV there was a story about the problem of barking neighbor's dogs and the heroes of the video were helped by the Dog Silencer Max.
How to use it correctly
You need to install Dog Silencer Max in the place where the dog usually barks, because it will not work through walls. It could be a garden or a room in the house. Take into consideration that the device will operate within a 300-foot radius.
Before starting work, it is recommended to make the settings in the Audio mode. You will hear a beep when the anti barking device is activated. Adjust the microphone sensitivity so that it only works when the dog barks.
After setup and installation, turn on Dog Silencer Max and it will do its job. The device must be switched on all the time. It will be in standby mode and will only activate when the dog barks.
It is recommended to use the remote control for the first time. Press it every time your dog starts barking. It is best to aim the device directly at the dog. Then it will accurately pick up the ultrasonic waves. When the dog stops barking, I also recommend giving it a treat to reinforce the result.
Be aware that you must maintain an unobstructed line of sight between your dog and the device. This is essential to ensure that your dog can be able to hear the sound. The remote can be used through walls, but the device requires an open line of sight to the dog.
Watch this video for more information:
A Few limitations of Dog Silencer Max
In my opinion, the main disadvantage of Dog Silincer Max is its high price. But I also found a few minor disadvantages of this device:
Doesn't penetrate solid objects like the walls and windows. For example when your dog is very vocal inside, and you put Silencer Max in your home, it's not effective for stopping the dog's bark even when it's out.
Pets of other breeds, even the quiet ones can be affected by the annoying ultrasonic sound. If they're within the same vicinity that the gadget is in of course.
Do Not Combine in conjunction with Invisible Fence Systems. From the dog's point of view the frequencies of sound from The Dog Silencer Max sound are very like the electric fence. In this case, one could be lost and even anxious if it experiences the noise in a different location than where it's accustomed to hear.
Read my article about other ways to stop dog barking.
Save this article on Pinterest so you don't lose it!
Dog Silencer Max Alternatives
I could not find a device with the same characteristics as the Dog Silencer Max. It really is the most powerful anti-barking device. But it's expensive. So I have found some alternative products for you with the same function and with positive reviews.
Bark Control Pro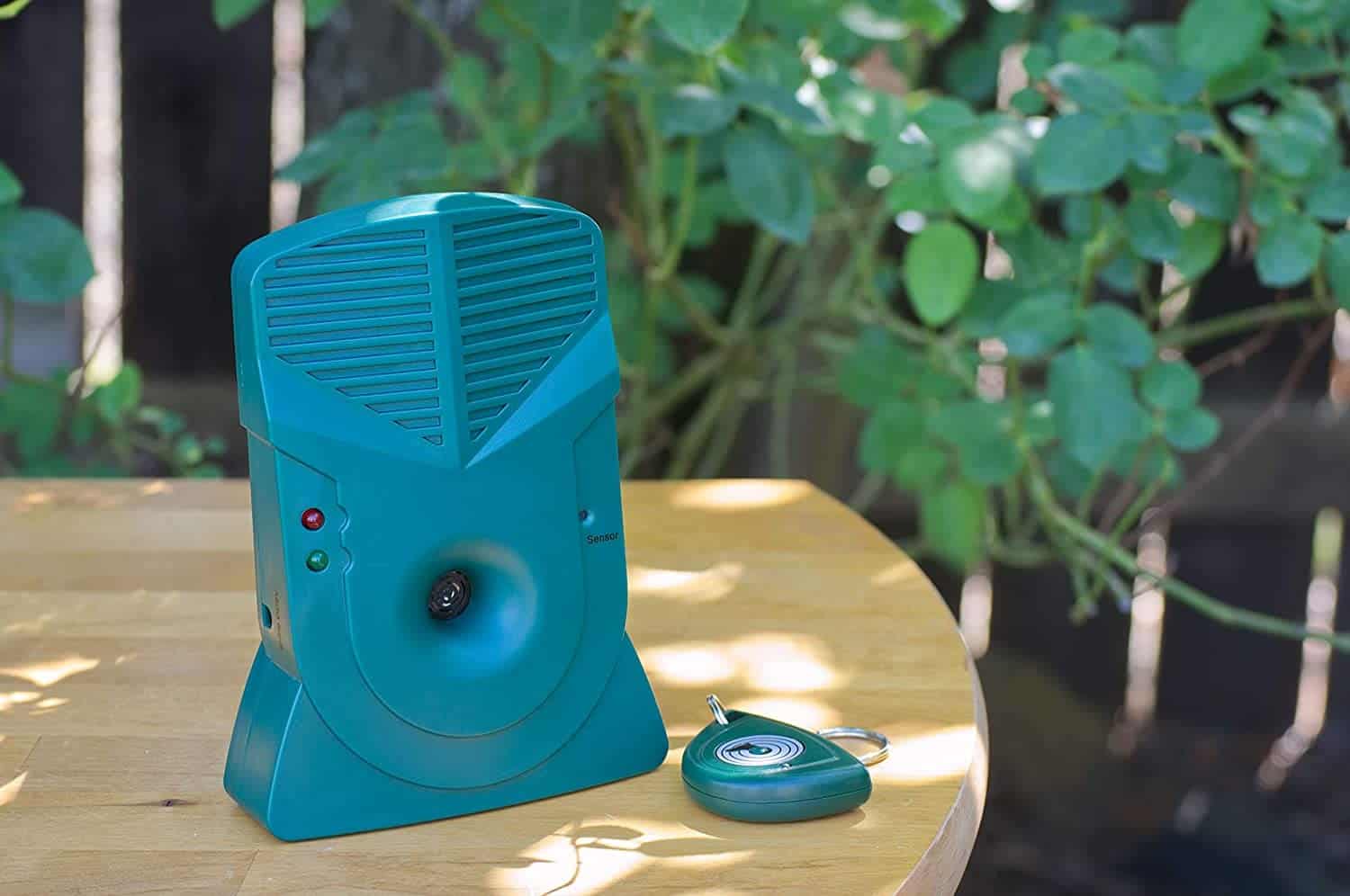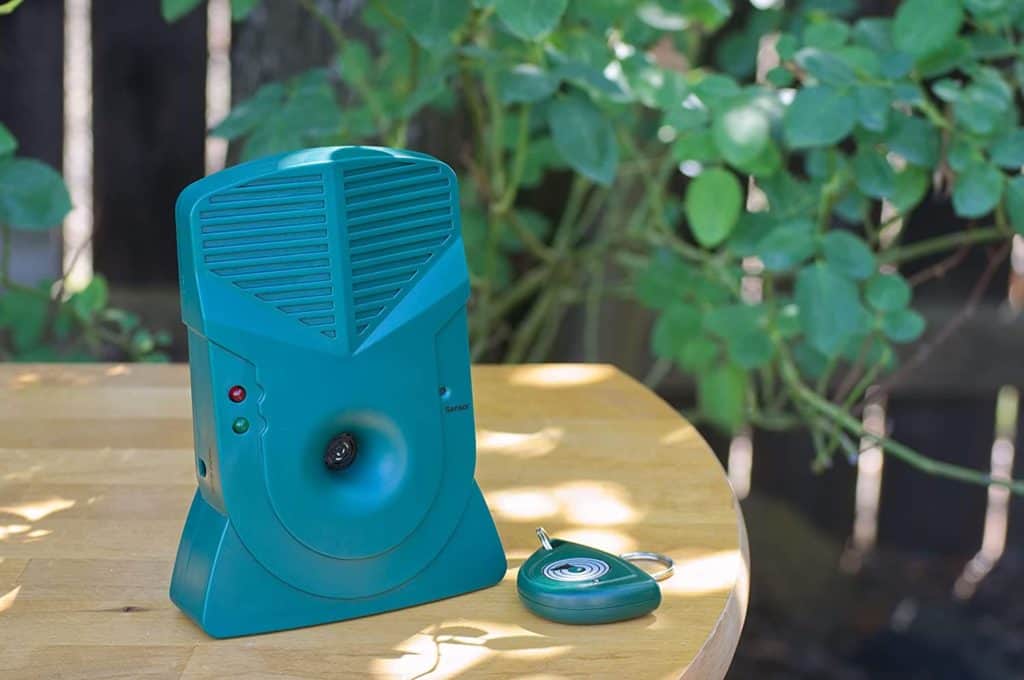 This device can detects barking up to 50 feet and sound distance up to 150 feet. It's not much, but it's enough to influence the dogs in your yard and the one next door. Bark Control Pro also includes a remote with 50 feet control range.
Just like the Silencer Max, this product comes with a 60-day money-back guarantee. And it costs half as much.
Most of the reviews are positive.
One drawback of The Bark Control Pro – it is not waterproof. So to use it outside, you have to figure out how to shelter it from the rain. Maybe in the future Good Life will figure out what to do with it.
Anti-barking collar BarkWise Complete
If your dog is constantly barking, you can use an anti-bark collar for this. It can work automatically or with a remote control (this is a big plus, because it is very difficult to find a collar without an electric shock, but with a remote control).
The collar stops barking with ultrasound and vibration. And it costs half as much as the Dog Silencer Max. The BarkWise also comes with a 60-day money-back guarantee.
I also recommend reading my article about the best dog bark collars. These collars help with excessive barking.
FAQ
Can ultrasound be dangerous to humans or dogs?
Don't worry about it, "ultrasonic" sounds are intense, however they won't hurt our dog or harm your ears. It's like chalkboard nails for humans. Although this isn't going to stop the dog from barking, its sound is too high for us to be able to hear. So ultrasonic devices don't harm dog's owner and aren't a nuisance to them.
Does it work for the whining, crying dog?
Yes, you can adjust the sensor for such sounds. However, I recommend looking for the reason your dog is howling or crying rather than punishing it.
Are Dog Silencer Max activated by human voice?
Thus the bark deterrent activates as soon as the dog starts to bark. You can also use an option to use a remote control in case you wish to operate it manually. It cannot be turned on by human voice.
What is the time I can observe the effect?
In some cases your dog might take a few weeks before it learns not to bark. It is based on the dog and what time it can adapt to the environment. Different breeds have different absorb time and capacity for their training.
Final Conclusion for Dog Silencer Max review
Indeed, the Dog Silencer Max is much more expensive than similar devices on the market, but it is also superior to them in many ways. The device can work across long distances and has the remote to conduct manual training.
But you can look at other similar devices at a lower price, such as Bark Control Pro from Good Life. It has enough power to handle dog barking.
Please let me know if you have any comments or questions or any other suggestions on this review.
Latest posts by Anastasia
(see all)