Soft dog crates are a good option for transportation or camping. They cost less than metal or wooden crates. It is also lightweight and portable.
This article will tell you how to choose the best soft crate. I will also do a review of popular products.
Quick Pick table
Best for home
Soft Dog Crate-Tilt Angle Can Be Perfectly Fit The Car...
Best value
2PET Foldable Dog Crate - Soft, Easy to Fold & Carry...
Best for travel
Petsfit Medium Soft Portable Dog Crate/Cat...
Best overall
4 Door Portable Folding Dog Soft Crate, Quick Portable...
Best for home
Soft Dog Crate-Tilt Angle Can Be Perfectly Fit The Car...
Best value
2PET Foldable Dog Crate - Soft, Easy to Fold & Carry...
Best for travel
Petsfit Medium Soft Portable Dog Crate/Cat...
Best overall
4 Door Portable Folding Dog Soft Crate, Quick Portable...
Last update on 2023-01-30 / Affiliate links / Images from Amazon Product Advertising API
7 best soft dog crate
Best value – 2PET Foldable Dog Crate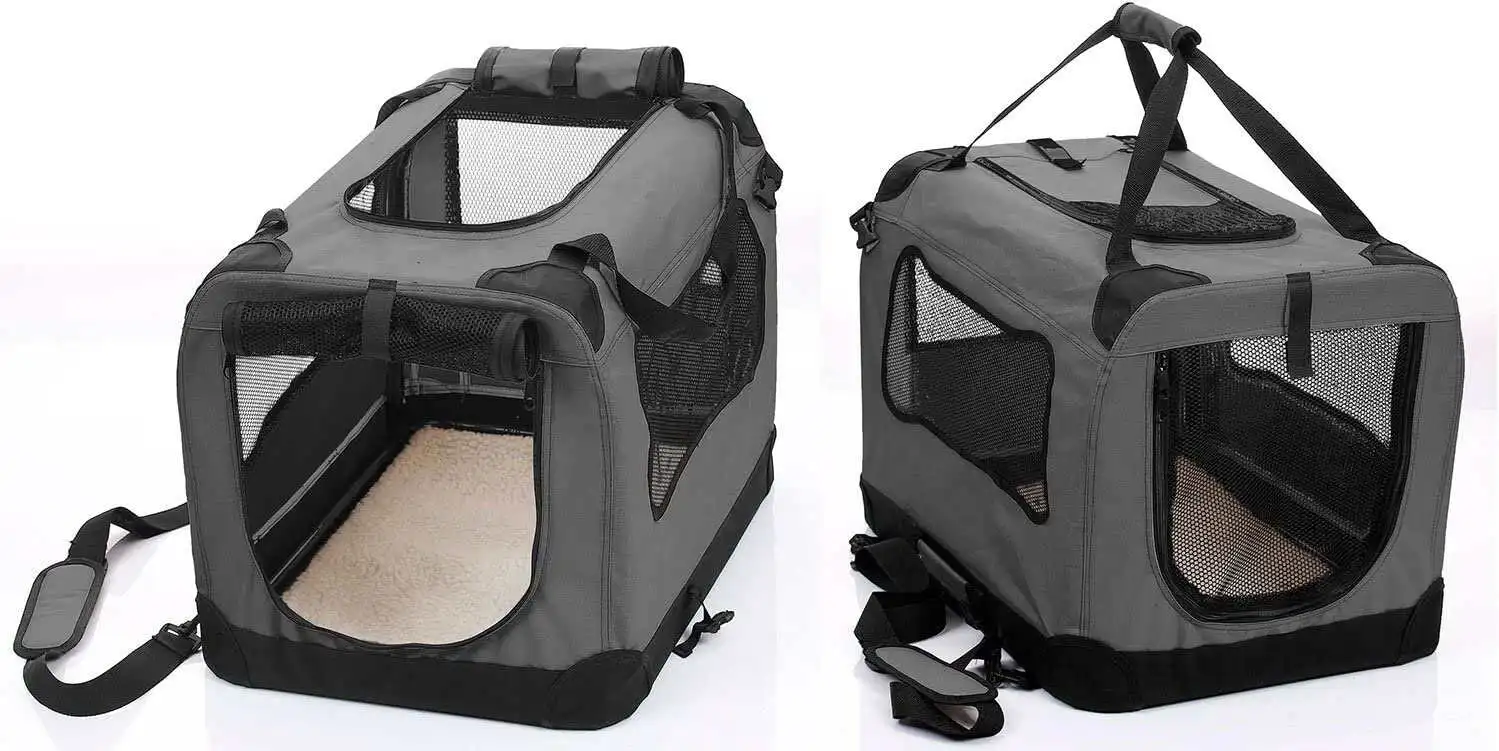 This crate is suitable for different needs. It can be used outdoors or indoors.
Aviable sizes: M 24in, L 28in, XLin 32in, XXL 36in
Colours: Blue, grey, red
What I like:
It has a steel frame + waterproof Oxford 600D fabric.
The 2PET can be used as a carry crate (it has handles on top), and it is very lightweight.
The full-frontal zipper design with dog protection
Washable cover.
Water bottle & container holder on the crate and the waterproof mat supplied in the set.
I also like that the manufacturer offers a 1-year warranty.
Available in 4 sizes & 3 colors.
Not high price.
The only drawback I have identified is that the grids on this crate's windows are not very sturdy. But this is a common problem.
---
Petsfit Portable Soft Dog Crate – best for travel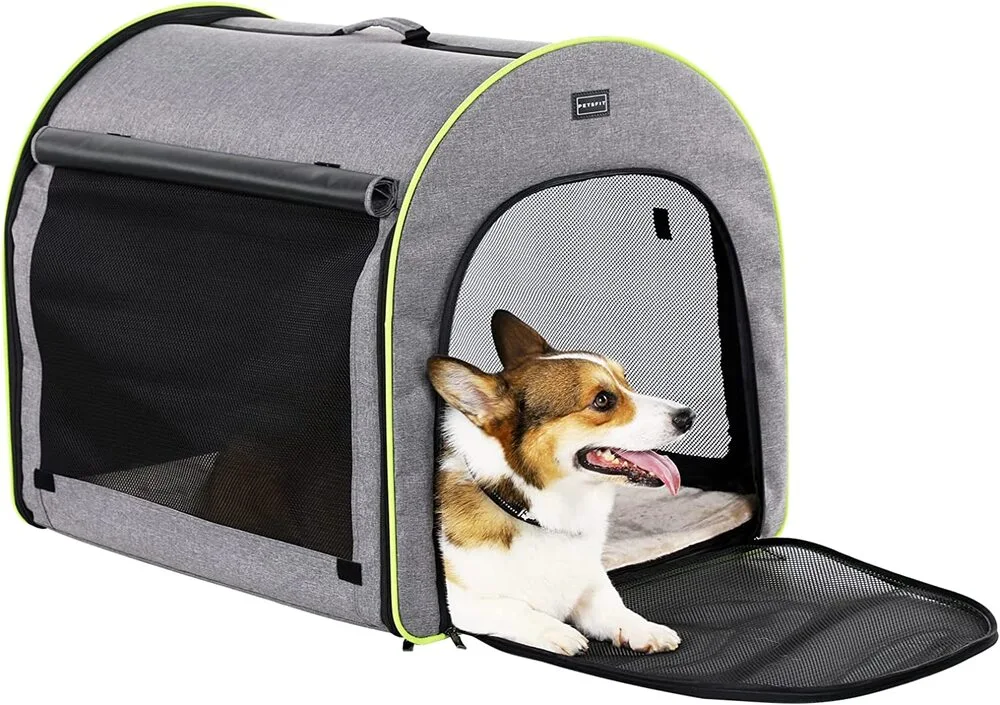 Aviable sizes: S (19.5″x20″x20″), M (30″x24.5″x25″), L (35.5″x29″x30″)
Colours: grey
I think this dog crate is best for travel because you can assemble it in less than a minute. It is important because you will have to fold/unfold it often. You don't need to assemble the frame; the construction is supported by steel wire. The crate carrying case is made of durable fabric, which will last longer.
The soft crate from Petsfit is also worthy of attention for other reasons:
it is made of durable oxford fabric and a hexagonal structure grid (judging by reviews, this grid can withstand many tests of durability);
it has steel lockable zippers and a waterproof bottom.
A soft mattress is included. Unfortunately, the Petsfit crate only comes in one color, gray. I also found no information on how to wash the crate cover. I don't think it can be machine washed because steel wire is sewn inside. It is a big disadvantage. So you have to choose what is more important to you: easy assembly or easy washing.
---
yoken Collapsible Dog Crate – best choice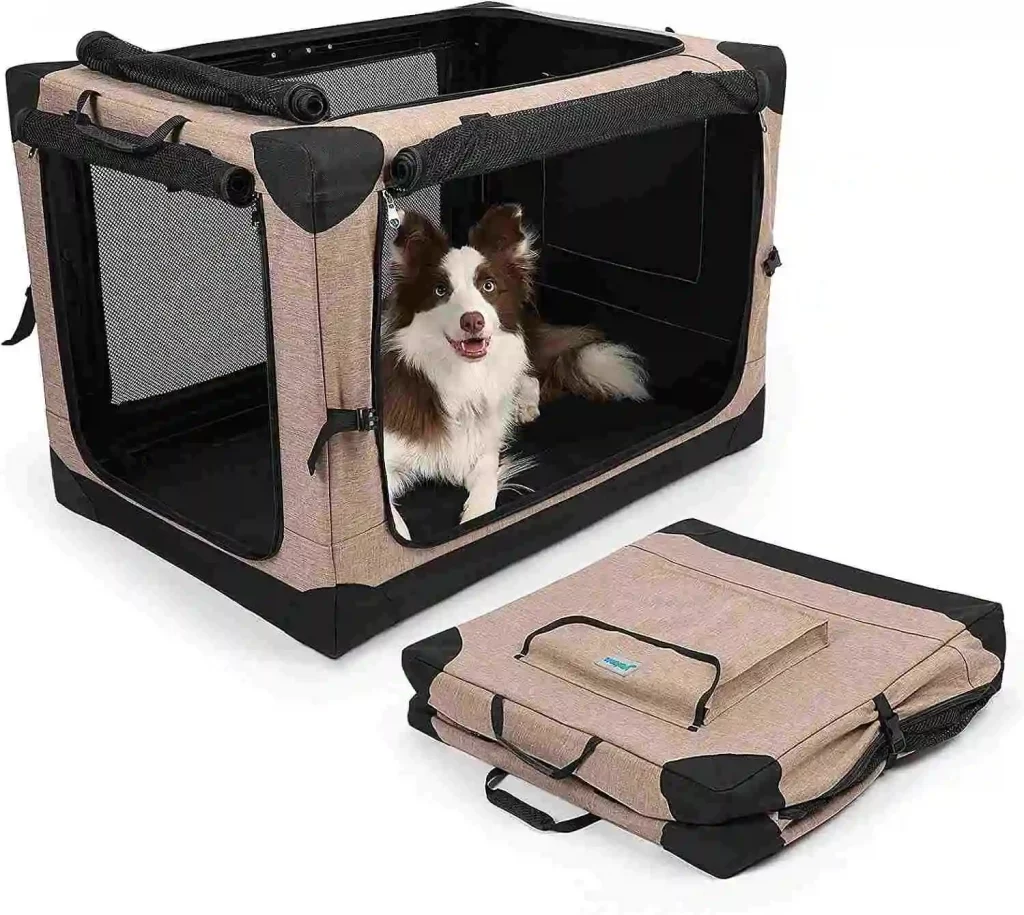 Aviable sizes: XS (31.5″L x 22.8″W x 22.8″H), S (38.6″L x 26.8″W x 26.7″H), M (25.6″Lx17.7″Wx17.7″H), L (26.4″Lx18.1″Wx18.1″H), XL (32.7″Lx23.2″Wx23.2″H), XXL (37.4″Lx26″Wx26″H)
Colours: grey, blue, beige, green camouflage, yellow camouflage
Yoken soft crate is also made of a steel frame and durable oxford fabric. Customers report that the product really looks quality.
What I like:
the extra fabric overlays to protect the corners;
3 doors (with three doors you can put the crate in any position);
non-slip zippers and anti-scratch mesh reduce the possibility of dog escape;
waterproof bottom to protect from accidents;
easy assemble (many people report about it in their reviews);
a side pocket for storing treats or other stuff;
1-year warranty from the manufacturer.
The manufacturer offers crates in six sizes. It's often difficult to find the right size crate.
If you are not planning to use the crate as a carrier, this one would be a great choice. You probably can't carry your dog in yoken crate, as it doesn't have the proper handles and a sturdy bottom.
---
X-ZONE PET 3-Door Dog Soft Crate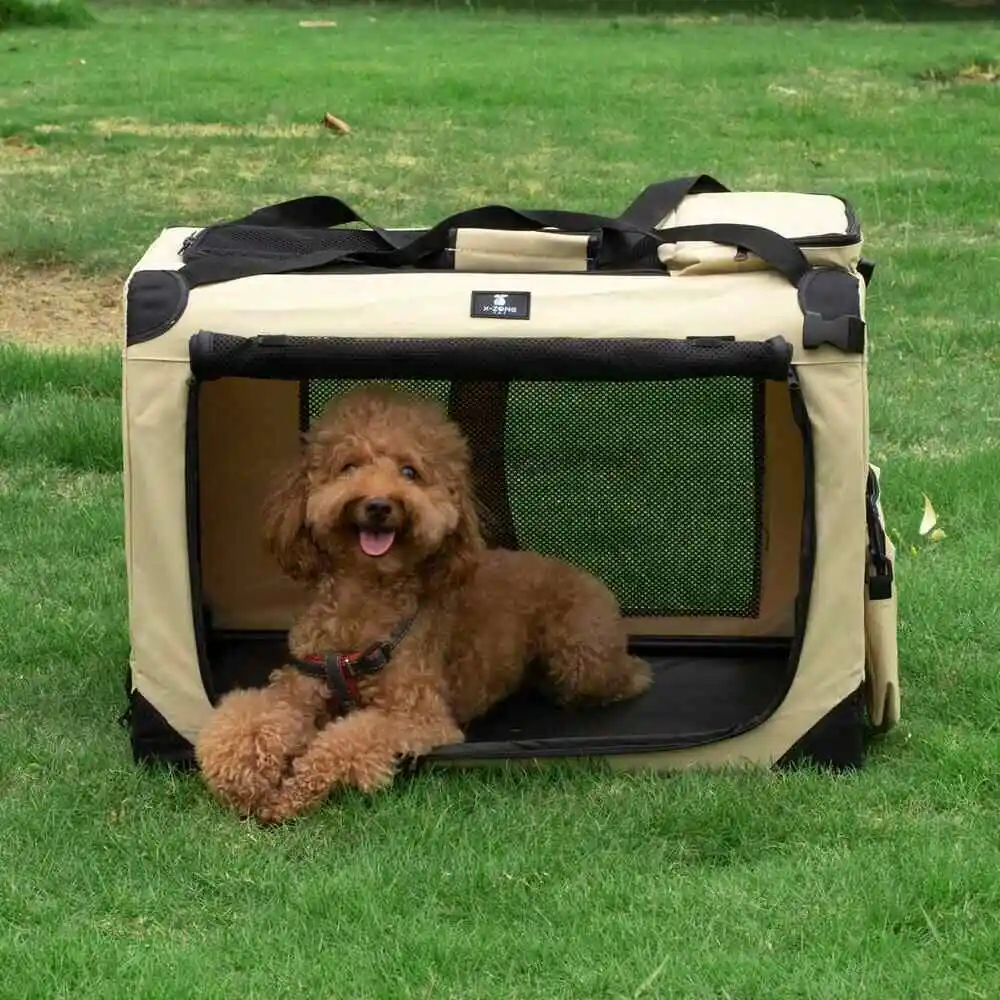 Aviable sizes: 24 inch, 28 inch, 32 inch, 36 inch, 40 inch
Colours: rice white, carbon black
This soft dog crate is similar to the previous one from Yoken, but the difference is the carrying handles. So you can carry your dog in this crate, although it's not likely to work with large dogs.
What else I liked:
the 3 doors on different sides for usability and breathability;
the frame is made of strong steel tube; the cover is made of high quality durable 600D fabric, and hexagonal mesh fabric;
washable cover;
the manufacturer offers 4 sizes and 2 colors, white and black;
the cover is reinforced at the corners;
one pocket on top of the crate and a second removable pocket.
The manufacturer claims they used self-locking zippers, but I haven't noticed how they differ from regular ones.
Also, many people complain that the large X-zone crate is not really suitable for large dogs. Be warned.
---
Zampa Pet Portable Crate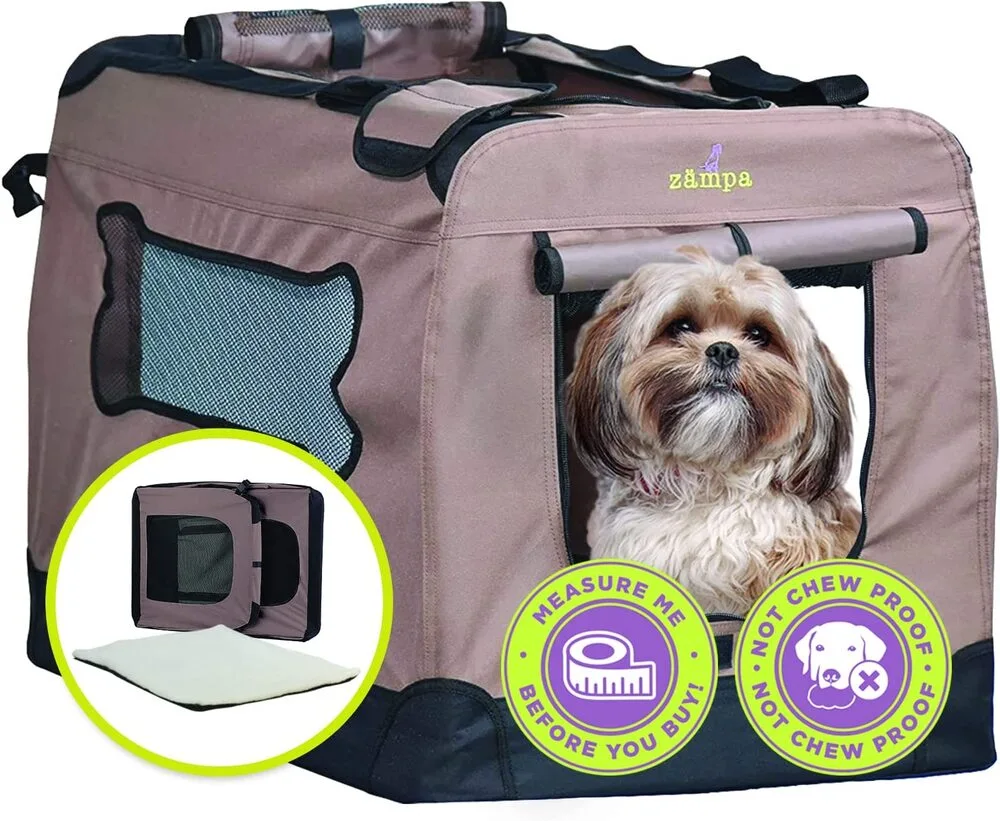 Aviable sizes: XS, S, M, L, XL, XXL, XXXL
Colours: blue, pink, grey, brown, red
Zampa crate is not much different from the others on this list. It is also made of quality materials, but it has its features:
The mesh windows are small and set high. It is good, as your dog is more likely to tear through the larger windows. And, in fact, dogs like more enclosed shelters.
An extra zipper latch to prevent escape. I would add this element to all crates if I were the manufacturer. It's simple and genius, as dogs often get out of their cages by unzipping.
This soft crate comes in 6 sizes.
Although the manufacturer claims crate can be used as a carrier, this is not true. Because of the soft canvas bottom, you will not be comfortable carrying your dog; the bottom will sag. The only option is to put some rigid backing on the bottom.
---
Petsfit Portable Soft Dog Crate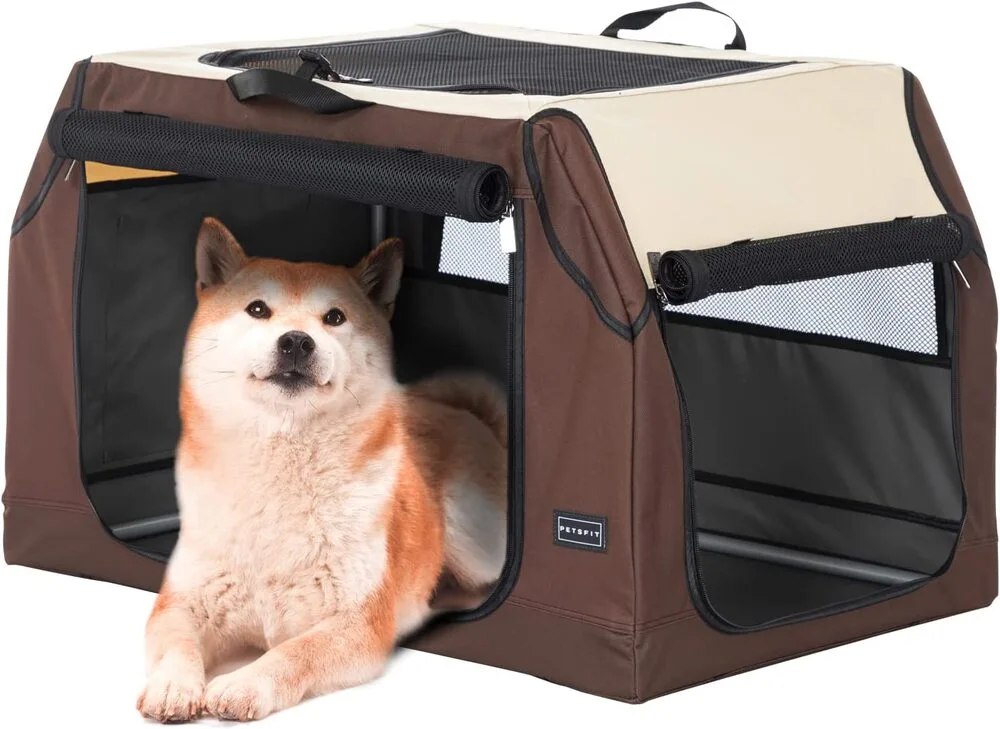 Aviable sizes: S, M, L, XL
Colours: brown + beige, yellow-green
This Petsfit crate is characterized by its quality. What I liked:
the reliable steel zippers;
sturdy mesh with scratch protection;
the unique frame connections with spiral structure;
the small connecting elements are also made of steel;
4 mesh walls for good ventilation;
non-slip sheets prevent pets from being frightened by sliding.
I did not notice any disadvantages. Only a pity that the crate cannot be used as a carrier.
---
EliteField 3-Door Folding Soft Dog Crate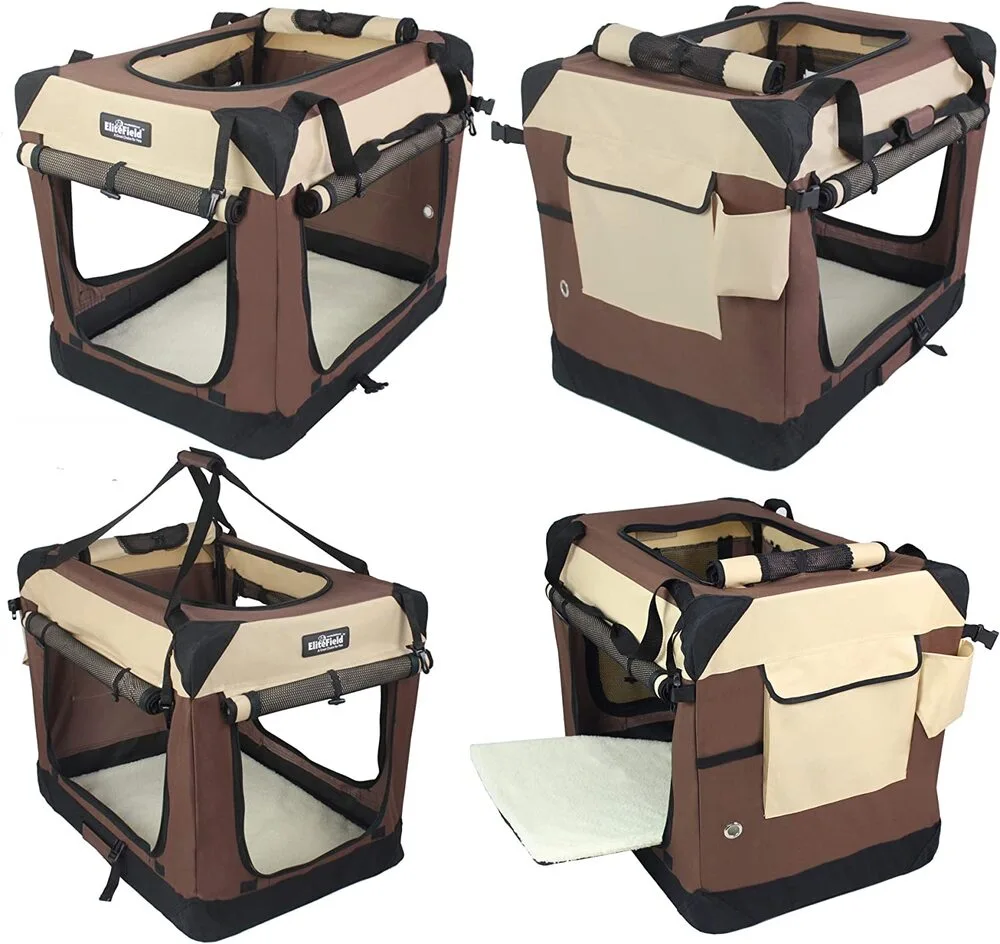 Aviable sizes: XS (20″L x 14″W x 14″H), S (24″L x 18″W x 21″H), M (30″L x 21″W x 24″H), L (36″L x 24″W x 28″H), XL (42″L x 28″W x 32″H)
Colours: brown, red, blue, white, purple, maroon, beige
The number of reviews prompted me to look at this soft dog crate. It is an oxford fabric cover with a steel frame.
What I liked:
a shoulder strap for carrying;
you can easily fold up the crate and bring it in a carrying bag;
snaps for zippers that prevent your dog from escaping;
EliteField provides a 2-year warranty;
3 mesh doors for convenience;
a padded mat and an extra pocket included.
And many dog owners will also be glad to see the large selection of colors that I haven't seen from other manufacturers.
---
Save this article on Pinterest so you don't lose it!
Who are soft crates good for?
Soft crates are more suitable for several purposes:
For traveling and transporting your dog on public transport, in your hands, and in the car. Soft crates are comfortable and lightweight. It is easy to fold/unfold, and it doesn't take up much space when folded.
As a house for small dogs that do not chew on things.
In general, soft dog crates are not as suited to holding dogs as metal ones.
For large Fido and dogs prone to disruptive behavior, I would recommend an indestructible metal crate. You can also buy a furniture kennel for home use. And for puppies, plastic would be more appropriate.
Buyer's guide
To choose a good soft crate for your pet, pay attention to the following parameters:
Durable fabric. It is better to prefer crates made of waterproof nylon or oxford fabric. Also, pay attention to the mesh. Often manufacturers make a mistake by using a thin mesh. Dogs quickly tear it with their claws or teeth.
Quality of seams. No matter how strong the fabric is, bad seams can ruin everything. Such a tent will quickly fall into disrepair. Ensure the crate parts are double-stitched and no threads are sticking out anywhere. The edges of the fabric should be hidden inside the seam.
A sturdy frame. The second most important element of construction is the frame. If it breaks, the kennel can be thrown away. It happens more often with plastic frames. Steel frames are more stable and durable, so prefer steel if you want to use your staff longer.
Ease of washing. The cover should be removable so you can wash it in the machine.
Secure locks. Look for dog-proof locks so your dog can't unzip them.
Availability of carrying handles. If you want to carry your dog in a crate, it should have handles and a sturdy bottom.
For the car, it is better to choose a crate that can be secured to the seat with a seat belt.
Large windows are not necessary because dogs prefer more enclosed shelters. But the crate should have adequate ventilation.
Can I use soft crate for puppy?
You can use a soft crate as a carrier for your puppy. But it would not be prudent to keep your puppy in such a crate. Since puppies are teething, they tend to chew on everything.
Will a puppy chew a soft crate?
Most likely, yes. That's why you should choose a sturdier crate for puppies.
Are Soft crates safe in car?
A good fabric crate will be a better option than a common metal cage that has not passed crash tests. The fact is that such crates can break on impact and cause injury to your dog. This will not be the case with soft crates But full protection in accidents can only give solid cages that have passed the crash test.
Can you crate train with a soft crate?
I do not recommend starting crate training with a soft crate because the dog is very likely to scratch the crate and try to get out of it. So for crate training you need a sturdier one.
Latest posts by Anastasia
(see all)