This review is not going to be standard. And that's because I'm not a big fan of wire crates and don't recommend them in general. But they are trendy. Probably because they are inexpensive and more durable than plastic or fabric, at the same time, the wire crates can be dangerous.
So part of this review is about whether you should buy a wire crate and how to make a choice. I've also compiled a shortlist of the best wire dog crates for those who decide to buy one. It will help you to choose a safe crate and minimize the risks.
Are wire crates good for dogs?
Unfortunately, wire crates injure dogs more often:
If the bars are not stable, a dog may chew or bend them and injure itself.
Sometimes paws get stuck between the bars, and some snag the bars with their claws and jaws. In these situations, animals panic and hurt themselves even more.
For car transportation, wire crates are not suitable at all. Because in an accident, the bars can break and cause additional wounds.
This information is not discussed in the reviews. But I want to help you and your pet.
In my opinion, it is much better to buy plastic, sturdy metal, or wood crates. A fabric crate is fine for car travel. If you are just starting training, it is better to choose one of the indestructible kennels.
If you still decide to buy a wire crate, carefully choose it. If you choose a really quality crate, it will be possible to conduct crate training safely.
Comparison table
Best quality wire dog crate
Safer wire crate
Premium choice
Petmate Navigator Pet Carrier
Ribitek Dog Crate Dog Cage Dog Kennel Metal Wire...
Diggs Revol Dog Crate (Collapsible Dog Crate, Portable...
Best quality wire dog crate
Petmate Navigator Pet Carrier
Safer wire crate
Ribitek Dog Crate Dog Cage Dog Kennel Metal Wire...
Premium choice
Diggs Revol Dog Crate (Collapsible Dog Crate, Portable...
Last update on 2023-02-01 / Affiliate links / Images from Amazon Product Advertising API
Review of the best wire dog crates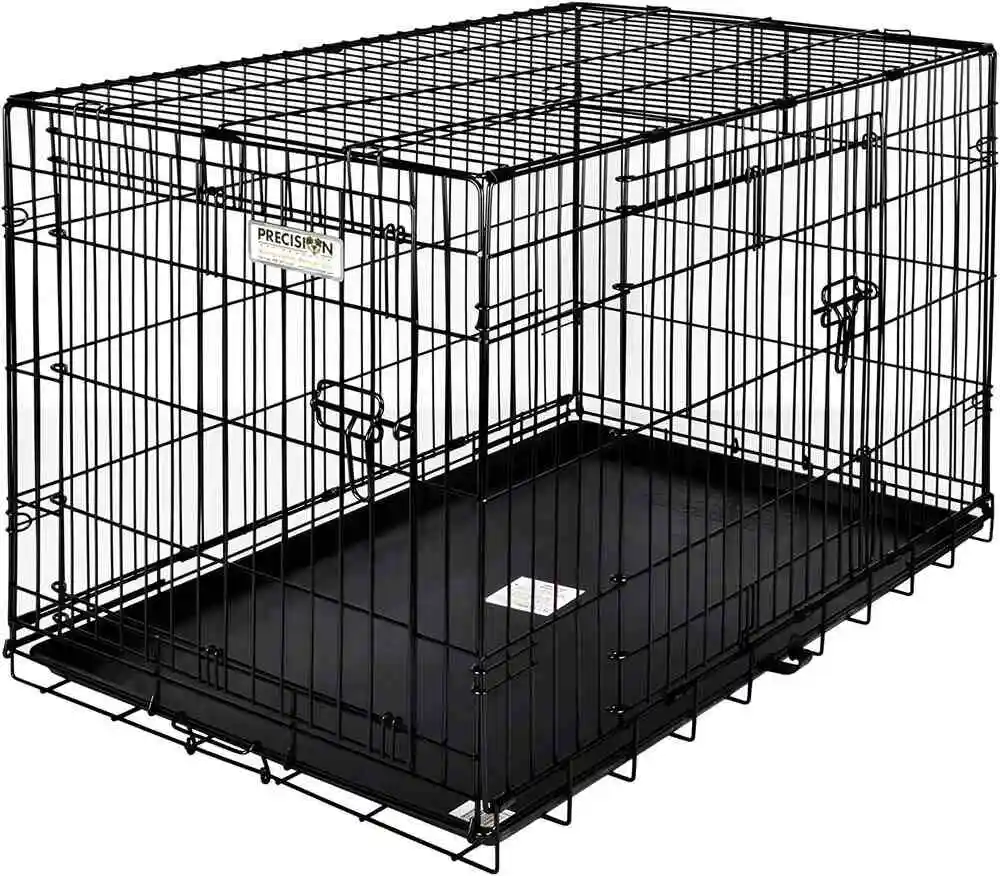 Aviable sizes: 19 inch, 24 inch, 30 inch, 42 inch, 48 inch
Petmate is one of the best manufacturers of pet products. They have been making dog cages for 50 years. They know how to make quality products, as proven by hundreds of positive customer reviews. That's why I added this cage to my list.
I also noted several pros of this cage:
the door locks in 5 places for extra security;
security is provided by thick wire and sturdy welded seams;
the crate can be divided with a dividing panel to change size as your pup grows;
there are 2 separate entrances;
cage folds down and has a carrying handle;
6 sizes for different dog breeds.
---
Safer wire crate – Ribitek Dog Crate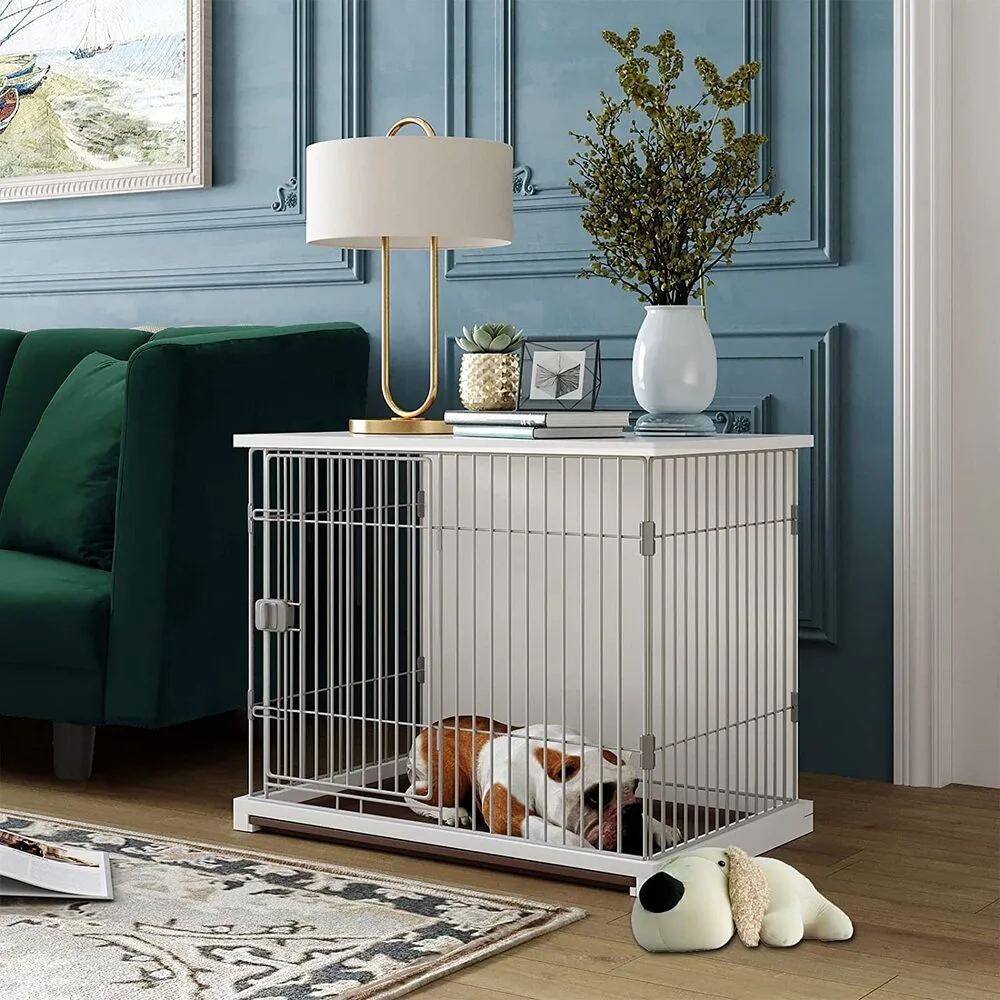 Aviable sizes: 34 inch
In my opinion, this kennel with a roof and the wood back wall is safer. These extra walls reduce the number of gaps that a dog can crawl through.
Also, the bars are evenly spaced, and there are no protruding parts to catch on. The wire walls are connected with several latches, which should ensure the stability of the structure.
This crate can be used as a table. Unfortunately, it is not foldable. That is, it is only suitable for home use. Also, the manufacturer offers only 1 size, but you can always look for a similar product.
---
Diggs Revol Dog Crate – Premium choice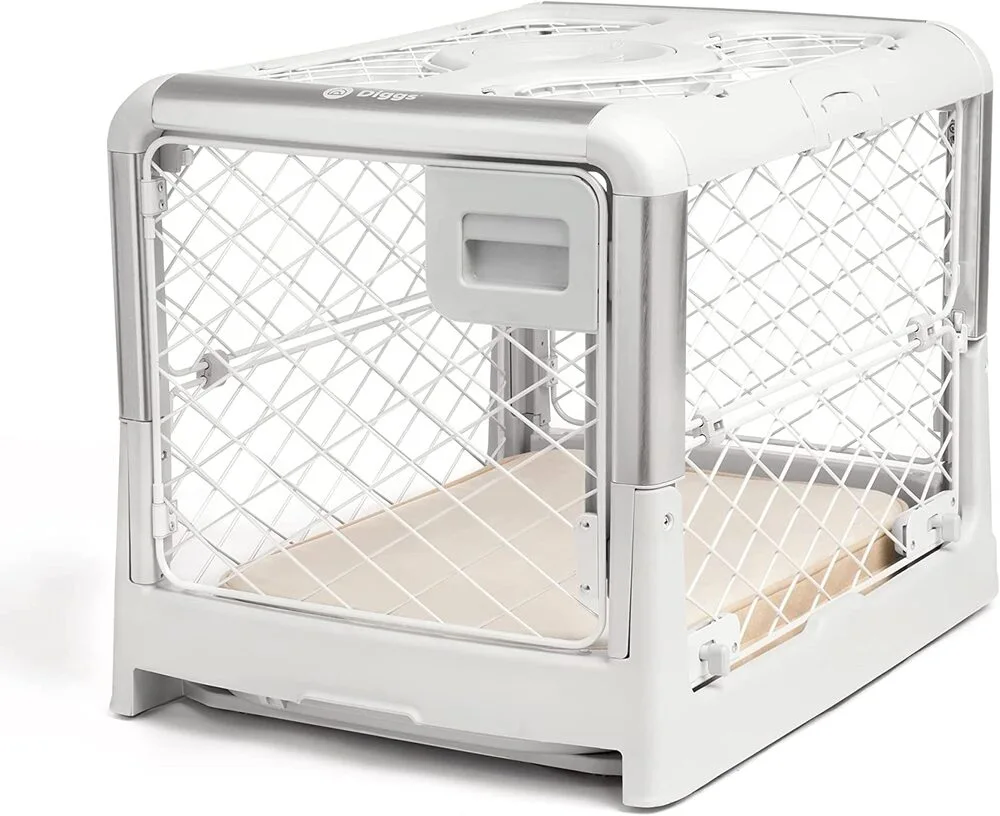 Aviable sizes: small, medium
Aviable colours: white, charcoal, grey, pine
This wire-plastic crate can be an alternative option:
it is safer;
easy to assemble and disassemble (means you can take it anywhere);
well ventilated;
an added benefit is 2 doors and a secure, reinforced lock.
I also like the look of this crate. It looks much more attractive than most wire crates. The manufacturer claims that their crate is designed to be safer for the dog. They removed all of the gaps that dogs would normally crawl through.
The Diggs Revol crate is made of durable aluminum and reinforced plastic. But you have to pay a lot for high quality.
---
Best for Large Dogs – Frisco Heavy Duty Dog Crate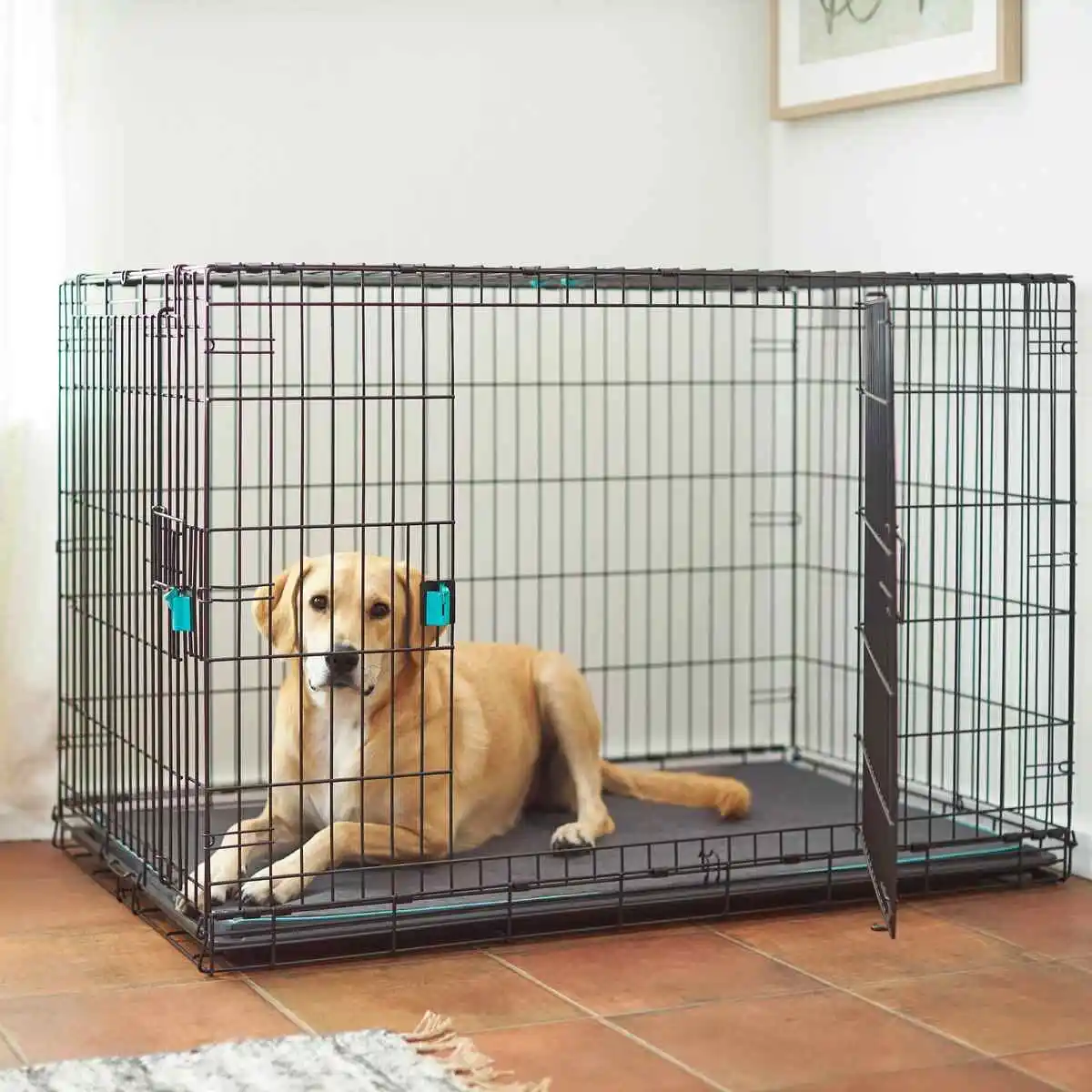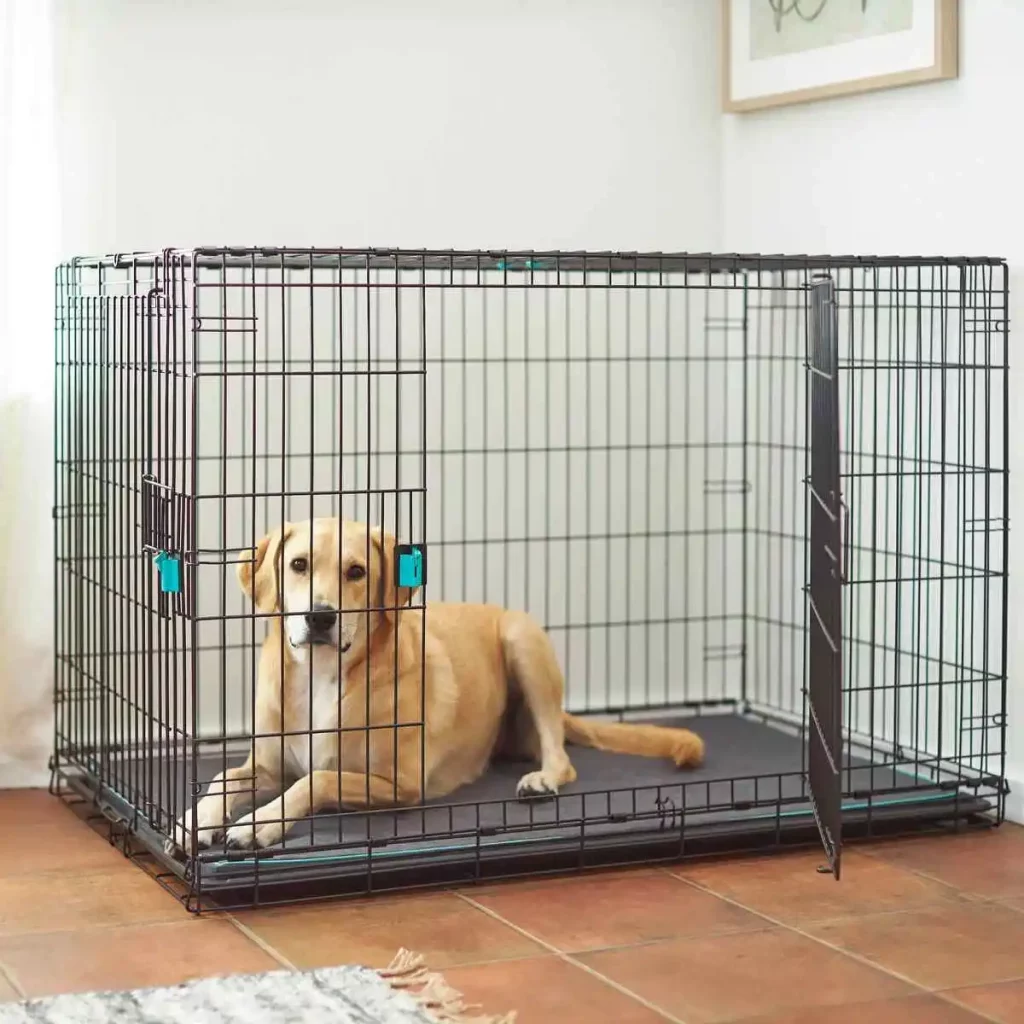 Aviable sizes: Med/L (36-in L x 25.5-in W x 26.5-in H) L (42-in L x 29-in W x 30-in H), XL (48-in L x 30-in W x 32-in H)
This crate might be a good option for larger dogs because it has VERY much room. I also liked the advanced tamper-proof locks.
It comes with a divider, which is handy for puppies. You can separate the small space right away and increase it as the puppy gets older. Frisco crate has 2 doors: front and side.
Buyer's Guide
When choosing a wire crate for your dog, pay attention to the following parameters:
The quality of the steel and welding. The sturdier, the better. The construction should not be flimsy and wobbly.
The distance between the bars. The smaller the distance, the better. If there is a big space between bars, the animal may stick its paw through and get stuck.
Extra door (this is more convenient).
Availability of a tray. The crate should have a bottom because the dog will be uncomfortable walking on the bars. It can also get caught by claws.
Connection between parts of the crate. Some crate walls and roofs don't fit together well, which may cause your puppy to try to stick its head through the gap.
Make sure there are no sharp ends sticking out, which might hurt the animal.
One more important thing: I do not recommend buying a cheap wire crate for your dog. Low-quality wire crates are especially dangerous. The dog can chew the bars, try to get out, and hurt itself. I have heard of such cases many times.
So if you have already decided to buy a wire crate, don't spare the money for it.
FAQ
Are metal dog crates safe?
Unfortunately, it often causes injuries to dogs. A dog can bend the bars and crawl through them, injuring itself. Still, a wire crate can be safe if you choose a quality one and follow all recommendations for its use.
What kind of dog suits a wire crate?
It is suitable for dogs who have already undergone crate training and do not have separation anxiety.
Why is it necessary to remove the collar before putting a dog in a wire crate?
Because a dog can catch on the wire with its collar.
How to use a wire crate safely?
First, make sure the crate is the right size for your dog. Do not leave the dog unattended in the crate for the first week. Then only leave it for short periods. You can use a pet camera to keep an eye on your pet while away.
I also recommend watching this video that explains how you make a wire crate safe.
Latest posts by Anastasia
(see all)